Customer Logins
Obtain the data you need to make the most informed decisions by accessing our extensive portfolio of information, analytics, and expertise. Sign in to the product or service center of your choice.
Customer Logins
Contract risk and political transitions in Africa

Industry reporting from 2017-2019 indicates a trend of increasing paid-out political risk insurance claims in Africa. Risk is partially driven by high exposure to commodity prices, as in Zambia, which has altered mining royalty laws five times since 2014 following copper price fluctuations, or in Kenya, where tax increases are clearly tied to commodity price cycles.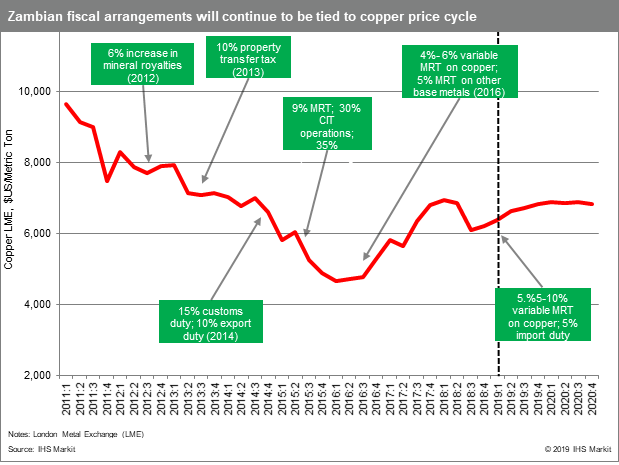 However, contract risk often also derives from political transitions representing a rupture with the previous operating environment. Most recently, in December 2018 Democratic Republic of Congo (DRC) saw its first peaceful presidential transition with the election of opposition candidate Felix Tshisekedi. Tshisekedi has entered into coalition with the alliance of former president Joseph Kabila, but is working to consolidate power at Kabila's expense, raising the threat of eventual corruption investigations and review of mining contracts awarded by his predecessor.
Elsewhere, popular unrest and coups have unseated executives across several African countries - most recently Sudan in April 2019. But transfer of power often remains within key influence groups, where a ruling party or coalition remains in power, but a different internal faction becomes dominant. In Ethiopia, for example, a substantial realignment within the ruling Ethiopian People's Revolutionary Democratic Front (EPRDF) coalition saw Oromia and Amhara-based ethno-linguistic parties come to the fore, with the election of ethnic-Oromo prime minister Abiy Ahmed Ali in April 2018 after mass protests in Oromia and Amhara regions. This reduced the power of the previously dominant Tigrayan People's Liberation Front, traditionally aligned with Ethiopia's economically-powerful military.
In such cases, unplanned disruption of longstanding, highly centralized power structures are followed by more fluid influence dynamics as rival groups jockey for power and protesters maintain pressure for more responsive, transparent government. Consequently, investors are exposed to targeting over perceived political affiliations or failure to generate value for the national economy, resulting in discrimination, audits, and in extreme cases, contract cancellation. In Tanzania, for example, John Magufuli's administration has overhauled natural resource legislation, abandoning stability clauses and requiring all disputes to be processed first through Tanzanian courts, while at the same time sidelining party veterans and potential opponents within his Chama Cha Mapinduzi (CCM) party. Situations like these are more challenging to forecast than election-related contract risk, because they require a dynamic, evolving view of internal factions and stakeholders within ruling parties.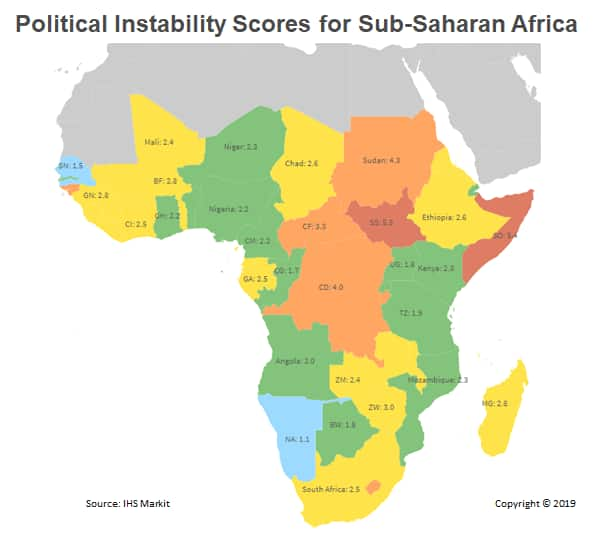 In the next two years, regional themes of local content and anti-corruption will continue to drive both planned electoral transitions in Africa, and unplanned transitions and realignments. Domestic revenue mobilization to achieve political pledges will also be key in forecasting sector-specific risk. Below we highlight several key risks to watch:
Mozambique
Public grievances over corruption have driven the realignment of the ruling FRELIMO party ahead of October 2019 elections. Under President Filipe Nyusi, who hails from the gas-rich northeastern Cabo Delgado province, power in FRELIMO has tilted towards the northern regions, away from the circle around former president Armando Guebuza. As Nyusi seeks to shore up his position following a USD2bn loan scandal involving various FRELIMO figures, companies associated with the Guebuza patronage network are more likely to see frustration risks to licensing processes in sectors like construction and engineering, and discriminatory practices in sectors like telecoms and property development, although natural gas and coal concessions already awarded are unlikely to be affected.
Cote d'Ivoire
The chances of an opposition victory in scheduled October 2020 elections have increased after the Democratic Party of Cote d'Ivoire's withdrawal from the government coalition in August 2018, and the prospective return of former president Laurent Gbagbo after his provisional release by the International Criminal Court in January 2019. In this event, politically-connected local exporters would likely receive a much higher share of the cocoa crop despite past failings in coping with price drops. French companies also run contract cancellation risks, particularly for major infrastructure projects, if Gbagbo holds much influence in a future government, as he blames France for influencing his eviction from the presidency in April 2011.
Ghana
Elections are due in December 2020, if the New Patriotic Party (NPP) is re-elected it would likely revise contract terms, including a new fiscal regime for the mining sector (including a windfall tax component) and improved tax compliance (reviewing VAT, withholding tax and corporate tax exemptions and stabilization agreements) in the mining and telecoms sectors. At the same time, firms not complying with new requirements to partially list on the local stock exchange will be threatened with license revocations. Meantime, an opposition victory would likely see special audits into NPP-awarded contracts, especially those signed by state-owned entities (SOEs) in the electricity, cocoa and fuel transportation sectors.
Ethiopia
They are scheduled to hold legislative elections in December 2020. The new administration of President Abiy Ahmed will likely seek to maintain a parliamentary alliance with the Amhara Democratic Party (ADP) by providing political allies with preferential access to hard currency and domestic loans. Meanwhile, in his party's Oromia heartland, grassroots support is likely to increase for raising taxes for foreign-owned projects in Oromia, particularly in the mining and agricultural sectors.
Zambia
Threats of mining sector license revocations have become part of the political rhetoric in Zambia, most recently in the case of Vedanta Resources, over its failure to meet the government's tax demands. Tax increases in the mining sector are being fueled by rising domestic and external debt obligations, and further tax compliance audits are likely in the one-year outlook, spreading to multinational corporations outside the mining sector following a recent tribunal ruling in favor of the Zambian Revenue Authority (ZRA) which is likely to embolden further ZRA demands.
Post-coup Sudan
Evolving influence dynamics expose investors to risks stemming from any association with sidelined influencers. The Declaration for Freedom and Change (DFC) - which has coordinated the anti-government protests - has compiled a list of companies associated with ousted President Omar al-Bashir to inform calls for corruption investigations, raising contract frustration and cancellation risks. The list includes telecoms companies and local distributors for manufactured goods.
Chad
Opposition and civil society groups have mobilized around similar grievances as protesters in neighboring Sudan, over rising costs of living stemming from lower oil prices. Chadian President Idriss Deby has responded by curbing access to social media platforms over the past year and delaying legislative elections, although Chadian insurgents and Islamists - including Boko Haram - still pose a greater threat to Deby's position than popular uprising. Any transition in power would exacerbate very high payment risks for government contractors and expose energy investors to audits of license awards and fiscal terms.
RELATED INDUSTRIES & TOPICS