Customer Logins
Obtain the data you need to make the most informed decisions by accessing our extensive portfolio of information, analytics, and expertise. Sign in to the product or service center of your choice.
Customer Logins
Construction at North Korean missile base underlines operational focus

28 August 2018
Jane's Editorial Staff
Construction work at North Korea's Kal-gol missile base underlines Pyongyang's commitment to its missile programme. Writing for Jane's, Joseph S Bermudez Jr and Nathan J Hunt assess the changes to the base in the context of North Korea's negotiations with the US.
Jane's has identified new construction at North Korea's Kal-gol missile base since 2012 that shows an increased emphasis upon realistic training and operational readiness.
Construction has included a specialised building with an arched clerestory roof, a type of structure that has yet to be observed at other North Korean missile operating bases.
North Korea and the US appear to have different understandings of the term 'denuclearisation', and North Korea has not committed to ceasing work on its missile programmes.
The Kal-gol missile base is located within North Korea's Forward Missile Belt, in North Hwanghae Province and 125 km directly north of the South Korean capital Seoul. Kal-gol is a forward Hwaesong-5/-6 missile operating base, subordinate to the KPA Strategic Force (which is responsible for all ballistic missile units). All satellite imagery from 2002 onwards indicates that the base is active and well maintained by North Korean standards.
Kim Jong-un instituted widespread changes throughout the KPA on coming to power in December 2011, emphasising realistic training and increased operational readiness. These changes included the reorganisation of the Strategic Rocket Command into the Strategic Force in 2013. At the Kal-gol missile base, these changes were reflected by infrastructure development, the excavation of six standard transporter erector launcher (TEL) revetments for training, the construction of a second missile support area with a drive-through facility, and the construction of a specialised missile maintenance and training building.
During November 2012, satellite imagery showed that construction was under way for a third missile support area, with four structures, 2 km northwest of the base headquarters. Notable among these structures was the construction of a specialised drive-through building with an arched clerestory. This structure has yet to be observed at other North Korean missile operating bases. It is smaller in size but somewhat similar in layout to the halls modified at the No. 65 Factory in Chonchon, Chagang Province, during late 2006.
The assessed height of the clerestory would allow for the elevation of a Hwaseong-5/-6 missile on a TEL or mobile erector launcher (MEL), both for maintenance and training. The construction at Kal-gol indicates that the North Korean leadership continues to invest in its theatre-range missile capability.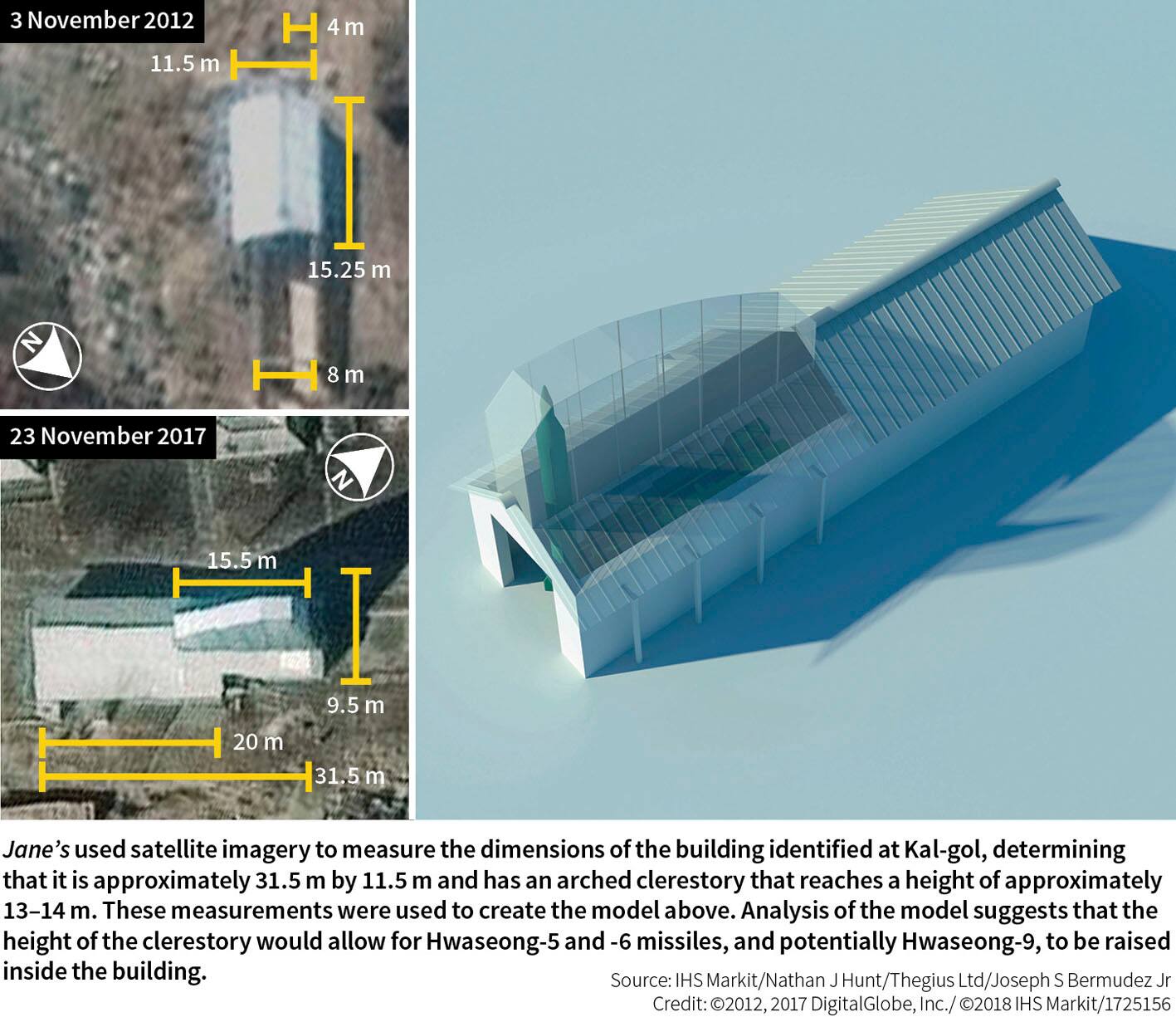 Further analysis and imagery of the Kal-gol missile base and computer modelling of the clerestory building can be found in Jane's Intelligence Review, available in print, online, and digital here.
RELATED INDUSTRIES & TOPICS