Customer Logins
Obtain the data you need to make the most informed decisions by accessing our extensive portfolio of information, analytics, and expertise. Sign in to the product or service center of your choice.
Customer Logins
Component Forecast Analytics: Best Practice Tactics and Strategies of High-Profit-Margin Global Suppliers

14 January 2015
Eric A. Fedewa
The importance of automotive
If the global automotive industry were a country, it would be the fifth-largest economy in the world. The estimated compound annual growth rate is expected to exceed 4.1%, with direct global employment of 9 million to support auto manufacturing, and some 50 million employed in adjacent supporting sectors. Currently, auto accounts for 5% of total manufacturing activity globally, with more than USD85 billion in annual research and development spending. Contributing USD430 billion annually to at least 26 governments, the automotive industry is an important element in the health and stability of economies, and for most provides a major avenue to sustained growth.
The world has changed: Organizations adopt new tactics, strategies, and tools to profit/assess risk
The world of auto parts manufacturing has changed dramatically since the Great Recession of 2009. Global industry manufacturing capacity has been rationalized, leaving virtually no slack in the system to effectively facilitate upside growth volume potential without robust planning and investment, or subsequently accommodate unexpected failures in the supply chain.
In recent years, the global banking industry has begun to consider automotive as an investment-grade opportunity based on profitability potential provided as the result of capacity rationalization, company headcount/expense "right sizing," and the emergence of new industry best practices being adopted by some of the largest and most profitable suppliers.
As the global industry races to refill the post-recession new product pipeline, suppliers will need to accurately assess more than 500 Global Launch Events, each with much higher sustained volume (up to 1 million units per vehicle design) as vehicle OEMs seek to gain profitability by migrating to common chassis designs, commonality of parts, and localization of production nearer to final consumer to improve responsiveness to customers while reducing logistics costs and exposure to currency fluctuations. Organizations will need to localize operations in previously unfamiliar markets, or more critically control operations in existing markets with unprecedented transparency.
Industry best practices for profitability
A "best practice" is defined [by Direct Quote from Resources] as "A management idea which asserts that there is a technique, method, process, activity, incentive or reward that is more effective at delivering a particular 'desired outcome' than any other technique, method, process, activity, incentive, or reward."
For historical perspective, until the advent of consulting organizations specializing in forecasting and market planning, the prevailing best practice for most automotive suppliers was to simply rely on planning information provided by the vehicle manufacturers, which ultimately led to excess inventory, excess manufacturing capacity, volatility in planning/scheduling, and significant downward pressure on profitability. Companies generally participated in this ongoing dynamic since the lack of transparency or objective analysis allowed companies to plan excess capacity into the overall system, and allowed for greater leverage in price/supply negotiation.
High-margin suppliers utilize a very specific set of best-practice approaches to increase the precision of their business strategy and planning activities, and thus markedly increase stability, sustainability, and most importantly attain the profitability of their organizations.
Best-practice approach to assessing, securing, and maintaining profitable new business
IHS Component Forecast Analytics Platform: The most effective tool for complete transparency on the market, and your competitor's book of business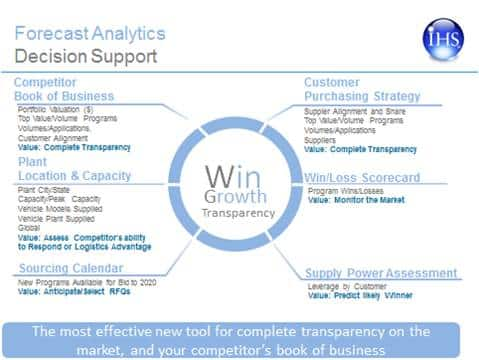 Competitor Book of Business: Complete transparency
Fully assess your competitors' complete book of business from multiple dimensions of valuation of their portfolios, which are their "Top Value and Volume Programs," per-vehicle application volumes, and how their businesses align to key customers. Target your competitors' key programs, understand how they make money, and their likely future targets or ability to pursue new business/future opportunities.
Customer Purchasing Strategy: Complete transparency
Assess your customers' supplier alignments, and share per customer. Understand the implied OEM directed sourcing strategy, value and volume of programs, and portfolio of suppliers. Attain complete transparency on your customers and assess the probability of success for your organization to attain new business.
Plant Location and Capacity
Understand the geo location (city/state/county) of supplier plant locations, plant capacity and peak capacity, vehicle models supplied from each facility, and shipping to specific vehicle assembly locations globally. Attain insight on competitor plant capacity and likely strength of new project RFQ response (volume and price) based on competitors' assumed open plant capacities and locations.
Win/Loss Scorecard: Transparency as markets rapidly evolve
Understand ongoing changes in sourcing and volumes as competitors are de-sourced on programs or win new programs globally. The essential capability to efficiently monitor the market as it evolves provides critical insight in a fast-paced environment.
Sourcing Calendar: Pre-select which programs to pursue
Most companies struggle to maintain composure and focus as they receive hundreds or thousands of requests for quotation (RFQs) to supply new projects every year. The sourcing calendar organizes future opportunities into a logical chronological format that is used by sales organizations to anticipate the arrival of new RFQs months or years ahead of their issuance. This capability allows organizations to strategically "pre-select" or "pre-decide" which opportunities to pursue, or ignore others, opportunities that do fit the ideal profit model for their organization, optimal timing to keep capacity full and optimized, or enable fundamental strategic shifts in customer base. The ability to effectively anticipate new projects allows organizations to approach customers months or years ahead of the typical RFQ timeline, and fully utilize the Forecast Analytics Tool and Information to strategically win profitable new business.
Supply power assessment: Who has leverage in the price negotiation?
Correctly assessing which organization has leverage in price negotiation is the major enabler for supplier profitability. The Supplier Power Leverage analytics calculates the total US dollar value of specific commodity purchases by a customer, and calculates the total sales (in US dollar terms) of each supplier for the specific commodity to create an index representing each supplier's price negotiation leverage. If a supplier has a relatively small part of its business dedicated to supplying the commodity, and the prospective customer has a relatively large amount of its purchases with the supplier, the supplier has the leverage. Walking away from the business is a smaller risk for the supplier, and presents a large problem for the customer. The ability to assess leverage is the key to successful price negotiations and securing profit margin.
Summary comment:
The automotive industry continues to exert its influence on the global marketplace, rivaling some of the largest global economies in sheer value, but also growth potential. Equity markets will continue to seek growth vehicles and the pace of investment in global automotive will accelerate.
The most significant paradigm change for automotive is how the industry must adapt to the pace of change, but also in how it responds to change. In order to survive, Autoparts suppliers need to firstly embrace the simple fact that more information is now required to make correct decisions and compete for new business or defend an existing book of business. Transparency across several dimensions of customer and competitor strategy will allow for correct assessment of the strength of competitor response.
To access the most effective tool for complete transparency on the market, and your competitors' book of business, inquire about the IHS Component Forecast Analytics Platform.
By Eric Fedewa, Director, Global Component Forecasts and Analysis
Posted January 15, 2015
RELATED INDUSTRIES & TOPICS