Customer Logins
Obtain the data you need to make the most informed decisions by accessing our extensive portfolio of information, analytics, and expertise. Sign in to the product or service center of your choice.
Customer Logins
"Coal inertia" remains strong while renewables pipeline accelerates in Asia Pacific, our latest Clean Power Additions Ranking finds

In the latest quarterly release of the IHS Markit Clean Power Additions Ranking (CPAR) for Asia Pacific, renewables have further accelerated in the region. However, fossil fuel plants remain prominent and may jeopardize governments' climate ambitions as US President Joe Biden hosts a global Leaders Summit on Climate on Earth Day 2021, with many Asian leaders attending.
By the end of March 2021, a total of 463 Gigawatts (GW) of new power generation projects were under construction in the region's 16 key power markets. This was up 5% from the previous quarter, indicating more projects moving into construction phase than those that were completed.
The capacity mix of the under-construction projects did not change significantly from the previous quarter, with coal's share down by 2% while hydro up by 2% in terms of share in the mix.
Australia widens the gap with other markets as the clean energy leader
Australia confirmed its top position in the Renewable Additions Index (RAI), scoring 91 in the second quarter, up 2 points from the previous quarter thanks to new announcements of solar PV and wind projects with a combined capacity of 4 GW last quarter.
An RAI score of 91 implies that 91% of new projects at the different stage of planning is non-hydro renewables, which in the case of Australia are composed of solar PV and wind.
South Korea rose to third from fourth place, driven by the announcement of 1.8 GW solar PV and 800 MW of onshore wind projects. The country installed a record 4.1 GW for solar PV last year and has already deployed 0.8 GW in the first two months of 2021.
Taiwan moved up to eighth from ninth thanks to 0.6 GW of new solar PV project announcements and a strong offshore wind pipeline. The island is currently building 3 GW of offshore wind projects, which include Ørsted's 900 MW Greater Changhua 1 and 2a Offshore Wind Farms.
Vietnam dropped two places from third to fifth, mainly due to solar projects completion (about 1.6 GW) during the last quarter, but with fewer new renewable projects moving into the pipeline.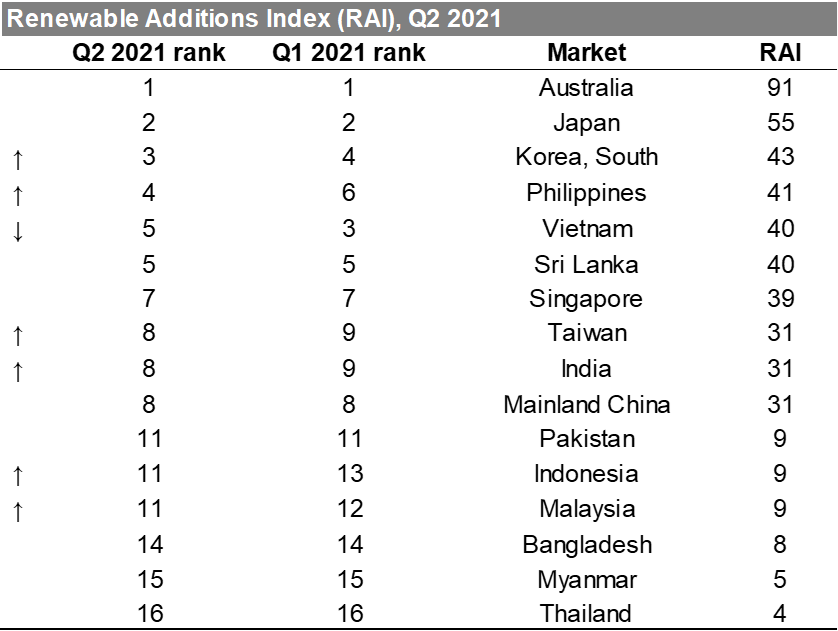 "Coal inertia" remains strong despite climate pressure
New coal projects in the pre-construction planning phase have decreased by 6% compared with the previous quarter, reflecting a decrease in appetite for proposing coal-fired power as climate pressure ramps up.
In absolute terms, however, the capacity of coal-fired power being developed remains large: 190 GW under construction and 148 GW in pre-construction planning. These projects, if all brought online, would increase the region's coal-fired power fleet by over 20% and make ambitious climate goals much harder to reach.
In the Philippines, India, and Vietnam, more than half of the power projects currently under construction are coal-fired. Even in developed economies like Japan and South Korea, coal accounts for 29% and 44% of all projects under construction, respectively. Singapore and Taiwan are the only two markets in the region that currently do not have coal projects being built or planned.
This reflects a difficult reality in the energy transition process: fast-growing emerging markets require baseload generation capacity additions and coal is the immediate, easy option; meanwhile, some mature economies still have coal projects in the pipeline from past planning. Together these create immense "coal inertia," akin to trying to turn a supertanker.
However, given that coal plants typically have a technical life of at least 30 years, for any region aspiring to reach net zero emissions by 2050 but still building new coal plants today, e.g., Japan and South Korea, it will have to either retire these coal plants early before they reach 30-40 years of age or mitigate carbon emissions with carbon capture/storage or carbon offsets, both incurring significant new costs.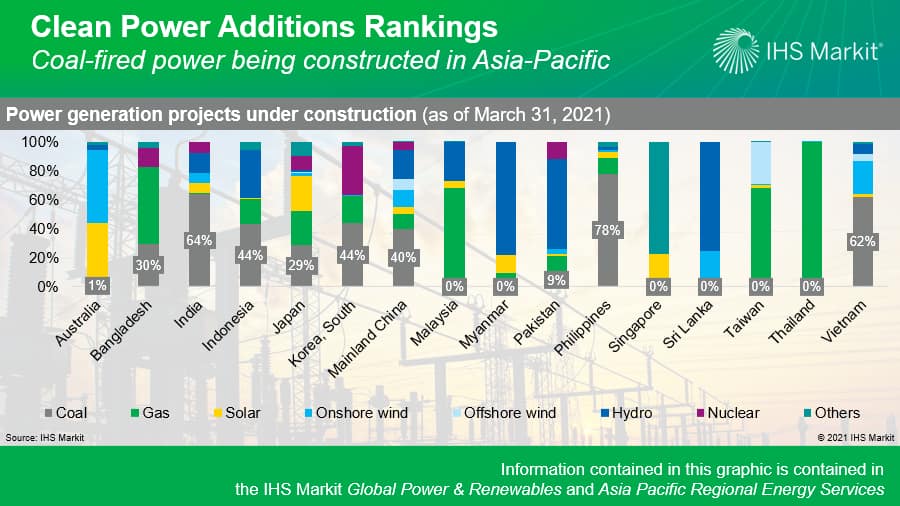 Role of natural gas is still uncertain
Gas-fired power accounts for 15% of new generation projects under construction in the region, a share that's unchanged from the previous quarter, but representing a small increase in capacity. While new gas accounts for majority of projects under construction in markets like Thailand, Taiwan, Bangladesh and Malaysia for baseload requirements, its role in other markets are less certain, especially those that have committed to net zero targets, i.e., Mainland China, Japan, and South Korea.
Overall, 68 GW of gas-fired capacity are under construction, led by Mainland China, India, Australia, and Japan in terms of capacity. Another 264 GW are in pre-construction planning , with most of them in Mainland China, Indonesia, and Australia, followed by South Korea, the Philippines, and Vietnam, but this pre-construction projects are much less certain with many having sat in the pipeline for months, if not years.
It is important to note that gas-fired power also emits carbon dioxide, although only releasing about half the carbon emissions compared with coal. Like coal plants, any new gas plants built today may very well still be operating three decades from now. The question of carbon mitigation will likely arise in the decades ahead as well.
Hydro and nuclear are indispensible in regional energy transition
Accounting for a quarter of all power projects under construction, hydro and nuclear are playing an important role in meeting Asia's baseload electricity demand with carbon-free energy.
Hydro is the largest source of low-carbon power among the projects under construction in the Asia Pacific region. In particular, Pakistan and Myanmar are ranked second and third, respectively, in the Low-Carbon Additions Index (LCAI), thanks to the significant hydro capacity being developed. In Sri Lanka too, 75% of power projects under construction are hydro.
Nuclear power is growing in a few regional markets. Mainland China, India, South Korea, Bangladesh, Pakistan and Japan are all actively building and/or developing new projects. In fact, based on IHS Markit research, over half the world's nuclear reactors under construction today are in Asia Pacific.
The CPAR is issued on a quarterly basis. The full report containing market-level details and technology-specific analysis is issued to clients of the IHS Markit Global Power & Renewables Service and Asia Pacific Regional Integrated Energy Service.
A word on methodology
The IHS Markit Asia Pacific Clean Power Ranking represents two interlinked indices that track the region's electric generation project pipeline:
Renewable Additions Index (RAI): This index draws upon the share of nonhydro renewable power capacity in the project pipeline, where renewable power includes power generation capacity of solar, onshore/offshore wind, geothermal, and biomass.
Low-Carbon Additions Index (LCAI): This index draws upon the share of low-carbon power capacity in the project pipeline, where low-carbon power includes power generation capacity of solar, onshore/offshore wind, geothermal, biomass, nuclear, hydro, and hydrogen.
The capacity of projects in pre-construction development is discounted by 25%, reflecting uncertainties associated with projects' permitting, financing, and/or other regulatory and market risks widely observed before projects at early planning stages can move to start construction. The discounting factor is derived from the average rate of canceled projects out of the total project capacity in pre-construction development. Coal- and oil-fired power plants receive an additional 25% discount given high regulatory risks associated with the coal phaseout move in most markets.
The capacity of projects already under construction stage is not discounted, since they are almost certainly going to come online.
Learn more about our power and renewables research from our Global Power and Renewables and Asia Pacific Regional Integrated Energy service pages.
Xizhou Zhou is a vice president in the Climate and Sustainability team at IHS Markit and leads the company's power and renewables practice globally.
Vince Heo (Yoonjae Heo) is an associate director at IHS Markit, managing Climate and Sustainability team in Seoul.
Posted 20 April 2021
---
Follow IHS Markit Energy
RELATED INDUSTRIES & TOPICS