Customer Logins
Obtain the data you need to make the most informed decisions by accessing our extensive portfolio of information, analytics, and expertise. Sign in to the product or service center of your choice.
Customer Logins
Climate change-driven heatwaves stay despite 2020's GHG cuts

Average global temperatures posted record highs in 2020 even as greenhouse gas (GHG) emissions fell in a year of pandemic-driven lockdowns, causing scientists to clamor for more climate action.
Stretches of last autumn were hotter on average than in any previous year, and the year of the pandemic produced the warmest September on record, according to the EU's Copernicus Climate Change Service (C3S). This was despite a 7% decline in fossil fuel-derived carbon dioxide (CO2) emissions, it said. The fact that 2020 as a whole tied with 2016 as the warmest yet caused alarm, because it was expected to be cooler given the occurrence of climatic cycle La Niña. The warming trend of the 2010s, the warmest decade yet, endured.
Raising concern among scientists, the highest-yet monthly average CO2 emissions were recorded in Hawaii in May 2020 by researchers with the US National Oceanic and Atmospheric Administration (NOAA). The news prompted Pieter Tans, senior scientist with NOAA's Global Monitoring Laboratory, to say that "progress in emissions reductions is not visible in the CO2 record."
Scientists looking at the data said that not enough emissions cuts resulted from the pandemic lockdowns to stand out from emissions created naturally by plants and soils, but said emissions cuts would have doubled if lockdowns had lasted for six to 12 months. Another reason the emissions cuts failed to make an impact is that they were uneven across the globe. For example, cuts totaled 12% in the US and 1.7% for China.
IHS Markit's Energy and Climate Scenarios Insight team in January 2021 issued a paper on the state of climate change and warned high temperatures and extreme weather will continue as long as countries are not balancing carbon emissions with carbon sinks.
Heatwaves
Heatwaves sizzled in the Caribbean in April and September, according to a statement from the World Meteorological Organization (WMO) in December. Temperatures in the barrio of Veguitas in Cuba in April broke Cuba's national record, reaching 103.5 degrees Fahrenheit (39.7 degrees Celsius), and Havana also broke a city-level record by reaching 101.3 °F (38.5 °C).
As a result of drier weather, drought gripped South America, hitting hardest in Argentina, Paraguay, and Brazil. The latter-the region's largest economy-was hit by US$3 billion in agricultural losses, and saw the death of about 1 million chickens amid October heat. Brazil also recorded its highest temperature, 112.6 °F (44.8 °C), in the municipality of Nova Maringá on 4 and 5 November.
North of the Equator, Europe also saw heatwaves in 2020. It was Europe's hottest year on record on average, despite not producing Europe's hottest day. This was because Europe's winter and autumn had higher temperatures. Western Europe-including the region's most populous cities of Paris, London, and Madrid with 11 million, 9 million, and 6.5 million inhabitants, respectively-also experienced heatwaves in late July and early August, C3S said. The Basque city of San Sebastian in northern Spain reached a record breaking 107 °F (42 °C).
In Eurasia, particularly in the Siberian Arctic, temperatures rose to 5 °C above average, and a warmer summer pushed temperatures in the Arctic Circle to a record, exceeding 100°F (38°C), according to a June statement from the WMO.
Globally, heat fueled the "most active" wildfire season in the 18 years the WMO had been keeping such records. Wildfires burned across parts of Australia, Siberia, the US West Coast, and South America. Much of the oceans experienced "strong" heatwaves on the surface of the water, affecting marine animals and the communities that depend on them. Marine heatwaves have the potential to bleach coral reefs, kill seaweed, and decrease fish rates of reproduction.
IHS Markit data revealed extreme weather events in 2020 in Asia and the Middle East that were likely worsened by climate change. This included a monsoon and flooding in Afghanistan killing at least 2,000 and heavy rainfall and flooding in Sudan killing at least 120. Over 2,000 deaths were reported as a result of monsoons in India, Bangladesh, Myanmar, Nepal, and Pakistan. In China, monsoon rains and flooding also caused $15 billion in economic losses. All in all, 22 weather events, each exceeding $1 billion in costs or losses, battered the US in 2020. They included firestorms in Oregon and seven hurricanes along America's Gulf and Eastern coasts.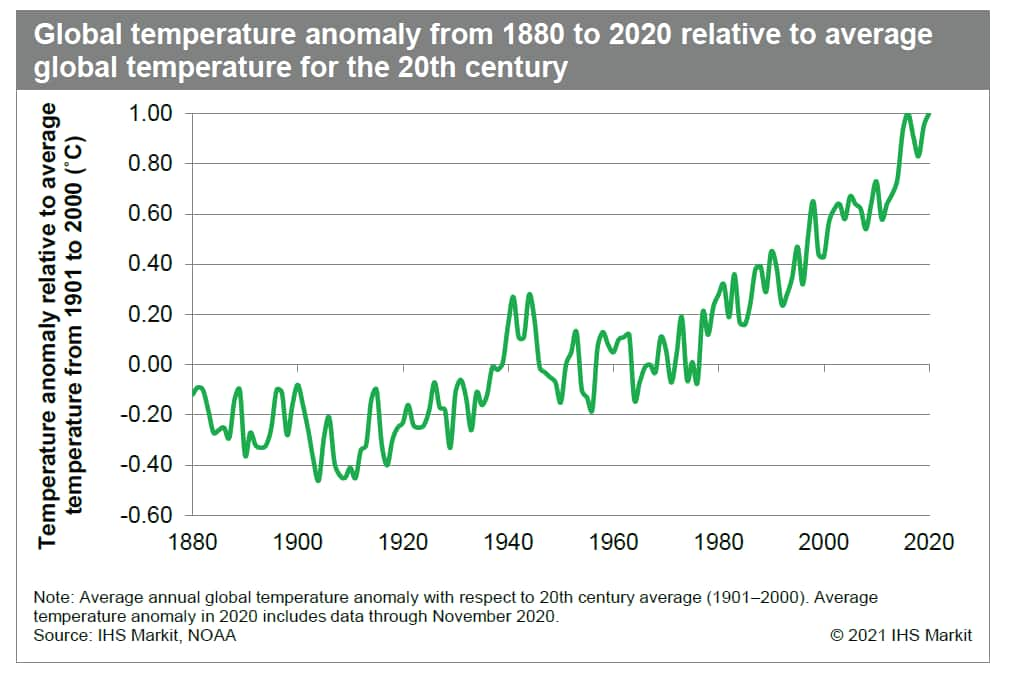 Climate change regulation
There is "at least" a one-in-five chance of the global average temporarily exceeding 1.5 °C (34.7 °F) above pre-industrial levels, the lower target under the 2015 Paris Climate Agreement, by 2024, the WMO estimates. Signatory states had ambitions to remain below this temperature.
As a consequence, they may realize more effort is needed, and the WMO supports greater action. "We welcome all the recent commitments by governments to reduce greenhouse gas emissions because we are currently not on track and more efforts are needed," said WMO Secretary-General Petteri Taalas.
Hotter days around the world could fuel support for national net-zero targets. "This highlights the importance of the increasingly aggressive emissions targets that we're seeing from some of the world's largest emitters, such as the net-zero targets in China and the European Union," said Anna Mosby, senior research analyst with IHS Markit's Energy and Climate Scenarios team.
Climate change data gained over the past year also underscores the EU's efforts to limit the financing of fossil fuels under the European Green Deal. "It will be difficult, but the cost of inaction is too great, which is why the commitments made under our European Green Deal are so very necessary," said Matthias Petschke, the European Commission's directorate-general for defense industry and space.
RELATED INDUSTRIES & TOPICS