Customer Logins
Obtain the data you need to make the most informed decisions by accessing our extensive portfolio of information, analytics, and expertise. Sign in to the product or service center of your choice.
Customer Logins
China's ultrasound market: Huge growth potential in undeveloped areas
At some 1.4 billion in 2017, China's population—the world's largest by far—presents daunting challenges when it comes to providing healthcare.
The country's response in the last decade has been to undertake major healthcare reform. Healthy China 2020, launched in 2009, helped increase life expectancy among the populace and reduce both maternal and infant mortality rates. Healthy China 2030, announced in October 2016, recognized health as essential to Chinese economic and social development.
Overall, the policies enacted due to healthcare reform have facilitated a major boom for the Chinese ultrasound market, the world's second largest after the United States. From 2009 to 2013, the China ultrasound market grew more than 10% every year, with ultrasound manufacturers quickly expanding their presence.
In 2014, healthcare investment began shifting toward improving facilities in China's rural regions. The following year, in January 2015, Beijing passed a government initiative supporting local Chinese manufacturers that created opportunities for market expansion on the one hand, but also presented challenges for multinational ultrasound manufacturers on the other.
China's three-tier hospital system
Growth in China's ultrasound market has been historically driven by the purchase of premium ultrasound cart systems—those costing more than $120,000—by Tier 3 urban hospitals, defined as facilities with more than 500 beds and rated as providing top-level care. In comparison, Tier 2 and Tier 1 hospitals—facilities with 300 and 100 beds, respectively-favored midrange cart systems valued at between $30,001 and $60,000.
To be sure, Chinese patients have traditionally sought medical care—even for minor ailments—at the largest, highest-grade hospitals, and the top hospitals were also awarded the highest levels of government resources. This produced an imbalance, resulting in an underdeveloped primary health network in the country.
China's ongoing health reforms are now focused on addressing this imbalance and establishing an adequate primary healthcare infrastructure. County-level hospitals have been the chief beneficiaries, and are playing a more substantial role in diagnosis, delivering maintenance therapy, and refilling prescriptions. Tier 2 and Tier 1 hospitals are assuming more responsibility for healthcare delivery in China, which is driving demand for more of these institutions.
The figure below shows that growth for the number of Tier 2 and Tier 1 hospitals outpaced all other healthcare institutions from 2016 to 2017.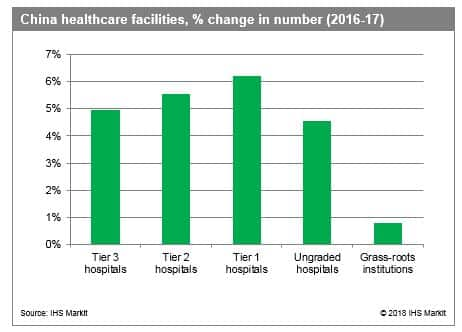 From 2015 to 2017, Chinese companies like Mindray, Sonoscape, and SIUI also benefitted from the government's initiative to promote local manufacturers, gaining market share during the period.
All told, the policies from Healthy China 2030 to promote the early detection, diagnosis, and treatment of diseases should benefit the ultrasound market. A powerful diagnostic tool that can be used in various clinical settings, ultrasound is less expensive and more portable than other imaging modalities. Ultrasound can be used in both traditional and non-traditional categories as well as in point-of-care areas, including cardiology, OB/GYN, radiology, gastroenterology, internal medicine, urology, surgery, anesthesia, critical care, emergency medicine, and
primary care.
Moreover, technological advancements have expanded ultrasound's diagnostic reach and return-on-investment. The continued expansion of ultrasound usage to Tier 2 and Tier 1 hospitals, as well as to grass-roots clinics ranked below tiered healthcare facilities, offers huge potential for growth in the next 10 years.
Improving healthcare at the grass-root level
Grass-roots institutions provide primary public and clinical health care to rural communities in China. Comprising community and village clinics, township centers, and outpatient departments, grass-roots facilities possess only basic health equipment and lack funding, technology, and properly trained healthcare professionals.
As a result, the Chinese population relies heavily on county hospitals to meet even their most basic healthcare needs, or they go straight to Tier 3 hospitals to access the best doctors and technologies.
Strengthening the grass-roots system and promoting utilization of primary care are major targets of China's healthcare reform policies. In the ultrasound area, grass-roots institutions need basic, low-end ultrasound equipment. China counted 930,209 grass-roots institutions in 2016, but only an estimated 1% of these facilities owned an ultrasound system. The potential market for grass-roots ultrasound is huge but completely undeveloped.
China's ultrasound market by healthcare facility
Tier 3 hospitals accounted for 45% of Chinese ultrasound revenues. However, the Tier 3 market is developed, and growth will decelerate during the next five years as the market transitions from one that requires multiple new systems to one of replacement. During the forecast period, growth in this segment will be driven by the opening of new Tier 3 public and private hospitals, the expansion of ultrasound utilization to departments other than radiology, and system replacements and upgrades.
In comparison, Tier 2 hospitals in 2017 purchased the largest amount of ultrasound equipment among all healthcare facilities. During the forecast period, the government will continue working to alleviate the strain on Tier 3 hospitals by improving Tier 2 hospital services. Planned actions to achieve this goal include increasing the number of patient visits, improving the diagnostic and treatment capabilities, and expanding the role of Tier 2 hospitals in medical teaching and research. These actions will encourage hospitals to purchase ultrasound equipment, especially premium cart systems and high-end systems—the latter defined as those costing between $60,001 and $120,000. Tier 2 hospital ultrasound revenues are projected to grow at a compound annual growth rate of 6.4% from 2017 to 2022.
The ultrasound market in 2017 for Tier 1 and ungraded hospitals amounted to a relatively paltry $96.7 million, but growth in the forecast period will be higher than that of Tier 3 and Tier 2 hospitals. Historically, ultrasound utilization in Tier 1 and ungraded hospitals was low, but Healthy China 2030 policies are redirecting funds to these facilities, often run at the township level, and acting as the intermediaries between outpatient clinics and more advanced hospitals.
Holley Lewis is an Analyst for Healthcare Technology at the IHS Technology Group within IHS Markit
Posted 14 November 2018
RELATED INDUSTRIES & TOPICS