Customer Logins
Obtain the data you need to make the most informed decisions by accessing our extensive portfolio of information, analytics, and expertise. Sign in to the product or service center of your choice.
Customer Logins
China's ethanol push

03 January 2019
Harry Liu
William Chen
In 2001, China initiated an ethanol fuel program to consume aged grains no longer suitable for use as food. The program was confined to six provinces and select cities in four additional provinces to avoid jeopardizing the food supply to China's population of 1.3 billion people. IHS Markit estimates that China produced about 52,000 barrels per day (b/d) of E10, a 10% concentration of ethanol-based gasoline blend, in 2017. This blend was largely derived from grain, as non-grain-based ethanol technology remains commercially unproven, even with the support of government subsidies.
Given China's concern for food security, ethanol (which comes mainly from grain) has never been considered a strategic fuel target for the government. That changed in September 2017, when the Chinese government announced legislation proposing the use of ethanol in fuel for all of China by 2020. This move is perceived as the government's reassurance it will abide by the Paris Accord to reduce fossil fuel consumption and alleviate global warming. But it also enhances energy security by reining in the country's dependence on oil imports. On a more practical level, the initiative promises to reduce the huge corn inventory that has been building up for years, resulting from government farming subsidies.
The ethanol push faces tricky supply options: bioethanol, fossil-fuel-based ethanol, or USimports?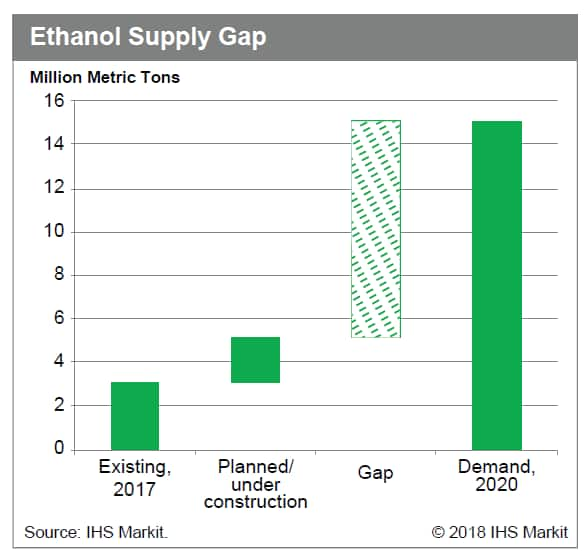 With a minimum of 10% ethanol blend in the gasoline pool, which is expected to reach 3.4 million barrels per day (MMb/d) in 2020, China would need to source 15 million tons of ethanol per year. That total is almost seven times the volume consumed today. This volume will increase year-over-year to the mid-2030s, when gasoline demand is expected to peak. Currently China imposes significant tariffs of 30% on ethanol imports, both denatured (mostly for fuel) and natured ethanol, to inhibit imports. This policy is likely to remain. This year's US-China trade friction, which is commanding a 25% higher tariff on imported ethanol from the US into China, further pressures import economics.
That leaves domestic sources as the most likely solution to the huge supply gap. Yet China is not likely to encourage the development of fossil-fuel-based ethanol capacity, such as syngas, coke oven gas, or coal-based ethanol, or even natural-gas-based ethanol, due to its significant carbon and environmental footprint.
The current corn inventory is enough to sustain ethanol production for nationwide E10 use (which requires more than 15 million tons per year) for about five years. Fuel-ethanol production capacity stands at around three million tons per year. It will be years before ethanol capacity grows to the level required. Therefore, ethanol supply is unlikely to catch up with demand in the medium term.
Ultimately E10 could materialize in China, but it will take longer than the government expects
Despite the immense supply challenge, E10 may support China's fuel and food initiatives eventually, as the government increasingly commits to decarbonize energy consumption, improve energy security, and alleviate poverty. Three steps will help China reach is goals:
China's crude oil imports dependency reached about 68% in 2017. Bio-ethanol for gasoline can curb the growth of crude oil imports dependency.
China promises to reach peak carbon emissions by around 2030. To meet this goal, the country will need to shift energy consumption patterns from coal to gas and renewables. A move to bio-ethanol to displace petroleum-derived gasoline will help honor this commitment.
A need to create demand for base agricultural production will protect farmers' interests at home. This demand could help narrow the ever-increasing disparity between rich and poor, as well as urban and rural populations.
IHS Markit acknowledges the challenges of transporting ethanol from plants to blending facilities and gas stations. This difficulty results from the potential for water contamination during transport, which adds complexity to compliance mandates across the supply chain. With these caveats, we expect the E10 policy to be adopted after some delay, although it will not be realized uniformly or simultaneously across the country.
What are the implications for refining and petrochemical operations?
The use of ethanol will impact oxygenate blends in gasoline such as methyl tert-butyl ether (MTBE), tert-amyl methyl ether (TAME), and even methanol. These liquids are to be excluded from ethanol-blended gasoline due to the restriction of oxygen content in the gasoline specification, which is required to minimize nitrogen oxide emissions from gasoline engines.
However, the phase-out of oxygenate blends from the gasoline pool is not the end of the story. Refiners and traders will need to redesign the gasoline pool in a cost-efficient manner while meeting the country's fast-evolving gasoline specifications. In addition, refiners and chemical companies must adjust their operations to deal with issues related to fluidized catalytic cracker (FCC) operation, C4 olefins, and methanol used as the feedstock for producing gasoline oxygenates.
TAME technology is widely adopted in Chinese refining systems. It addresses refiners' challenges, including lower olefins in the new gasoline specifications and increasingly higher demand for octane. If TAME is out of the gasoline pool, refiners will have to desulphurize FCC light naphtha, which is used as TAME feedstock, to meet the 10 parts-per-million sulphur requirement at the cost of a lower octane rating. To make up for the octane loss, refiners may need to invest in alkylation and isomerization units.
MTBE is primarily used as a blendstock in the gasoline pool, which accounted for 95% of total MTBE demand in 2017. In addition to its use as an octane improver, a small portion of MTBE is consumed in the production of high-purity isobutylene (HPIB). This end-use segment is expected to grow at 7.6% annually during 2020-2028, but the relative proportion of MTBE for HPIB will steadily rise to 24.5% in 2028, assuming the total MTBE demand in China decreases. MTBE exports are expected to slightly increase, which will release, to some extent, the pressure from domestic oversupply. However, it is unlikely that China will become a major MTBE exporter in the future. Some of the volumes will be exported as a blending component along with gasoline exports, which are expected to rise in the long run.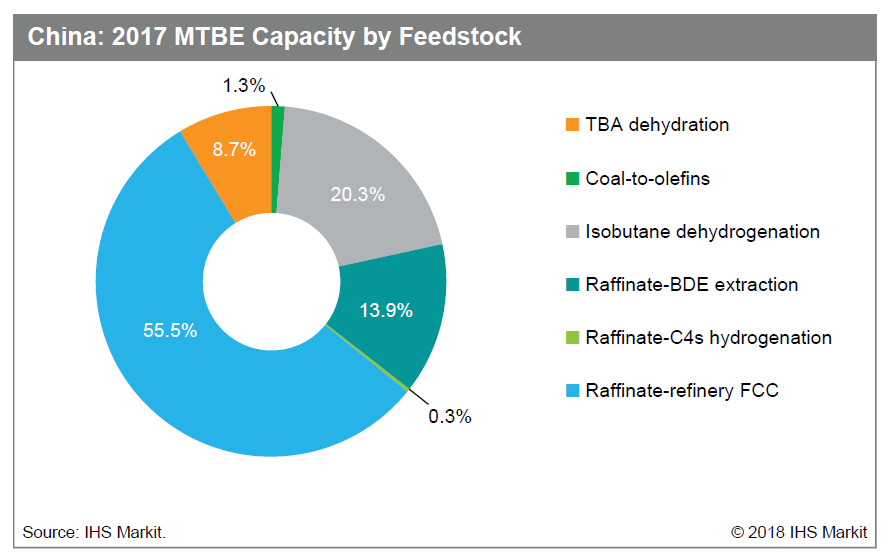 It will be interesting to see which MTBE producer will shut down first because of this ethanol push. State-owned enterprises are much more competitive than private players because of better integration along the value chain, from feedstock supply to gasoline disposal. Hence, private and small players will be under immense pressure. Also squeezed will be some of the butylene isomerization-based MTBE units with feedstocks of raffinate-2. The alternative way to weather this ethanol storm is to repurpose MTBE units into production of ethyl tert-butyl ether (ETBE), which uses the same C4 feedstock but in reaction with ethanol instead of methanol. However, no policy support is yet in place. In fact, ETBE is considered a better way for ethanol to make inroads into gasoline, due to better stability and vapor pressure performance.
RELATED INDUSTRIES & TOPICS
{"items" : [ {"name":"share","enabled":true,"desc":"<strong>Share</strong>","mobdesc":"Share","options":[ {"name":"facebook","url":"https://www.facebook.com/sharer.php?u=http%3a%2f%2fihsmarkit.com%2fresearch-analysis%2fchina-ethanol-push.html","enabled":true},{"name":"twitter","url":"https://twitter.com/intent/tweet?url=http%3a%2f%2fihsmarkit.com%2fresearch-analysis%2fchina-ethanol-push.html&text=China%e2%80%99s+ethanol+push+%7c+IHS+Markit+","enabled":true},{"name":"linkedin","url":"https://www.linkedin.com/sharing/share-offsite/?url=http%3a%2f%2fihsmarkit.com%2fresearch-analysis%2fchina-ethanol-push.html","enabled":true},{"name":"email","url":"?subject=China's ethanol push | IHS Markit &body=http%3a%2f%2fihsmarkit.com%2fresearch-analysis%2fchina-ethanol-push.html","enabled":true},{"name":"whatsapp","url":"https://api.whatsapp.com/send?text=China%e2%80%99s+ethanol+push+%7c+IHS+Markit+ http%3a%2f%2fihsmarkit.com%2fresearch-analysis%2fchina-ethanol-push.html","enabled":true}]}, {"name":"rtt","enabled":true,"mobdesc":"Top"} ]}