Customer Logins
Obtain the data you need to make the most informed decisions by accessing our extensive portfolio of information, analytics, and expertise. Sign in to the product or service center of your choice.
Customer Logins
China's BOE benefits from Korean makers producing fewer IT panels

For some time now Korean displays have dominated the information technology (IT) market, in the form of panels mainly for notebook PCs and LCD monitors. But this changed in 2016-not only because of the retreat of Korean panel makers in the IT space, but also due to the rapid capacity expansion of Chinese display makers, especially BOE.
In the past couple of months, we have observed the following things happening:
While Samsung Display delivered 30 million notebook panels in 2015, a fab restructuring could mean notebook panel shipments falling to 12 million units in 2016, and possibly to just 4 million units in 2017.
HP has been affected the most, with its shipments from Samsung Display down by two-thirds. HP had been mainly sourcing from Korean panel makers, but is now turning to panel makers in both China and Taiwan.
BOE, Innolux, Sharp and AUO are poised to benefit from these changes.
Apple has decided to add Sharp as a panel supplier for new MacBook Pro panels. Apple also plans to source 13.3-inch panels from BOE for legacy MacBook Air models.
Owing to fast capacity growth in China, Korean LCD panel makers believe that LCD panels may no longer be a sustainably profitable business and are betting their futures on manufacturing OLED panels. And because I.T. has lower profit margins and market growth, the display companies are quitting the production of I.T. panels first.
Samsung Display sold its L5 fab to Chinese touch and module makers last year, and according to the Display Production & Inventory Tracker, IHS Markit estimates that Samsung Display plans to discontinue another Gen 5 fab, L6, next year. Notebook PC brands have been assuming that panel oversupply is a regular condition, and that the sluggish notebook PC market has made brands hesitate to build inventory. The sudden business change from Samsung Display could create panel shortages in 2016 and presumably in 2017.
BOE could double panel shipments this year
Samsung Display delivered 30 million notebook panels in 2015. While the fab restructuring goes on, notebook panel shipments could fall to 12 million in 2016, and then possibly 4 million in 2017. There is an 18-million panel gap in the second half of this year, and brands must respond to the change in order to acquire sufficient panels.
HP is the company most affected, with shipments from Samsung Display declining to 350,000 units in Q2, down from 1.1 million in Q1. To secure sufficient panel supply for set production, HP shifted orders to other panel makers. Taiwan's Innolux, for instance, received a 2.8 million panel order in Q2, up 58% from Q1.
China's BOE is also benefitting from Samsung Display's strategic changes. BOE's total notebook PC panel shipments jumped from 4.9 million units in Q1 to 7.2 million in Q2. In fact, every top brand is contributing to this growth, as BOE received orders of more than 1 million panels each from Dell, HP and Lenovo.
Furthermore, BOE was the largest notebook PC panel maker for shipments in August, according to the Large Area Display Market Tracker. Its notebook panel shipment share grew significantly, rising to 23.9% in August, up from 6.3% during the same month last year. BOE's target is become the largest panel supplier, which it can achieve through several factors. These include the retreat of Koran panel makers, especially Samsung Display and LG Display in the twisted nematic (TN) panel space; a dedicated strategy to gain more design wins in PC brands like Dell, HP, Lenovo and even Apple; and its expansion in notebook PC capacity, especially in Gen8.
Overall, BOE is expected to grow its notebook business to more than 36 million panels in 2017, which is very close to that of Taiwanese maker AUO. BOE first began to supply notebook panels in 2009, and since then has become a giant in the IT panel market. Furthermore, BOE has a Gen8 fab in Chongqing, China, which is very close to the world's largest notebook assembly base. Notebook panel shipments from the Chongqing Gen8 fab are expected to grow very rapidly next year, thanks to efficient logistics and BOE's dedication to the notebook PC market.

Opportunities for Chinese and Taiwanese makers to grow share in premium panels
LG Display and Samsung Display used to supply panels for Apple notebooks. However, a fab restructuring, especially the reallocation of Oxide (IGZO) TFT LCD capacity, has raised Apple's concerns over panel supply uncertainty.
According to the Notebook & Tablet Display Supply Chain Tracker, Apple has decided to add Sharp as a panel supplier for new MacBook Pro panels to diversify and to manage the risk caused by Samsung Display changing business plans again. Meanwhile, the merger of Foxconn and Sharp provides some chance to provide cost-competitive solutions to Apple. For its legacy MacBook Air, Apple also plans to source 13.3-inch panels from BOE-the first time that Apple has adopted LCD panels from Chinese makers. This design-win in the Apple MacBook has been recognized as an important milestone for BOE. It also breaks the myth prevalent in some industrial circles that Apple does not use displays produced by Chinese makers.
Samsung Display's withdrawal from the LCD business has also affected the supply of panels with wide-view-angles featuring in-plane switching (IPS)/plane to line switching (PLS) technology. Samsung Display had been one of the major suppliers of the panels, second only to LG Display. To avoid having LG Display become the lone source for IPS/PLS panels, brands will need to find other suppliers when Samsung Display begins to reduce IPS/PLS panel production. In the meantime, LG Display is also reducing its production of TN panels to shift more focus to IPS wide-view-angle IT panels.
AUO is one of the qualified candidates that can step in to fulfill the gap left by Samsung Display, and the Taiwanese maker is already receiving increased orders from brands. According to the Large Area Display Market Tracker, IPS share for AUO was 17% in Q2 and is forecast to reach 19% in Q4-larger than that of Samsung Display. During this time of panel shortage, AUO will not be trying to gain market share. Instead, it plans to change product mix to focus on profitable products. IPS and touch on display (TOD) represent good opportunities for AUO.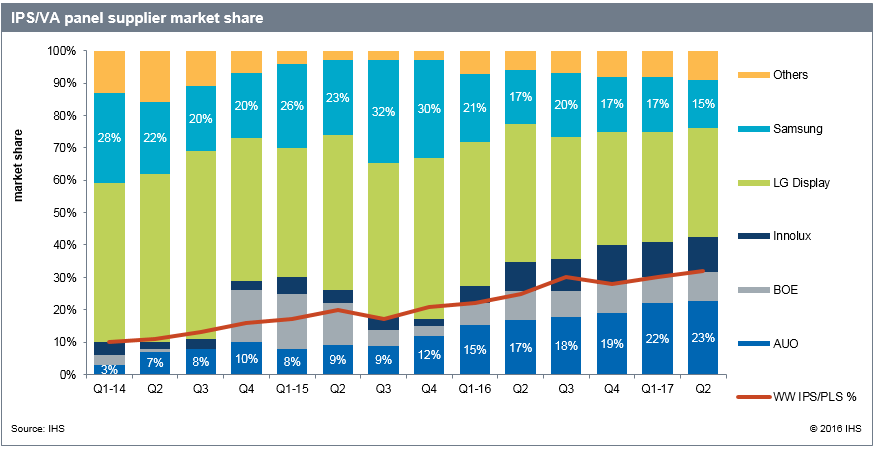 David Hsieh is Director of Analysis & Research within the IHS Markit Technology Group at IHS Markit
Posted 17 October 2016
RELATED INDUSTRIES & TOPICS