Customer Logins
Obtain the data you need to make the most informed decisions by accessing our extensive portfolio of information, analytics, and expertise. Sign in to the product or service center of your choice.
Customer Logins
China AMOLED shipments plunge, but valiant efforts and focus continue

Despite an aggressive push from China to expand manufacturing capacity in AMOLED displays to produce superior screens in devices like smartphones, Chinese makers are shipping much fewer product than expected.
AMOLED-or active-matrix organic light-emitting diode-is recognized as a strong alternative in achieving what its rival LCD technology cannot do, especially for smartphone displays. Here AMOLED offers lower-power consumption, better color saturation, a slimmer structure, and most importantly, flexible and even foldable capabilities.
To date Samsung Display has been the dominant supplier of AMOLED smartphone display panels. But Chinese manufacturers are keen to get in on the action and have been ramping up manufacturing capacity in assertive fashion. Among these makers are Beijing-based BOE; EverDisplay from Shanghai; Visionox Display in Shanghai-adjacent Kunshan; Tianma, Royole, and Chinastar, all three located in the major industrial enclave of Shenzhen in Southwest China; and Truly Display, northeast of Shenzhen.
Recent developments had first indicated progress being made by local Chinese makers with their capital investments in AMOLED. For instance, Tianma had announced on April 20 its first rigid and flexible AMOLED products from the maker's Gen 6 AMOLED fab in the city of Wuhan, in central China. Then, on May 11, BOE announced its first flexible AMOLED products from the manufacturer's Gen 6 AMOLED fab in Chengdu, 700 miles west of Wuhan.
Yet shipments from Chinese AMOLED makers so far have fallen short of their manufacturing capacity, as reported by the IHS Markit Smartphone Display Intelligence Service. This indicates that there's still a long way to go before the Chinese achieve stable yield rates for the AMOLED displays they make. Moreover, a significant gap remains between Chinese panel makers and Samsung Display. For the Chinese, surviving in the competitive market remains a top priority.
Shipments dropped quickly in Q1 2017
Chinese panel makers in the first quarter this year-traditionally the low season-shipped a total of 1.3 million AMOLED displays, down 58.4% from 3.0 million in Q4 2016 when average selling prices, had been high. To be sure, brands had released orders in advance during the final quarter of 2016 in order to control BOM costs and to maintain abundant supply in anticipation of surging sales experienced normally during the traditional Lunar New Year in January. As a result, brands were cautious about releasing more orders in Q1 after the lunar holidays, undertaken ostensibly to control component inventory levels during Q1's low season. Aggravating the situation was the weak demand for smartphones at that time, given that the number of new smartphone models introduced in every first quarter historically has never been high.
Even so, the country's AMOLED display shipments dropped faster than shipments for the overall Chinese display space. Unlike market leader Samsung Display, Chinese panel makers remain weak in AMOLED production yield rates and in their supply chain. And when global demand turned soft as it does every first quarter, Chinese shipments were impacted accordingly. Still, local panel makers attained significant growth in mass-production loading rates, achieving a whopping 403% increase from the year-ago quarter, but purely on the strength of an immature market at the time of the first quarter in 2016.
Smartphones are the major users of AMOLED
The global smartphone market accounts for most of the demand enjoyed by China's AMOLED panel makers. In the first quarter of this year, shipments from China of AMOLED displays for smartphones amounted to 900,000 units. That represented a plunge of 61% from the previous quarter.
To make up at that time for the weak global demand of smartphones, China increased its share of AMOLED shipments to local smartwatch brands. As a result, China's share of the global smartwatch market rose to 29.2% in Q1, up from 23.8% in Q4 2016.

AMOLED shipment result by panel maker
Among Chinese AMOLED makers EverDisplay remained the leader with a commanding 66.8% market share in Q1. In absolute numbers, however, AMOLED shipments from the manufacturer fell 58.4% from the previous quarter, down to 800,000 units. EverDisplay at the end of 2016 had won orders for 5-inch high-definition displays from Chinese telecom giant Huawei and then started mass production in January 2017. But because Huawei products called for much higher requirements, EverDisplay found itself facing quality-related issues that significantly impacted output on the whole.
At the same time that EverDisplay started having issues, Samsung Display won back a portion of demand for the same 5-inch HD AMOLED displays from Huawei. But with the South Korean electronics titan offering more stable quality and comparatively lower panel costs for its AMOLED products, EverDisplay as well as other Chinese AMOLED panel makers became negatively impacted.
At No. 2 was Visionox, with market share rising to 24.1%. Like EverDisplay, Visionox is another panel maker in China that relies on AMOLED. As demand came to nearly an end in Q3 2016 from ZTE, another of China's telecom giants and also a customer, Visionox faced trouble. To maintain a reasonable level of capacity utilization, Visionox continued to foster shipments for local outfits like Chinese smartphone brand Nubia.
For both BOE and Tianma, strong relationships were in place with local smartphone brands that allowed the two manufacturers to enjoy greater LCD exposure than their other rivals. BOE and Tianma ranked No. 3 and No. 4, respectively, but their AMOLED shipments were far smaller-and less important to the makers-than their LCD output. For financial stability, the companies have to focus first on LCD for smartphones while they work on the more time-consuming and challenging process toward getting stable yield rates for AMOLED.
At any rate BOE's AMOLED fab in Ordos, Inner Mongolia, was only a Gen 5.5 rigid AMOLED facility that produced 4,000 units per month, and Ordos was no longer the focus of BOE's strategy. Instead, BOE assigned top priority to the Chengdu Gen 6 flexible AMOLED fab, with the maker already developing panel samples featuring the newly favored 18:9 aspect ratio. Shipments of AMOLED panels from BOE Chengdu is expected to increase quickly as Gen 6 capacity ramps up at the end of 2017.
A similar situation surrounded Tianma. Its Gen 5.5 AMOLED fab capacity in Shanghai focused on the evaporation and encapsulation process, while LTPS array glass shipped from the maker's Xiamen Gen 5.5 LTPS LCD fab. Because Tianma's LTPS LCD demand was strong and AMOLED demand was poor in comparison, Tianma gave LTPS LCD top priority in Q1, shipping fewer AMOLED panels in the process. Nonetheless, the manufacturer's AMOLED shipments are expected to increase quickly when its Wuhan Gen 6 AMOLED fab capacity becomes ready for mass-production output.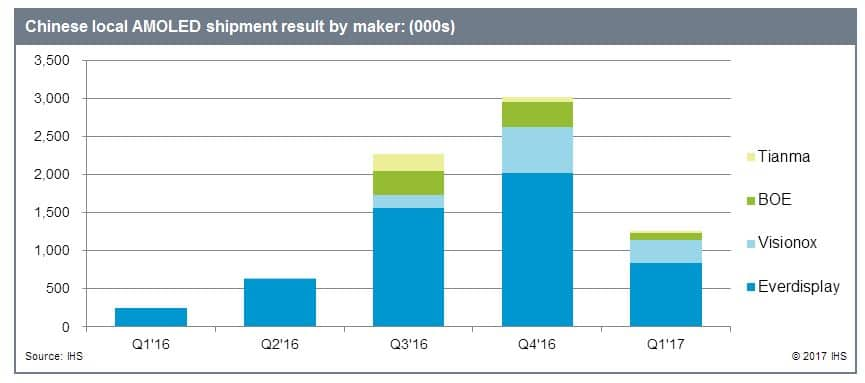 Can Chinese AMOLED makers succeed?
There were multiple reasons for Chinese AMOLED panel makers for performing poorly in the first quarter, such as the period in question being the slow season, as well as continuing competition from Samsung Display.
However, the biggest reason was the immature yield rate and insufficient product stability. AMOLED is difficult to produce-a well-known fact-and good engineering know-how along with savvy technical management are the keys to success, accounting for greater importance than the mere possession of good equipment.
As can be seen from the strategies of BOE and Tianma, Chinese AMOLED makers are in the process of rapidly expanding manufacturing capacity, with more focus directed toward flexible AMOLED, skipping rigid AMOLED altogether. But while Chinese panel makers have successfully penetrated the global LCD market-becoming the world's largest LCD suppliers and capacity owners in the world-whether they can repeat this success in the AMOLED sphere remains a question at this point. And since achieving stable AMOLED yields and reliability takes a considerable amount of time, a clear path to ROI, or return on investment, is also still up in the air.
Just the same, China's AMOLED makers appear undaunted, with bold plans to forge ahead and build more than 10 flexible AMOLED fabs in the country in the days ahead.
David Hsieh is Research & Analysis Director within the IHS Technology Group at IHS Markit
Posted 18 July 2017
RELATED INDUSTRIES & TOPICS