Customer Logins
Obtain the data you need to make the most informed decisions by accessing our extensive portfolio of information, analytics, and expertise. Sign in to the product or service center of your choice.
Customer Logins
Cheniere to disclose greenhouse gas emissions per LNG cargo in 2022
Cheniere Energy, the largest LNG producer in North America, announced 24 February it plans to begin providing its customers with greenhouse gas (GHG) emissions data associated with each cargo produced at its Sabine Pass and Corpus Christi liquefaction facilities in Louisiana and Texas, respectively.
The "Cargo Emissions Tags" will quantify the estimated GHG emissions of LNG cargoes from the wellhead to the cargo delivery point. The company said they are expected to be available beginning in 2022.
"We believe significantly enhanced data-driven emissions transparency will support Cheniere, our customers and our suppliers as we work to identify tangible opportunities to quantify and improve environmental performance," said Jack Fusco, Cheniere CEO. "We consider this announcement to be a critical first step for the industry. Cheniere will continuously work to improve the data incorporated in the [Cargo Emissions] Tags with the ultimate goal of providing dynamic GHG emissions data."
Emissions will be calculated utilizing Cheniere's lifecycle analysis model, which Fusco said "incorporates the accounting frameworks from models created by the US Department of Energy's National Energy Technology Laboratory, and will utilize publicly available data from value chain participants, as well as operational data from both the Sabine Pass and Corpus Christi liquefaction facilities."
The tags are part of the company's overall strategy of tracking and reducing emissions through efficiency measures, monitoring, and use of digital tools (see image).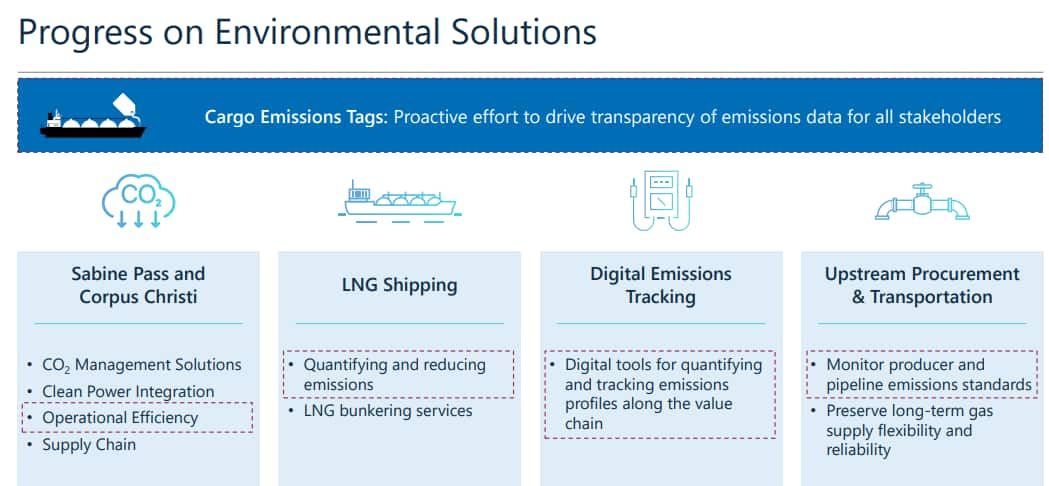 Source: Cheniere Energy
Industry trend
Cheniere's move continues a growing interest in understanding and reducing the carbon footprint of LNG production and transportation. Until the last year, LNG had been seen as providing an immediate GHG benefit to importing nations, which typically used natural gas to displace coal or fuel oil.
But with the urgency of climate change becoming more apparent, LNG producers are being pushed to track the GHGs associated with producing, transporting, and liquefying gas into LNG. This is happening in parallel with what Cheniere says continues to be a market poised for long-term growth. In its earnings presentation on 24 February, Cheniere said it believes by 2030, about 60 nations will be importing LNG, up from about 43 today.
The European Commission issued a Methane Strategy in October 2020, which will take effect in 2024, that requires that the GHGs of all imported LNG cargoes be disclosed, or regulators will set a "default value" on those cargoes. This is the first step to possibly assessing a border tax on imported LNG, correlated to emissions (see related article).
To meet the expectations of importers that are concerned about GHG emissions, Qatar Petroleum, the world's largest LNG producer, announced in February that in conjunction with a planned expansion of its production, it will invest in carbon capture and storage to offset its emissions.
Cheniere's earnings
Cheniere's announcement of LNG GHG tracking coincided with the company's release of fourth-quarter and full-year 2020 earnings. Cheniere reported revenue of $2.78 billion for the quarter and $9.36 billion for the full year, off by 7% and 4%, respectively, from a year earlier.
For the quarter, Cheniere shipped 130 LNG cargoes, the same as in the fourth quarter of 2019, and volumes were basically unchanged at 461 trillion Btu (TBtu). For 2020, cargoes and volumes were off by 9% from the prior year, due to COVID-19 economic impacts, with a total of 391 cargoes and 1,381 TBtu of gas.
"As one of the largest consumers of natural gas on a daily basis in the US, and one of the largest producers of LNG worldwide, Cheniere is ideally positioned to collaborate with domestic and international value chain participants to provide improved transparency and advance the global transition to a lower-carbon future," said Fusco.
Using PointLogic and IHS Markit tracking data, Cheniere used more than 5.9 billion cubic feet of gas per day (Bcf/d), on average in December 2020 and January 2021, with a dropoff in February to date to about 5 Bcf/d.
"After a year in which the unprecedented became ordinary course, I am extremely proud to report fourth quarter and full year 2020 financial results that place us solidly within our original, unchanged consolidated adjusted [earnings before interest, taxes, depreciation, amortization (EBITDA)] guidance range and above our distributable cash flow guidance range for the year," said Fusco in a statement.
"We accomplished this while successfully managing a full spectrum of challenges last year, from a global health crisis and its wide-ranging effects, to record low LNG market pricing, and two major hurricanes making landfall near our infrastructure. The results we reported today once again prove the resilience, stability, and reliability of our business through commodity cycles."
The company continues to expand its operations. The fourth quarter of 2020 saw the first commissioned cargoes from Train 3 at Corpus Christi, which is on track for "substantial completion," in the current quarter. Train 6 at Sabine Pass is nearly 78% complete, and it's expected to reach substantial completion in the first half of 2022, Fusco said.
In January, Cheniere sent its first two shipments to CPC Corp., a Taiwan-based customer with which it has a 25-year contract.
The company's EBITDA for 2021 has been revised upward from a prior range of $3.9-$4.2 billion to $4.1-$4.4 billion.
RELATED INDUSTRIES & TOPICS