Customer Logins
Obtain the data you need to make the most informed decisions by accessing our extensive portfolio of information, analytics, and expertise. Sign in to the product or service center of your choice.
Customer Logins
Cellular IoT module vendors contend with a soft first half

Now that results are in from the first six months of the year for vendors of cellular IoT-or Internet of Things-modules, one thing is clear: the first half was slightly weaker than expected. In turn, IHS Markit has adjusted its near-term figures downward.
Cellular IoT modules allow electronic devices to transmit voice and data over mobile networks, and vendors will often have various modules to offer corresponding to the telecommunications standard being deployed, such as 4G, 3G or 2G wireless.
Previous forecasts for cellular IoT modules by IHS Markit had indicated that full-year 2016 shipments would come in at 107.0 million units and revenue at $1.56 billion. We now project that full-year results instead will be 101.2 million units and $1.51 billion, respectively. Adjustment of these figures downward takes into account that module shipments are typically weighted slightly toward the second half of the year.
Even so, we believe the first-half results represent simply a near-term phenomenon-one largely due to customers delaying orders-rather than a fundamental and permanent decline in demand. And while the effects are likely to persist into 2017, annual shipments by 2021 should approximate the volumes estimated in previous forecasts delivered in our market tracker report.
Moreover, based on updated input from the module vendor community, we have adjusted the segmented Average Sales Price (ASP) forecast for 2G, 3G and 4G modules over the next five years. Although all module variants are still declining in ASP over time, the rate of decline has slowed moderately. As a result, overall module revenue in 2021 is higher in the updated forecasts than in previous editions of the tracker. Specifically, guidance for module revenue by 2021 has been raised from $2.99 billion to $3.26 billion.
Module vendor landscape continuing to bifurcate
On a revenue basis the top three cellular IoT module vendors continued to dominate the market, as they have for the past six years at least. The top three vendors for the period were:
Sierra Wireless: $202.9 million (excluding sales of modules to PC OEMs)
Gemalto: $163.9 million
Telit: $152.4 million
Together the three during the first half of this year accounted for 72.5% of the market by revenue and 51.0% of the market by unit shipment.
Canadian-based Sierra Wireless, the top vendor, noted that module revenue-contained in its Original Equipment Manufacturer (OEM) Solutions segment-was up 9.4% in Q2 over Q1 but was down 1.1% year-over-year from Q2 last year. The company is expecting softer demand from some existing customers and programs in Q3 this year, partially due to tighter inventory management by customers.
No. 2 Gemalto, headquartered in the Netherlands, was in a relatively bright spot with IoT revenue growing more than 9% year-over-year compared to the first half of 2015.
Telit, in third place, saw IoT revenue rise 6.3%-a lower-than-expected increase. The UK firm noted that overall growth was held back not only by delayed certification by operators of its LTE Cat-1 products, but also by sluggish growth in the Americas and in the automotive segment.
Historically both Sierra Wireless and Gemalto have benefited from deep inroads into the automotive telematics market where high ASPs are the norm-from the push toward ever-faster broadband, currently with high-throughput LTE; and from the need for more rigorously tested and hardened modules to meet automotive manufacturing standards. For its part, Telit is increasingly trying to push into the automotive market as well.
We should also note that Swiss provider u-blox and China's Huawei-both represented in the "Others" category-are active in the automotive sector: u-blox mainly in aftermarket and fleet programs; and Huawei in the burgeoning Chinese automotive space.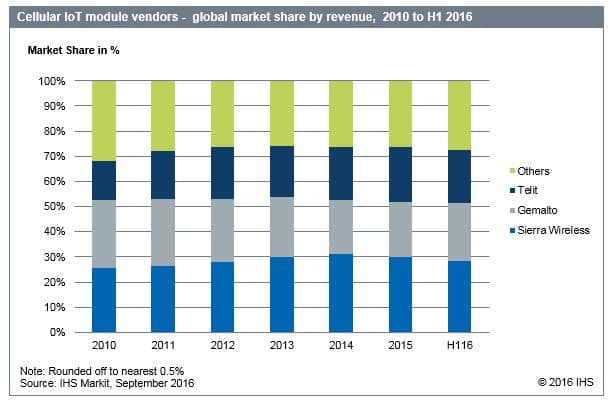 In terms of unit shipments, however, there is no doubt that the top three vendors are steadily losing ground to vendors in the "Others" category. From more than 60% in 2012, collective share for the top three now stands at 51.0% at the end of the first half of 2016.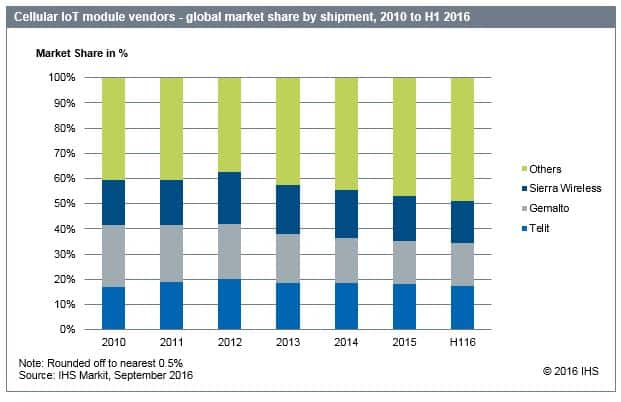 With the notable exception of u-blox, most of the "Other" vendors are based in the Asia-Pacific region and are quite willing to accept low margins in order to drive volume. For example, Shanghai's SIMCom Wireless Solutions reports a gross margin of just 15% for the period in its wireless modules business, and IHS Markit estimates the company's blended module ASP at only $5.42. By comparison, we calculate Sierra Wireless's module gross margin at 30.9% and the company's blended module ASP at $26.12.
There are two conflicting forces at work here. On the one hand, many segments of the cellular IoT value chain want to commoditize modules and drive down price as far as possible to encourage the broadest possible adoption across a range of price-sensitive IoT applications. This is especially true of mobile operators, who are actively seeking to work with module vendors from the "Others" category to wring out cost and promote standard physical form factors. On the other hand, all of the three top vendors are focused on differentiating their module products and further extending themselves up the value stack by offering software and services. This is because while module sales will form the bulk of their revenue for the foreseeable future, software and services will account for increasing share over time.
A snapshot of current market trends during the first half
Regions and air standards: North America continues to be the fastest in rolling out 4G IoT and will be very quick to adopt "Low Cat" LTE variants, such as Cat-1 and Cat-M1. It appears Cat-NB1 will follow about six months after Cat-M1. Cat-0 looks stillborn at this point, and IHS Markit does not expect meaningful deployment in North America or elsewhere. The Europe-Middle East-Africa (EMEA) region is seeing good 4G growth, but 2G still predominates. Meanwhile, there is some 4G and good 3G growth in Asia-Pacific but also still a strong demand for 2G, especially on a country-by-country basis.

Applications and customer base: Vehicle telematics, asset tracking, energy and security remain leading application areas. Interestingly, vendors are seeing a shift in their customer base. Average volume per customer is increasing as the field becomes more mature and as more customers move from pilots or early trials to production deployment. Concurrently, module vendors are seeing the continuing rise in importance of corporate adopters and product OEMs in their new role as customers, alongside the more traditional application service-provider customer base.

LPWA-or low-power wide area-is causing air standard fragmentation: Vendors cite the rise of diverse LPWA technologies, both for licensed and unlicensed spectrum, as creating confusion and complexity alike in the market. Yet the chaos also provides a key opportunity to optimize wireless wide-area network (WAN) connectivity for IoT applications, and thereby greatly expand the addressable IoT market opportunity for wireless WAN technologies. Specifically and for applications that do not need high throughput, LPWA technologies offer very low cost, long battery life, network simplicity and increased range as well as improved in-building penetration. Ultimately, IHS Markit believes there is room in the LPWA market for both licensed spectrum and unlicensed spectrum, particularly since there are many IoT applications (e.g., precision agriculture) that traditional mobile network infrastructure is unable to reach and where a private network will have to be deployed.
​Sam Lucero is Senior Principal Analyst, IoT & M2M, within the IHS Technology Group at IHS Markit
Posted 11 October 2016
RELATED INDUSTRIES & TOPICS