Customer Logins
Obtain the data you need to make the most informed decisions by accessing our extensive portfolio of information, analytics, and expertise. Sign in to the product or service center of your choice.
Customer Logins
Catalan independence moves
On 1 October, the Catalan regional government held an independence referendum despite the Spanish courts prohibiting the vote on the grounds that it was unconstitutional.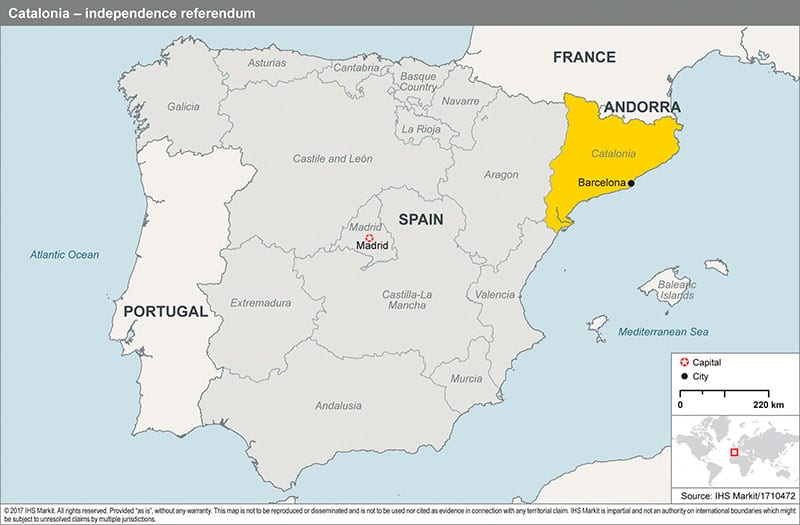 The unconstitutional referendum triggered a political crisis, but IHS Markit does not currently assess that Catalonia will secede from Spain in the two-year outlook. It is likely that Catalan nationalists aim to generate enough political momentum to open a negotiation process to establish a legal mechanism for independence. Catalan regional president Carles Puigdemont on 10 October appeared to defer announcing a unilateral declaration of independence (UDI) in the regional parliament, seeking negotiation with Spanish Prime Minster Mariano Rajoy's government, but to date there has been no official dialogue.
The Spanish cabinet will on 21 October meet to begin the implementation of Article 155, which provides for the suspension of all or parts of Catalan political autonomy. This is likely to prompt labour strikes, mass street protests, and confrontations with Spanish national police, causing disruption to business activities, for example through demonstrations affecting transport and cargo. Spanish state assets, such as court buildings, would be likely targets of vandalism.
The political crisis will drive uncertainty in the fourth quarter, threatening the recent revival of industrial investment both in Catalonia and Spain. According to the Spanish national statistics institute, in the second quarter of 2017 business confidence was at its highest level since 2013. Catalonia's share of Spanish nominal GDP stood at 19.0% in 2016. Given that we still see a path to a negotiated settlement, the hit to short-term growth is likely to be moderate and is likely to be lowered by around 0.2 percentage point per annum in our October update. According to our October forecast, we now expect the Spanish economy to expand by 2.2% (revised down from 2.55%) in 2018 and 1.7% (from 2.0%) in 2019, and the downward adjustment reflects the likely hit on employment and industrial investment intentions. In the low-probability scenario of secession, both Spain and Catalonia would face major economic and fiscal disruption. Spanish tax receipts would drop significantly, leading to acute fiscal tensions, with Spain's general government budget deficit at 4.5% of GDP and its public debt ratio at close to 100% of GDP in 2016.
Pressure on Catalan-based banks will encourage corporate relocation. To retain access to European Central Bank and Spanish Fund for Orderly Bank Restructuring (Fondo de reestructuración ordenada bancaria: FROB) support, and to reduce the risk of deposit flight and customer boycotts, the two major Spanish banks based in Catalonia, CaixaBank and Sabadell, have relocated their headquarters to Valencia and Alicante, respectively. CaixaBank did so after the government issued a decree that such decisions could be taken by company boards, without seeking shareholder approval. Deposits within Catalonia may also be relocated to avoid the risk of currency redenomination in the event of a UDI. Spanish banks are also likely to underperform on the stock exchange, reflecting the degree of loan exposure to Catalan-based businesses. Outside of the banking sector, energy utility Gas Natural Fenosa temporarily moved its headquarters to Madrid. Such moves indicate elevated levels of legal and operational uncertainty being generated by the current stand-off between national and regional governments.
Indicators of changing risk environment
Increasing risk
Statements supporting the use of Article 155 of the Spanish constitution to suspend Catalan autonomy by minority parties in the national parliament's upper chamber.
Increased frequency and intensity of protests by pro-independence supporters pressuring Catalan government to maintain an uncompromising position with the national government.
Decreasing risk
Increased antagonism from the main national opposition Spanish Socialist Workers' Party (Partido Socialista Obrero Español: PSOE) on non-Catalan-related issues in the Spanish parliament - indicating that despite opposing independence, it is pushing the minority government to undertake a negotiated settlement including discussions on a future legally binding referendum.
An early withdrawal from Catalonia of additional nationally controlled Spanish police drafted into the region to try to prevent the referendum from taking place.
Laurence Allan is Director, Head of Desk, Country Risk - Europe and CIS at IHS Markit
Posted 20 October 2017
RELATED INDUSTRIES & TOPICS