Customer Logins
Obtain the data you need to make the most informed decisions by accessing our extensive portfolio of information, analytics, and expertise. Sign in to the product or service center of your choice.
Customer Logins
Cargo risks in Chile

On 6 September, Chilean cargo associations Confederación Nacional de Transporte de Carga (CNTC) and ChileTransporte confirmed that they reached had an agreement with the government regarding the risks facing freight companies in the country. This follows several arson attacks against cargo trucks in the southern regions, including a 28 August attack that destroyed 29 trucks belonging to local forestry firm Sotraser in San José de la Mariquina, Los Ríos region. The agreement with the government includes increasing police patrols on Route 5 (a hot spot for attacks on cargo in transit) and fast-tracking amendments to the anti-terrorism law, including increased penalties for attacks against trucks and drivers. The agreement averted an announced strike by the CNTC.
Ground transport moves 95% of the merchandise in Chile, approximately 700 million tonnes a year. The sectors that most use ground cargo are mining, forestry, trade, agriculture, and fuel transport.
Arson against parked trucks and cargo in transit is highest in Araucanía
Transport companies and cargo in transit are at high risk of arson in the southern regions, mainly in Araucanía, where Mapuche indigenous communities lay claim to ancestral lands, but also in Bío Bío, Los Lagos, and Los Ríos regions. This mainly takes place on Route 5 (Pan-American Highway) and rural roads in hot spots such as Collipulli, Ercilla, and Freire. Trucks there, mainly servicing the forestry and agriculture industries, are at risk of being stopped in transit by individuals erecting roadblocks, the driver being threatened at gunpoint, and the vehicle set alight.
Parked vehicles are at risk of being attacked by groups of tens of masked individuals who break into parking facilities at night, spread fuel, and set the vehicles on fire. Two attacks in August 2017 destroyed 18 and 29 vehicles at a time, causing economic losses of USD4 million and USD6 million, respectively. According to the CNTC, 89 trucks have been burnt this year (to 29 August), much higher than the 60 overall in 2016 and 38 in 2015.
Routes from ports to the capital are hot spots for cargo theft
Incidents of cargo theft have declined over the past year. Police data show a reduction from 1.36 incidents a day in January-April 2015 to 0.96 in the same period in 2017. Increased security spending by haulage companies - up to USD175,000 per month on improved communications systems, panic buttons, security cameras, and private guards - is likely to have contributed to this improvement more than police operations, which suffer shortcomings on intelligence gathering and do not have the capacity to patrol all roads vulnerable to cargo theft.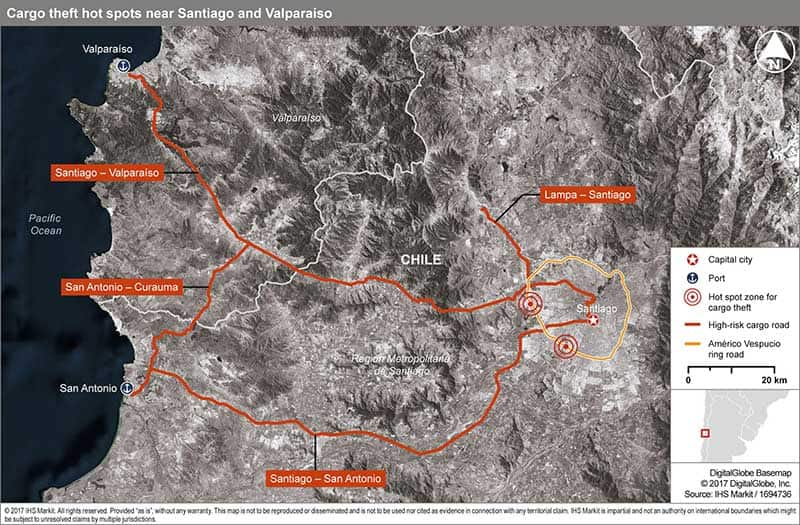 Most incidents of cargo theft (78%) occur in the Valparaíso and Metropolitan regions (where the capital Santiago is located), according to Valparaíso's attorney general's office, and most cases occur in November and December, because of seasonal (Christmas) sales. Hot spots are between Casablanca, Curauma, and San Antonio in Valparaíso region, and the entrances to Santiago from Lampa at Américo Vespucio ring road surrounding the city, and from Pelequén. Transport routes for merchandise from ports to the capital, such as Route 78 (San Antonio-Santiago) and Route 68 (Valparaíso-Santiago) are also hot spots. In Santiago, the Américo Vespucio ring road, mainly at General Velásquez and Route 68, is also a theft hot spot for merchandise transported from warehouses to stores, as are the boroughs of Pudahuel and San Bernardo.
The northern border with Bolivia is also a hot spot for cargo theft, as there are at least 30 illegal crossings which lack immigration, customs, or police controls, making it easier for gangs to acquire merchandise at Iquique's tax-free zone and re-sell it on the Bolivian side.
Perpetrators are well-organised gangs consisting of at least eight members. Some members (dubbed "captadores") infiltrate cargo, retail, or trade companies, and bribe workers to obtain information. Other members, dubbed "soldiers", undertake the operation. They force the trucks to a halt, by surrounding them with vehicles, intimidate the driver, often at gunpoint, block the truck's GPS, and drive it to distribution centres in shanty towns or warehouses to unload the merchandise in order to distribute it or sell it to illegal buyers. The driver is often released and the truck abandoned in an isolated area.
Common targets for cargo theft are electronics, clothing, and non-perishable foodstuff to be sold in informal markets or online. Economic losses can total more than USD500,000 on one truck only, according to Neil Taylor, former president of Chile's Logistics Association. The retail sector, for example, loses more than USD520 million annually on robberies, 55% of the distribution chain, said Rodolfo García, from the Maritime and Ports Chamber.
Outlook
Risks for supply chains in Chile are unlikely to significantly abate over the coming year, and the number and intensity of arson attacks in Araucanía and neighbouring regions is likely to remain high over the coming months, particularly ahead of the 19 November presidential election.
One indicator to watch will be if the government dedicates extra effort to the proposed amendments to the anti-terrorism law in order to fast-track it in Congress, as agreed with cargo associations. The bill has been stuck in Congress for more than two years, but it is likely to lose priority to more pressing political issues, such as an education and pension reform.
A second indicator to watch will be if the government materialises its pledge of increasing patrolling on high-risk routes, parking places for truckers, and providing them with an escort in terrorism hot spots. If no significant advances are achieved within 30 days, truckers are likely to go on strike, disrupting cargo between and Santiago and the main ports of San Antonio and Valparaíso.
Carla Selman, Senior Analyst, Country Risk - Americas at IHS Markit
Posted 13 September 2017
RELATED INDUSTRIES & TOPICS