Customer Logins
Obtain the data you need to make the most informed decisions by accessing our extensive portfolio of information, analytics, and expertise. Sign in to the product or service center of your choice.
Customer Logins
Carbon-reduction plans for TotalEnergies, Chevron highlight contrasting journeys

Two of the world's largest oil and natural gas companies, TotalEnergies and Chevron, updated their carbon emissions reduction plans over the last two weeks, and their approaches illustrate divergent views in the energy industry on how quickly and directly change can be achieved.
TotalEnergies, based in France, announced on 28 September its "Strategy and Outlook" report.
The company will reduce its global petroleum product sales by at least 30% between 2020 and 2030, on its way to a sales mix of 30% oil, 50% gas, 15% renewable electricity, and 5% biomass and hydrogen. At the same time, the company will raise its power generation by 30% to meet rising global demand, with an emphasis on renewable sources.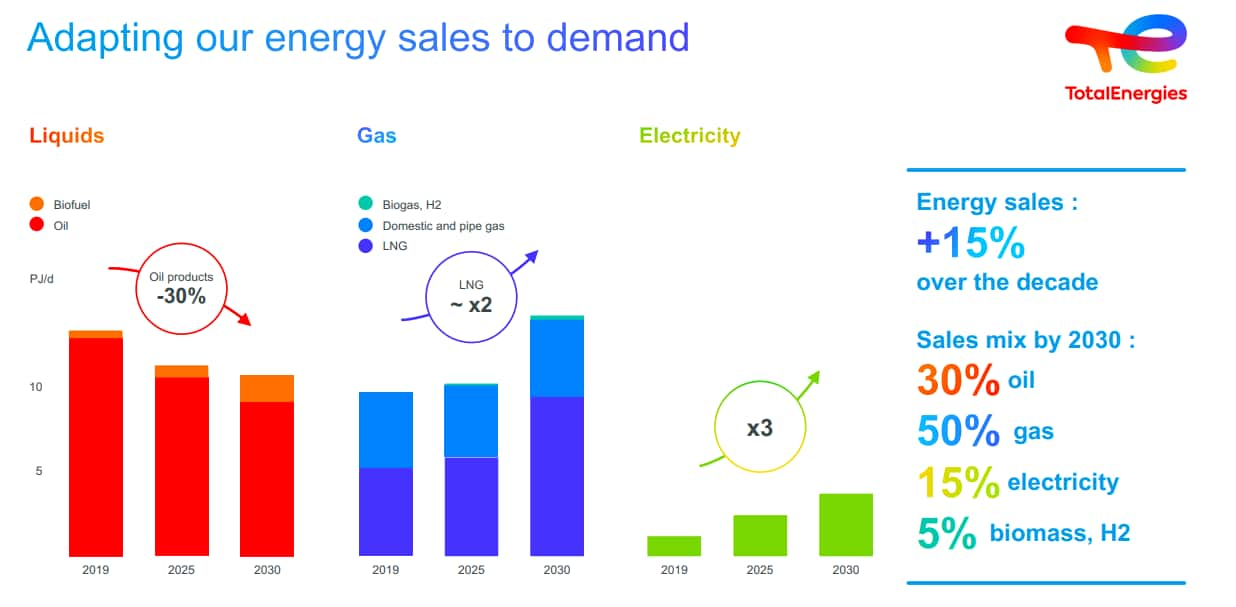 At the same time, TotalEnergies raised its commitment to a 40% net emissions reduction from its oil and gas operations for 2030 (Scopes 1 and 2), compared with a 2015 baseline.
The company said its target for Scope 3 indirect emissions for 2030 is a 20% carbon intensity reduction. From there, the company said it will pursue a goal of net-zero emissions in Scopes 1, 2, and 3 by 2050.
Chevron, based in the US, announced an updated "Climate Change Resilience" plan on 11 October that involves lowering its Scope 3 carbon intensity by 5% by 2028, compared with 2016 levels.
This follows a shareholder resolution from activist group Follow This requiring the company to reduce its Scope 3 emissions—those resulting from the end-use of its products. That resolution received 61% of the vote in May.
As for Scope 1 emissions—those from direct operations—Chevron left unchanged its goal for a carbon intensity per barrel reduction of 35% from 2016 to 2028. It declined to commit to a net-zero target for its Scope 1 and 2 emissions, but said that a Scope 1 target for 2050 is "aspirational."
COP26 influence
"It is notable that those companies, as well as Shell and Repsol, have made recent announcements about their carbon reductions," said Chris Elsner, IHS Markit research and analysis associate director, energy-wide perspectives.
"It's not a coincidence that we're seeing an acceleration of [corporate] announcements going into COP26," Elsner continued. "COP26 is designed as an event to create urgency … and there are at least indications that companies are approaching the event with that perspective, as governments are."
Yet, the companies' contrasting approaches are readily apparent, said Susan Farrell, a Washington, DC-based energy and ESG consultant. "Some companies are responding to an 'energy transition,' while other companies are in the process of transforming themselves. TotalEnergies is squarely in the energy transformation category," Farrell told Net-Zero Business Daily. "Total wants to be a key player in enabling the energy transformation. Chevron's goal is to reduce its carbon intensity, while allowing its traditional businesses to grow."
TotalEnergies has been able to ride its net-zero commitments to its financing, with €3 billion ($3.48 billion) in green bonds issued in January. About $1.7 billion of those funds were used to purchase a 20% stake in Adani Green Energy, a company based in India that's developing renewable power projects. In September, TotalEnergies said that all of its bonds going forward will have a sustainability component.
As part of its September announcements, TotalEnergies updated its capital spending plan for 2022-2025, setting the figure at $13 billion-$15 billion during the four-year period (down from a prior peak of $16 billion). A quarter of that, or $3.25 billion-$3.75 billion, will be in renewable energy; a quarter will be growing its gas business, especially LNG; and half will be maintaining its existing businesses, including oil production.
Chevron also updated investors on its capital spending in its recent climate announcement. Because it's a larger company and coming later to the energy transition, Chevron will actually devote more money than TotalEnergies to creating a renewable fuels and power portfolio. Its new plan includes $8 billion through 2028 for a range of activity such as biofuels, green hydrogen, and renewable power. It will invest an additional $2 billion in reducing its methane and carbon emissions from its operations and in carbon capture and storage (CCS).
The $10 billion more than triples its prior commitment of $3 billion and will enable a reduction of 30 million metric tons per annum of CO2-equivalent.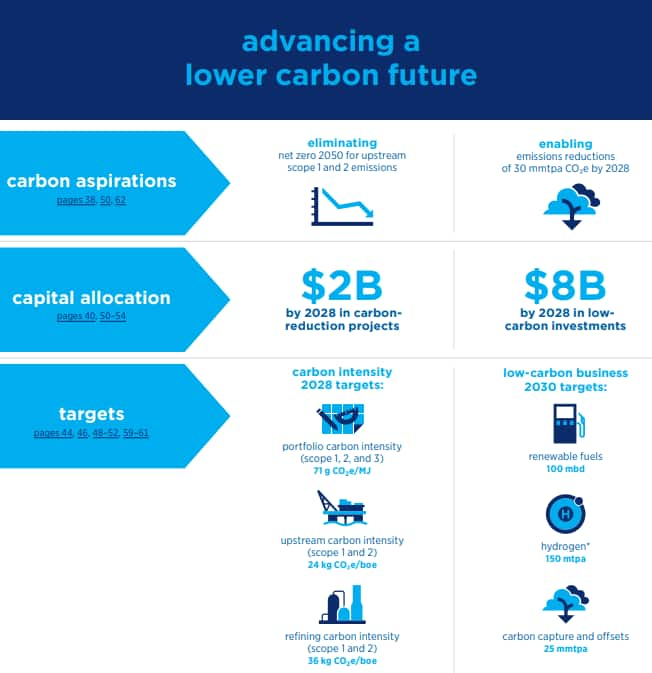 But Chevron's stakeholders were not satisfied. "A company that continues to spend up to 90% of their investment capital on fossil fuels cannot claim to be part of the energy transition to confront the climate crisis," Follow This said in a statement.
Chevron's total capital spending through 2028 will be about $100 billion, the company said.
Carbon intensity vs. total carbon emissions
The criticism of Chevron gets at the heart of the fossil fuel industry's challenge right now. Chevron is spending heavily in reducing its carbon footprint and in the energy transition, but it's not moving fast enough for some stakeholders such as Follow This.
"The world needs to reduce absolute emissions by around 40% by 2030 to have any chance to achieve the Paris accord. Until Chevron's targets reflect this fact, their strategy falls short of Paris alignment. [A 5% carbon intensity reduction] is disappointing tokenism, not a serious attempt to confront the climate crisis," Follow This said.
Corporate sustainability firm Ceres pointed out that Chevron's plan for its 2028 carbon intensity goal lacks details about how it will be reached. Plus, it noted that the company's plan includes the purchase of carbon offsets, which are coming under increased scrutiny about whether they represent true emissions reductions.
US energy companies can see the writing on the wall, said Bryan Benoit, Grant Thornton national managing partner, energy. "Energy companies and in-particular the majors are very interested in committing to carbon reduction," he told Net-Zero Business Daily. "The reason why is ESG."
Not only are climate-focused investors looking at the issue, but Benoit said he anticipates that the US Securities and Exchange Commission (SEC) may publish a draft of new climate risk guidelines and reporting requirements by the end of the year. On 22 September, the SEC signaled its intentions with an alert to companies that they need to follow the 2010 Guidance Regarding Disclosure Related to Climate Change.
"It may be necessary to provide reports and other audited statements to regulators showing compliance. Without this, companies may face significant challenges accessing conventional sources of capital," Benoit explained.
Chevron CEO Mike Wirth said in the investor presentation that accompanied the climate announcement the company has made great strides already on disclosure and on emissions reductions. "Chevron is already a leader in producing energy at a carbon intensity well below the average of the global system and is in the best-performing quartile of all oil and gas producers," he said.
Chevron is focusing on real-time emissions reductions, while retaining "flexibility to grow its upstream and downstream businesses provided it remains an increasingly carbon-efficient operator," Wirth said. He added that Chevron's investments in biofuels and hydrogen will have the added benefit of serving hard-to-decarbonize sectors like manufacturing, shipping, and air transport.
But the company isn't ready to commit to net zero when commercial-scale technologies aren't yet available, Wirth said.
Similarities
And while the differences between Chevron and TotalEnergies are apparent, it should not be forgotten that they share a footprint in the fossil fuel industry. TotalEnergies operates oil refineries and petrochemicals plants in Europe and the US, and, as noted above, half of its capital spending through 2025 will be in those traditional sectors. CEO Patrick Pouyanné said hydrocarbons will continue to generate cash flow to fund its energy transition and returns to shareholders.
"TotalEnergies understands the value of their fossil fuel assets and defends them," said IHS Markit's Elsner.
The company is placing a big bet on LNG, as it's aiming to increase production by 30% by 2025 to 50 million metric tons per annum, equivalent to 10% of the global market. At the same time, Pouyanné committed to "accelerating decarbonization of the LNG chain, with a focus on reducing methane emissions … with the ambition of reducing full-chain intensity by 20% by 2030."
And yet, said Farrell, there is still a significant gap in the pace of change in which TotalEnergies is engaged, compared with Chevron. "To some extent, this reflects where they are based. Though they are both global energy companies, TotalEnergies is a European company, and Chevron's headquarters are in the US," she said. "The bigger European companies, including BP, Shell, Eni, and Repsol, want to participate in … help to drive the pace of change."
TotalEnergies' announcements in the last month alone include: a joint venture with Simply Blue to help reach its goal of building 100 GW of offshore wind by 2030; a 2-GW, wind-powered green hydrogen plant with Macquarie off Scotland's coast; offering to sell a third of its North Sea oil and gas operations; and a $1.7-billion hydrogen energy fund co-launched with Air Liquide and Vinci.
Repsol too announced enhanced renewable energy targets in October, raising its low-carbon investment goal to €6.5 billion ($7.5 billion) for 2021-2025. That would represent 35% of its capital spending in the period, compared with Chevron's 10% and TotalEnergies' 25%.
The Spanish company also announced an absolute emissions-reduction target for the first time, committing to a 55% reduction in emissions from Scopes 1 and 2 and 30% cut in total net emissions, including Scope 3, by 2030.
Yet these announcements point to an even larger divide than the one between European and US oil majors: the divide between companies of different sizes and technical expertise. Chevron, TotalEnergies, and Repsol have vast resources that smaller operators lack.
"The larger companies have the potential to transform themselves," Farrell observed. "The smaller companies … by necessity will be more focused on carbon intensity reductions."
Executives at every company will have to decide how to manage the dilemma. "Right now, if you want to growth your production, you have to concentrate on carbon intensity. But as time goes on, absolute carbon reductions will be expected [from all oil and gas companies]," Farrell said.
For companies such as TotalEnergies and other European majors, the answer appears to be integrating greater activity in renewable power generation and distribution, and to expanding trading operations in oil, gas, and power. But Elsner said that US majors Chevron and ExxonMobil for now appear to be less interested in moving deeply into non-core businesses such as owning and operating solar and wind assets.
Still, Elsner said that all of the large oil and gas companies will adapt. "These companies are so diversified that they do have the capacity, to some extent, to be leaders in all of these technologies," he said.
RELATED INDUSTRIES & TOPICS
{"items" : [ {"name":"share","enabled":true,"desc":"<strong>Share</strong>","mobdesc":"Share","options":[ {"name":"facebook","url":"https://www.facebook.com/sharer.php?u=http%3a%2f%2fihsmarkit.com%2fresearch-analysis%2fcarbonreduction-plans-for-totalenergies-chevron-highlight-cont.html","enabled":true},{"name":"twitter","url":"https://twitter.com/intent/tweet?url=http%3a%2f%2fihsmarkit.com%2fresearch-analysis%2fcarbonreduction-plans-for-totalenergies-chevron-highlight-cont.html&text=Carbon-reduction+plans+for+TotalEnergies%2c+Chevron+highlight+contrasting+journeys+%7c+IHS+Markit+","enabled":true},{"name":"linkedin","url":"https://www.linkedin.com/sharing/share-offsite/?url=http%3a%2f%2fihsmarkit.com%2fresearch-analysis%2fcarbonreduction-plans-for-totalenergies-chevron-highlight-cont.html","enabled":true},{"name":"email","url":"?subject=Carbon-reduction plans for TotalEnergies, Chevron highlight contrasting journeys | IHS Markit &body=http%3a%2f%2fihsmarkit.com%2fresearch-analysis%2fcarbonreduction-plans-for-totalenergies-chevron-highlight-cont.html","enabled":true},{"name":"whatsapp","url":"https://api.whatsapp.com/send?text=Carbon-reduction+plans+for+TotalEnergies%2c+Chevron+highlight+contrasting+journeys+%7c+IHS+Markit+ http%3a%2f%2fihsmarkit.com%2fresearch-analysis%2fcarbonreduction-plans-for-totalenergies-chevron-highlight-cont.html","enabled":true}]}, {"name":"rtt","enabled":true,"mobdesc":"Top"} ]}