Customer Logins
Obtain the data you need to make the most informed decisions by accessing our extensive portfolio of information, analytics, and expertise. Sign in to the product or service center of your choice.
Customer Logins
Carbon storage key to scaling-up hydrogen energy in California

Energy researchers say hydrogen will likely play a major role in enabling California to reach net-zero carbon emissions by 2045, as required under the state's landmark SB100 legislation.
The integration of hydrogen will take many forms, from utilities providing hydrogen-natural gas blends for residential and commercial use to vehicles fueled by hydrogen, or hydrogen-fired turbines providing critical backup capacity for an all-renewables power grid.
Pilot programs and small rollouts to demonstrate the viability of hydrogen are underway, but the big commitments have yet to be made, according to the California Hydrogen Business Council (CHBC).
On 9 December, the California Energy Commission (CEC) approved a plan to invest up to $115 million to build nearly 200 public hydrogen fueling stations for fuel cell electric vehicles (FCEVs) in the next decade. The funding will help support Gov. Gavin Newsom's executive order to phase out new gasoline-powered passenger vehicle sales by 2035. An estimated 8,000 FCEVs have been sold in the state so far, according to the state energy regulator.
The next grant cycle begins with California awarding up to $25 million among FirstElement Fuel, Equilon Enterprises and Iwatani Corp. of America to build 30 stations supplied with renewable hydrogen in the next 30 months. FirstElement, which was the recipient of $15.5 million, and Equilon, which was awarded $7.3 million, have committed to supplying 100% renewable (green) hydrogen—that is, hydrogen produced with renewable energy, rather than with fossil fuel energy and using carbon capture.
California already has 52 retail hydrogen stations, and 16 are under construction, according to the CEC, which has provided partial funding for 45 of those stations.
Utilities
The state's utilities also are getting in on the act, with plans to deliver hydrogen-natural gas blends through pipelines and potential investments in hydrogen-based power generation.
In November, Southern California Gas (SoCalGas) and San Diego Gas & Electric (SDG&E), both subsidiaries of Sempra Energy, submitted a plan to the California Public Utility Commission (CPUC) to launch the state's first hydrogen blending demonstration program. The companies will begin by blending 1% hydrogen with natural gas and delivering it by pipeline to a limited number of homes, potentially raising the share to as much as 20% hydrogen as they develop technical expertise.
The pilot projects will be conducted on isolated sections of primarily polyethylene plastic pipelines, which SoCalGas and SDG&E said present fewer potential leakage problems than steel or cast iron pipe.
On a larger scale, the Intermountain Power Agency (IPA), is working with power purchasers in California on what is described as the "largest green energy storage project in the world" in Delta, Utah. IPA's 1,800-MW coal-fired power plant is being converted-in a $1.9-billion project-to run on a mix of natural gas and hydrogen, beginning in 2025. The new capacity at the facility will be 1,200 MW.
The other key element of the project is that renewable power will be used to produce hydrogen through an electrolysis process during times of excess renewable energy, and that hydrogen will be stored in underground caverns at the site. That green hydrogen will then be used to run battery fuel cells for incremental power when renewable production is lower, in what's known as "power-to-gas-to-power" (PGP) systems.
The largest buyer of IPA's power is the Los Angeles Department of Water and Power (LADWP), and it committed in November to purchasing the low-carbon energy as part of efforts to reach California's net-zero target. LADWP is the US' largest municipal utility, providing power to more than 1.5 million customers. "If you look at reality, there is no way to get to 100% renewable energy without hydrogen in the mix; it just doesn't exist," Marty Adams, LADWP general manager and chief engineer, said in a statement in November 2019 when the utility announced its commitment to the project.
"A mix of 30% hydrogen and 70% natural gas fuel at start-up in 2025 is expected to reduce carbon emissions by more than 75%," LADWP said at the time.
Long-duration storage
PGP, based on long-duration storage (LDS), is the real game-changer, according to Diane Moss, deputy director of CHBC, who chaired a panel discussion in November on California's hydrogen strategies (see link). LDS can be described as storing huge volumes of hydrogen for use to run turbines that would provide large volumes of incremental power production to a renewables-dependent grid. This would add resilience and reliability to the state's power network as it shifts to intermittent sources such as wind and photovoltaic solar.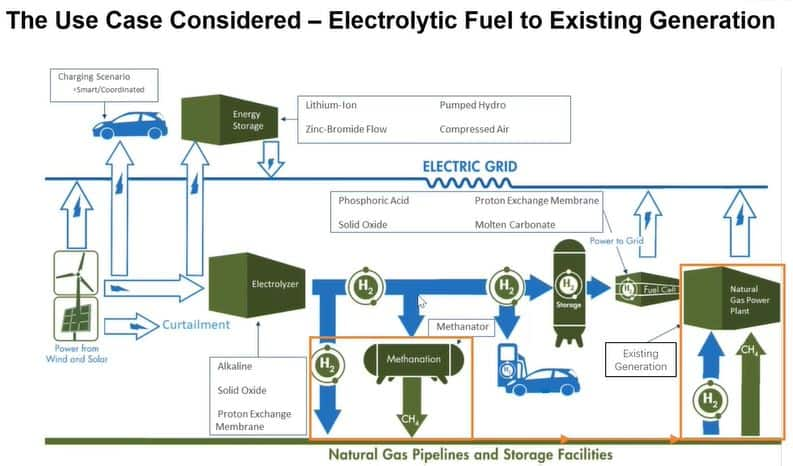 Source: Advanced Power & Energy Program, University of California-Irvine
LDS of hydrogen offers cost advantages over other power storage options such as batteries or pumped hydro, said Ross, citing researchers who have modeled the state's energy demand and likely supply options. For comparison, a single storage cavern at the IPA site in Utah could store the hydrogen equivalent of 84 times as much energy as a 1,200-MW battery system (and the site has 100 such caverns).
"Electrolyzers [to produce hydrogen] are mature and fully available commercial technology. Geologic storage and transport of hydrogen also is proven. The question is how will costs progress over time," Jeff Reed, director of the Advanced Power and Energy Program at Cal-Irvine University, said during the panel discussion.
The potential for LDS is evident when the end goal is considered, said Nathan Lewis, chemistry professor at California Institute of Technology (CalTech). "The end goal is a 100% renewable, 100% reliable energy system. The constraints are very different than a system with marginal reliability or even 80%, because reliability is Job 1," he said. "It's mandated."
CalTech doctoral students working with Lewis analyzed the variability of the solar and wind resources across the US, California, and the Western Electricity Coordinating Council (WECC) power region over the last 40 years. They found a significant number of days when a lack of wind or cloudy skies would leave the state with "wind and solar droughts," which were defined as being at least 50% short of its power needs, leading to widespread, temporary blackouts (see graph).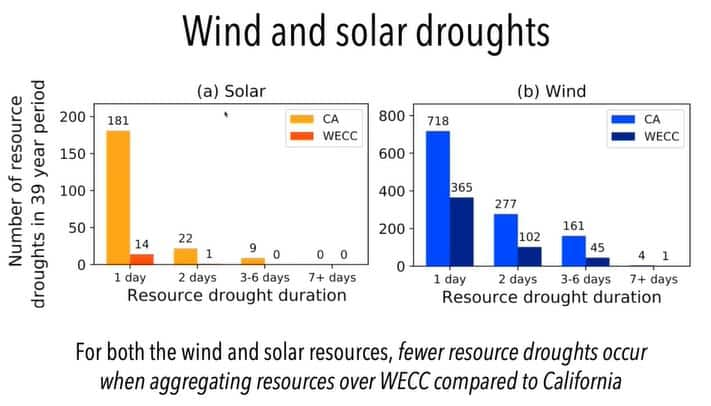 Source: CalTech
"No battery system can cost effectively meet these episodes," Lewis said, but storing hydrogen to power turbines and fuel cells can meet the challenge.
PGP, defined as systems providing 10 hours or more of continuous hydrogen-based power, can reduce the need to overbuild wind and solar to serve California's needs, he said. Using US Energy Information Administration data on the costs of wind and solar, Lewis' team estimated that providing enough capacity margin for an all-renewables solution would cost the state an additional $0.28/kWh by 2045, but using PGP to bridge that reliability gap would halve the cost to $0.14/kWh.
The benefits become more pronounced because of the scalability of the technology, added Jacqueline Dowling, PhD chemistry candidate at CalTech. "If you require reliability over more years, you end up building more long-duration storage requiring more hydrogen storage," she said.
The National Renewable Energy Laboratory (NREL) is looking at PGP solutions as well, said Josh Eichman, senior research engineer, and NREL defines "long-duration" as 10-99 hours of power, and "seasonal" as 100 or more hours of power. "If you optimize the storage portfolio…across the US and under different conditions…long-duration and seasonal storage play a big part of it," Eichman said during the webinar. "Hydrogen provides multiple days of storage; that's the niche we think hydrogen fits in, low-cost energy for a very long duration."
These types of storage will also improve congestion management for grid system operators and enable seasonal arbitrage of power production by generating the hydrogen cheaply and then using it when it has greater value, Eichman said. NREL will release a study in early 2021 that incorporates the financial benefits of system resiliency, avoidance of renewable power overbids, and the other factors. "Today, the markets are not able to provide for the value of energy storage…. But there is a point somewhere in the future that we will see that transition," he said.
The message from participants in the CHBC webinar was that those market mechanisms must be developed and the investments made now, rather than tens of billions of dollars being committed less effectively.
RELATED INDUSTRIES & TOPICS