Customer Logins
Obtain the data you need to make the most informed decisions by accessing our extensive portfolio of information, analytics, and expertise. Sign in to the product or service center of your choice.
Customer Logins
Canadian oil sands to grow even in the lower oil price environment
For the past decade, Canada has been the third largest source of oil supply growth in the world- growing from 2.4 million barrels per day in 2005 to 3.7 million barrels per day in 2014. Canadian oil production gains have come mainly from growth in the Canadian oil sands. However, with oil prices languishing at much lower levels than those of recent years, the economics of medium to higher-cost supply, including the Canadian oil sands, have come under increasing scrutiny. Yet, IHS expects growth to continue.
Despite lower oil prices, oil sands projects that are already up and running are expected to continue to operate. Through the worst of the low prices over the first quarter of 2015, existing oil sands projects should have been able to cover their operating (or cash) costs. IHS estimates that on an operating (or cash) cost basis existing mining and steam-assisted gravity drainage (SAGD) in situ facilities would have required on average a WTI price of about $30 per barrel and $40/bbl, respectively. It should be noted these values are estimates and considerable variability exists in the economics of specific projects. Also costs are falling in 2015 compared to 2014 because of the lower cost environment which will alter the breakeven thresholds.
Looking beyond existing production, IHS anticipates that oil sands projects already under construction will continue through completion, because significant capital has already been invested. Toward the end of first quarter 2015 there was nearly one million barrels per day of production capacity in various stages of construction in the Canadian oil sands. These projects will provide the momentum to carry oil sands production growth through the low price environment and are the basis of our outlook for oil sands production to grow by 800,000 b/d from 2014 to 2020.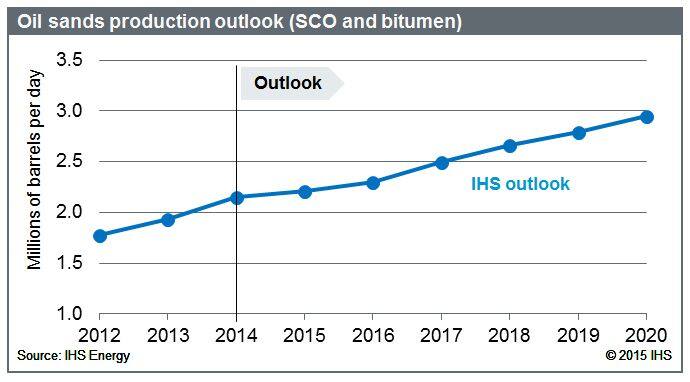 However, decisions to undertake new oil sands projects are challenged in the current price environment. Compared to operating costs discussed above, the cost to develop a new greenfield project is considerably higher. IHS estimates that over the first quarter of 2015 new investments in greenfield oil sands mining projects required a WTI oil price of about $95/bbl to breakeven, while average greenfield in situ facilities require about $70/bbl. As a result, decisions on projects yet to be sanctioned (projects where significant capital has not been invested) are being deferred for now.
Longer-term, IHS expects oil sands growth to continue, but the shape of that growth depends on a number of factors. At the end of 2014, IHS estimates that in situ oil sands projects were within a competitive range to other important sources of supply growth in the world, such as deepwater and North American tight oil. Yet, with global costs poised to reset globally, the long-term trajectory of oil sands growth is linked not only to the pace and scale of the global price recovery, but also on the ability of governments and industry to maintain the relative competitive position of the oil sands. Competitive pressures such as project costs, timing of non-rail transportation to new markets, and shifting fiscal terms in Alberta (from higher corporate taxes, carbon prices, and potential increases in royalties) will help shape the competitiveness of the oil sands in the future.
For more information download free reports: "Why the oil sands: How a remote, complex resource became a pillar of global supply growth" and "IHS Oil Sands 2020 Production Forecast: Growth Continues, But at Slower Pace Due to Lower Oil Prices ".
1 July 2015 by Kevin Birn, IHS Canadian Oil Sands Dialogue
---
Follow IHS Markit Energy
RELATED INDUSTRIES & TOPICS