Customer Logins
Obtain the data you need to make the most informed decisions by accessing our extensive portfolio of information, analytics, and expertise. Sign in to the product or service center of your choice.
Customer Logins
California requires new zero-emissions power, long-term storage

The California Public Utilities Commission (CPUC) on 24 June approved what it called "an historic decision" to order the state's utilities to procure 11,500 MW from a combination of energy efficiency programs and clean renewable sources to come online between the years 2023 and 2026.
"This represents the largest capacity procurement ordered at a single time by the CPUC, and is the largest requiring only clean resources," it said.
As of the end of 2020, the state had about 80,000 MW of installed power capacity, with natural gas-fired power the largest component at nearly 40,000 MW, according to the California Energy Commission (CEC). Solar photovoltaic and large hydropower each accounted for about 12,500 MW of capacity, and wind power was at about 6,000 MW.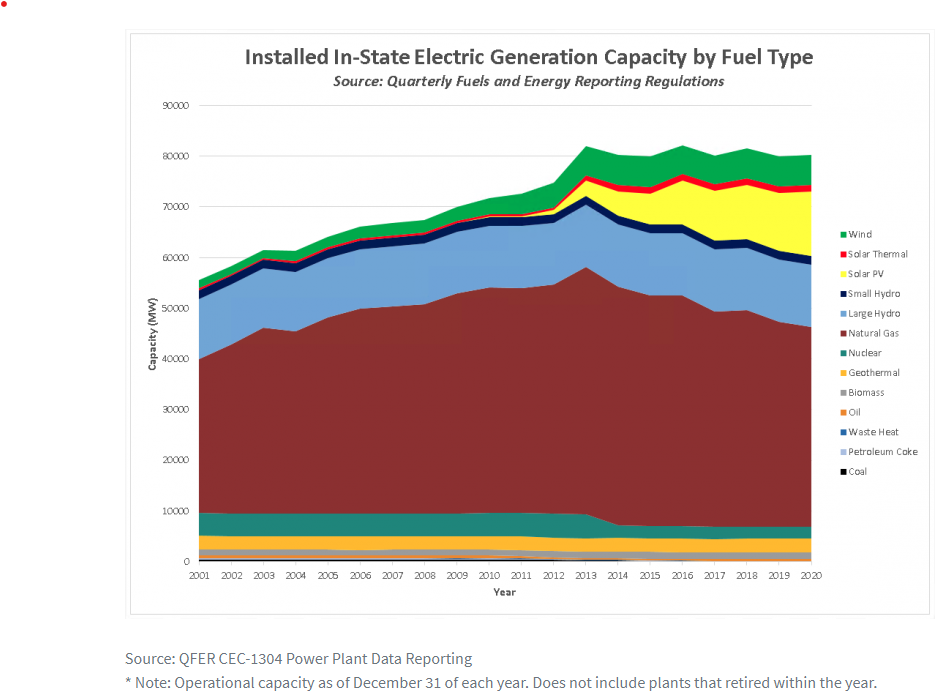 The CPUC's plan also includes a requirement for 1,000 MW of long-duration energy storage, which it said would represent an increase of more than tenfold over current capacity.
California has long been a leader in renewable energy development, and the state has a mandate of producing and procuring 100% clean electricity by 2045, one of the earliest such timetables in the nation.
"Already, more than 63% of our power comes from zero carbon resources," said CPUC President Marybel Batjer in a statement. "We are the first in many categories—solar, rooftop solar, geothermal, batteries, energy efficiency, and other clean energy resources. We are on track to meet or exceed our state's ambitious long-term targets."
According to the Clean Energy States Alliance, 16 states, the District of Columbia, and Puerto Rico have 100% clean energy targets, with Rhode Island (2030) and New York (2040) among the few with earlier deadlines than California.
Data from the CEC found that in 2019, 36% of the state's retail electricity sales were provided by solar, wind, and geothermal power. Another 27% came from nuclear and hydro.
Building on prior actions
The specific breakdown of the new CPUC procurement program is:
3,000 MW of deployment in 2023
4,500 MW in 2024
2,000 MW in 2025
2,000 MW by 2026
The procurement is in addition to 3,300 MW that the CPUC in November 2019 ordered utilities to develop in the 2021-2023 period, and the 4,000 MW from resources already contracted to come online from now through August 2024, it said.
The CPUC tied the plan to reliability as well as decarbonization, which has become a concern for a state that's facing the retirement of 3,700 MW of natural gas plant capacity and 2,256 MW of nuclear power. Unit 1 at the Diablo Canyon nuclear plant is due to go offline in 2024, and Unit 2 is due to go offline in 2025.
"At least 2,500 MW of zero-emitting resources were ordered specifically to replace generation from Diablo Canyon, which is in addition to capacity already procured over the past several years for the same purpose," the CPUC said. "The CPUC has been planning to replace power from Diablo Canyon for many years through modeling, workshops, extensive public input, and earlier decisions."
Reliability also is being addressed by the nation's largest state-supported energy storage program. Assembly Bill 2514 requires installation of 1,325 MW of energy storage by 2025, and the CPUC issued rules to enact that mandate in 2019. The new long-term storage procurement is in addition to that prior requirement.
The California Renewable Energy Alliance, a trade group that's focused on long-duration energy storage solutions such as pumped hydro, praised the plan as "a major step in the state's path to carbon neutrality."
CPUC Commissioner Clifford Rechstchaffen tied the plan also to economic development, saying it will help support growth in renewable energy and energy storage industries. "The procurement we ordered is equal to output of four large nuclear power plants or 20 natural gas plants. Included is solar, wind, geothermal, and long duration storage—pumped hydro facilities or other emerging technologies that can store energy for eight hours or longer," he said.