Customer Logins
Obtain the data you need to make the most informed decisions by accessing our extensive portfolio of information, analytics, and expertise. Sign in to the product or service center of your choice.
Customer Logins
California's need to support EV growth with car chargers foreshadows nation's

A new report by the California Energy Commission (CEC) illustrates just how hard it will be for the state to meet its aggressive goals for electric vehicle (EV) adoption—and how that challenge will play out across the US.
The Electric Vehicle Charging Infrastructure Assessment found the state will need to add tens of thousands of charging stations to meet a 2025 goal and hundreds of thousands more to meet the expected need in 2030. The report, mandated by state law every two years, also highlighted the challenges the state's energy grid will face in providing the electricity needed to keep those EVs running.
"The state will need over 1.5 million public and shared chargers by 2030, necessitating significant public support and investment," the CEC said.
As of September 2020, the CEC said California had fewer than 67,000 operating public and shared chargers, including 5,000 fast chargers. Proposals have been approved by state regulators for an additional 121,000 installations by the end of the decade, according to the report.
Public chargers typically are multiple chargers at a single location. Privately owned systems could be single or multiple-charger networks, which often are shared by more than one user.
California is leading the US transition to EVs, with approximately 400,000 registered vehicles, according to data reported to the Alternative Fuels Data Center. Governor Gavin Newsom's September 2020 executive order requires all new passenger vehicles sold in the state to reach zero-emission levels by 2035 as a key component of the state's net-zero transition.
The California Air Resources Board (CARB) estimates that 8 million light-duty, zero-emission vehicles (ZEVs) and 180,000 medium- and heavy-duty ZEVs will be on the state's roads in 2030 as a result of Newsom's order.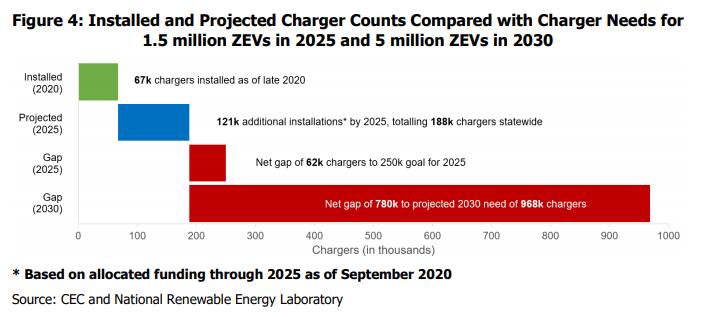 Recognizing the challenge, the California Public Utility Commission in August 2020 approved a proposal by power company Southern California Edison (SoCal Ed) to spend $436 million on EV charging infrastructure. SoCal Ed's program includes the addition of up to 40,000 public and fast charging stations.
In addition, Newsom's budget proposal for fiscal year 2021-22, announced in December, sets aside $1.5 billion for ZEV purchases and infrastructure expansion, a plan that drew support from the newly formed Zero Emission Transportation Association (ZETA). "Extensive charging infrastructure investments will eliminate range anxiety, drive the electric transportation transition, and ensure that all Americans can enjoy the benefits of driving an electric vehicle," it said.
EV sales trends
CEC provided an update on EV sales trends, saying they are holding steady at 30,000 to 40,000 per quarter, after a springtime dip related to the COVID-19 pandemic.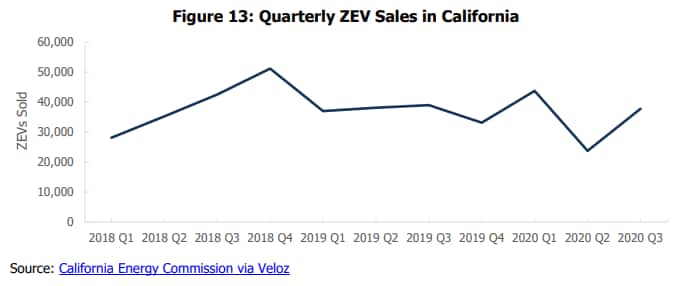 But sales of EVs have raised demand for chargers, and this has put a strain on the agency's incentive program for installing public chargers that has only been able to fund about one-third of the $300 million in rebate requests. Rebates are 35% or 60%, depending on the type of charger.
Closing that funding gap is one of the state's challenges, but CEC said that getting it right can have a positive economic impact for the state. CEC identified 34 California-based companies in the ZEV sector, with a total market capitalization of more than $500 billion, which it said is more than one-third of the entire US ZEV value chain.
Impact on power grid
The report also assessed the impact of the anticipated mass influx of EVs on the power grid, which already has struggled in the last two years with outages due to wildfires in the summer and fall.
Charging millions of EVs "will introduce significant new load onto the electric grid," and it will change the times of day when that power demand is likely to surge. For example, CEC said electricity demand around midnight potentially will rise by 15% from current levels as a result of people charging their vehicles. However, the state's increasing reliance on solar power, which produced 14.2% of its energy in 2019, leaves California vulnerable to high demand in the evening when solar panels are not producing energy.
"These preliminary results suggest that policies are needed to better align [plug-in vehicle] charging demand with daytime solar generation," the report said. "California must pursue greater vehicle-grid integration to ensure that charging is better aligned with clean, renewable electricity without sacrificing driver convenience."
Medium- and heavy-duty vehicles have less downtime and more rigid schedules than personal vehicles, providing a different set of challenges. The charging needs of 180,000 such vehicles could require about 2,000 MW of new renewable power, starting at around 5 pm, CEC estimated.
In addition to more chargers, CEC recommended that suppliers improve the standardization of charging connectors and communications protocols. The agency said there are three designs of fast-charging connectors for passenger cars, and even more options for medium- and heavy-duty vehicles. "Prioritizing chargers which speak a common 'language' with vehicles ensures chargers and vehicles can exchange the information necessary to automatically align charging with surplus renewable energy generation, enables plug-in vehicles to power homes and businesses during outages, and streamlines the charging experience," the report said.
National issue
California's challenge mirrors that facing the US overall, as EVs become more commonplace.
During the 2020 presidential campaign, Joe Biden promised new federal support for EVs, including a national network of 500,000 public, multi-user EV chargers by 2030. In executive actions since taking office, Biden has reiterated his support for EVs, with an order to shift all federal light-duty truck and vehicle purchases to EVs and extensions of tax credits to incentivize EV purchases, though his plan for the network of chargers has not been rolled out in detail yet.
In a report published on 14 January, IHS Markit observed that the US has about 110,000 stations available to the public presently, and declared the country is "currently tracking well toward the [Biden] objective…"
About 90% of US charging stations, or an estimated 1.2 million, are private, mostly single chargers at individual homes. "By contrast, in 2019 there were only 60,000 public charging and 50,000 semipublic charging stations, such as those at a workplace for employees or a hotel parking area for guest," IHS Markit said.
On the positive side, state utility regulators in the US approved nearly $1.5 billion in spending in 2020 on electric charging infrastructure, which IHS Markit said exceeded the total investment for 2018 and 2019 combined. "The upward trend in approvals reflects a number of changes, namely the emergence of more expansive state decarbonization policies, directing more EV infrastructure investment toward underserved communities, and focusing on ready-made charging infrastructure," it said.
But keeping up with EV use will be critical. Two other states, Massachusetts and New Jersey, have announced a phaseout of new gasoline-powered cars by 2035 as well. New York State and Washington State have similar bills moving through their legislatures, with Washington's aiming for a 2030 phaseout. Overall, at least 10 states have some type of a target for zero-emission vehicle sales target as part of their greenhouse gas reduction plans, according to ZETA.
States on the East and West coasts are setting the pattern with incentives, and TC Maslin, IHS Markit principal research analyst, said that consumer sentiment could follow. "In the near term, the limitation is the consumer's mindset to shift from gas-powered vehicles to electric," he said, given the concerns by drivers that charging stations will not be available where and when they are needed.
Non-power companies such as Tesla have committed to networks of chargers, but the likely biggest push will come from power utilities. "Power demand has slowed in many regions recently, but this is an opportunity," Maslin said.
To date, 70% to 90% of EV charging is done at home, IHS Markit estimates, but this could change over time as chargers outside the home become more available, and as battery technology enables 300 miles or 400 miles between charges.
Unfortunately, regulations in some states can interfere with this transition, Maslin explained. "Some states only allow utilities to own and operate charging stations, which keeps private companies out of the market. In other states, utilities can't own and operate the stations, which keeps them out," he said.
Utilities are trying to encourage the EV transition through pricing strategies, he added. "One thing we have been seeing is [some] utilities creating specific tariffs for rates for just EVs. The first ones are in California and Hawaii … in which if you charge your EV on the grid in an off-peak period, you can get a substantially lower rate," Maslin said. "This type of policy mechanism is designed to change the behavior of consumers."
So far, however, companies haven't found a formula to make money providing charging. California's report came out about two weeks before BP said that its investment in charging stations in Europe is losing money, which indicates the challenge that nations, as well as states, face in relying on the private sector to meet charging needs. In a new test of its strategy, BP subsidiary Aral said it will have at least 100 ultra-fast charging stations operating in Germany by the end of February through a partnership with Siemens Smart Technology; these types of stations can charge a premium for powering-up a vehicle.
Will it all come together? Will consumers grow more comfortable with EVs? Will the infrastructure be there to support them? "These are hard targets to hit," Maslin said. "But there are a lot of proposals across the US, and California ... necessary to build EV charging infrastructure to meet the coming EV demand at home or outside."
RELATED INDUSTRIES & TOPICS