Customer Logins
Obtain the data you need to make the most informed decisions by accessing our extensive portfolio of information, analytics, and expertise. Sign in to the product or service center of your choice.
Customer Logins
1,4-Butanediol capacity expands once again– Oh no, more BDO! (But at least this new stuff will be green.)

12 July 2021
Dr. Jeffrey S. Plotkin
1,4-Butanediol (BDO) is a highly versatile intermediate capable of undergoing a number of types of chemical reactions leading to an even wider range of useful products including polyurethanes, engineering resin PBT, spandex intermediate PTMEG, NMP solvent, and polyvinyl pyrrolidone (PVP), a water-soluble polymer used in various personal care and pharmaceutical applications.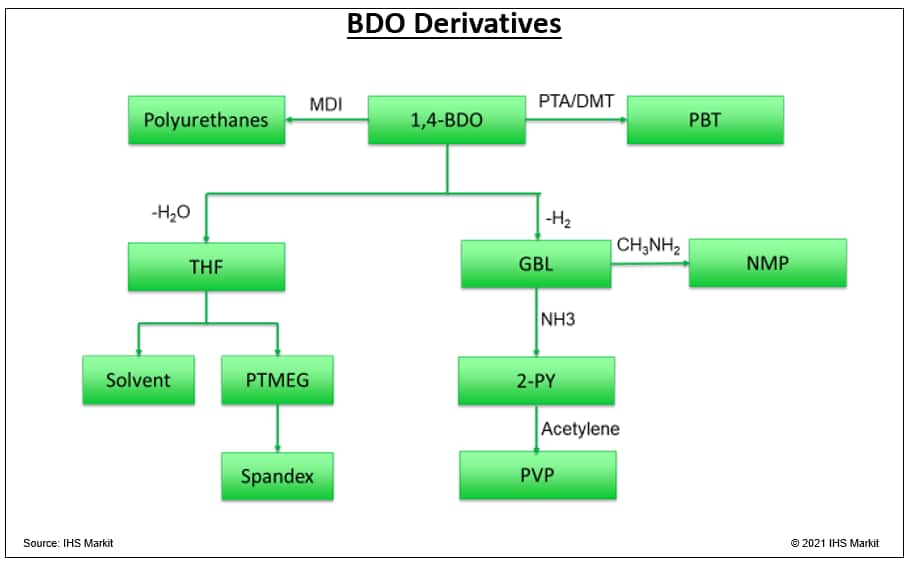 Cargill and Helm have recently announced their intent to jointly build a 65,000 metric tons per year plant to make green 1,4-BDO using renewable feedstock at Cargill's corn refining site in Iowa. Genomatica is supplying the technology to convert sugars to BDO. This will be Genomatica's second such license with the first being operated by Novamont in Italy since 2016.
This announcement reminds me of what a fascinating and up-and-down story the BDO business has been over its history in terms of its invention, process technology evolution, early commercialization, market development, and now maturity. The business has transitioned through many phases: pre-World War II German monopoly, post-war duopoly, mid-life oligopoly, and now a significantly over-supplied market as technology barriers have been smashed. However, the twist of green offered by Genomatica and its licensees is the first new approach for making BDO since the late-1990s as the tale continues!
Invention and Early Commercialization: 1930s-1950s
The first approach, commercialized in the 1930s, for making BDO was based on acetylene. This technology is known as the Reppe route as it was developed by Dr. Walter Reppe of BASF. In this approach, two equivalents of formaldehyde are added to acetylene followed by stepwise hydrogenation of the resulting 1,4-butynediol. While the development of this chemistry was a terrific achievement, the real challenge was safely scaling this up as acetylene has a propensity to detonate at high pressures. But BASF was up to the challenge and built the first acetylene-based plant in Ludwigshafen in the late 1930s.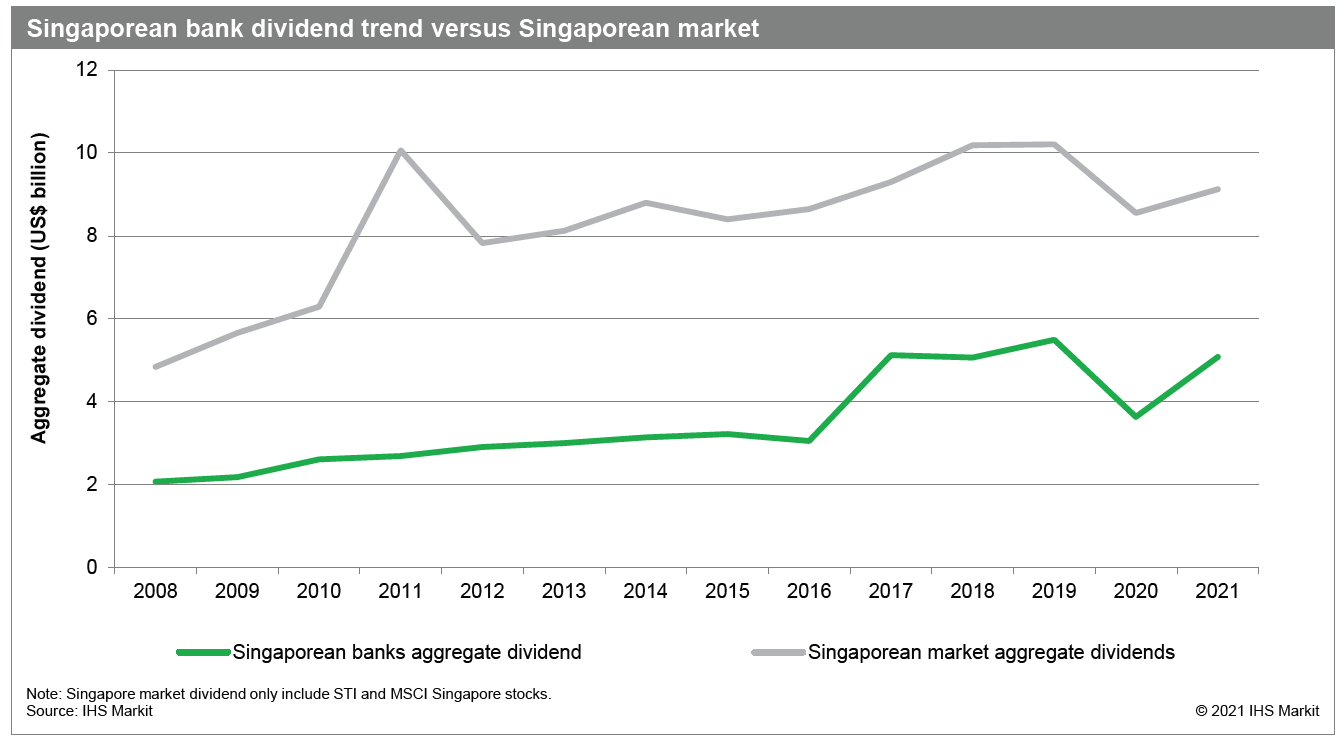 At this point, BASF was the only company in the world in possession of this technology. That is both good and bad. No competition is good, but potential customers have the security of supply concerns buying a new material if there is only one plant in the world making it. To rectify this situation and broaden their geographic reach, BASF had previously established a facility in the U.S called American IG which later underwent a name change to General Aniline and Film (GAF) as they bought and merged an aniline plant and a film business. However, during WWII the U.S. government confiscated GAF.
Importantly, this gave American-owned GAF access to Reppe patents and know-how for making BDO, ending BASF's monopoly. Shortly thereafter, DuPont independently developed the same approach using acetylene and the business was on its way to oligopoly.
The Reppe Barrier Falls: 1979-1998
The first non-acetylene-based route to BDO was commercialized in 1979 by Mitsubishi Chemical. The Mitsubishi approach is based on acetoxylation of 1,3-butadiene followed by hydrolysis. This opened the path to other new approaches as many companies wanted to participate in this very profitable (at the time) business.
In 1990, Arco Chemical (now part of LyondellBasell) developed a route based on propylene oxide. Then, shortly thereafter in the mid-1990s, two different groups, BP Chemical and Davy (now part of Johnson Matthey), independently developed routes to BDO based on maleic anhydride (MAN) or its derivative dimethyl maleate (DMM). BP built a plant in Ohio (now owned by Ashland) while Davy licensed plants around the world. Dairen, a Taiwanese company, developed a twist on the Arco technology and, in 1998, built a BDO facility using allyl alcohol as feedstock.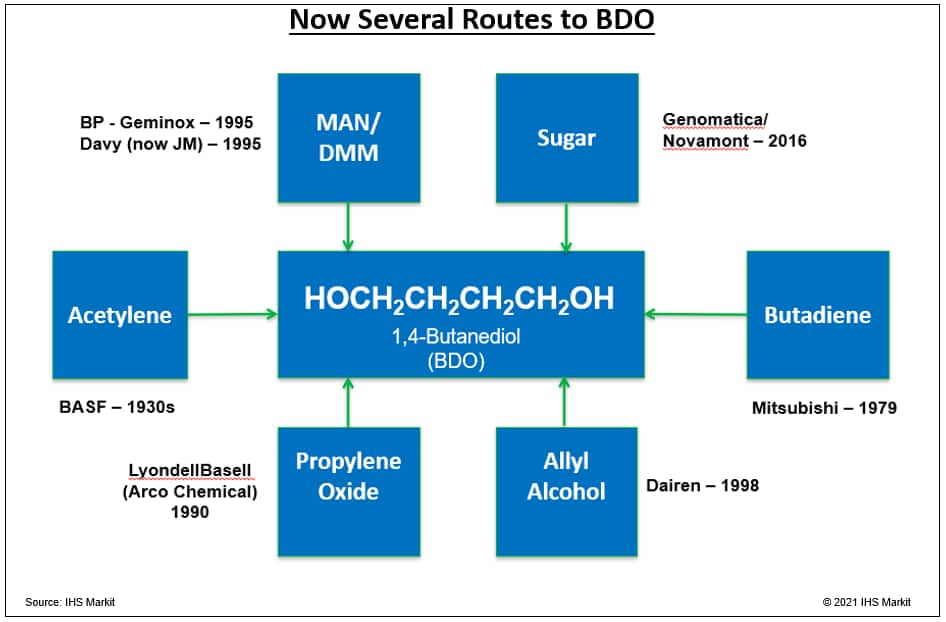 By 2000, despite new entrants and the development of several non-acetylene-based process routes, the BDO business was still relatively healthy with supply and demand in good balance for the most part. Only 13 producers were in the business with the top three players still being the original or legacy Reppe producers- BASF, Invista (formerly DuPont assets), and Ashland (the former GAF assets).
Chinese Producers Overwhelm the Market - The Return of Reppe: 2001-2021
While up to 2000, the BDO business had expanded quite a bit with new entrants and new technologies, there were no Chinese producers. However, this changed starting in 2001 - big time! From 2001 to 2021, Chinese producers added an astonishing 2.3 million metric tons of BDO capacity in this 20-year time period. And talk about going "back to the future"—about 90% of this Chinese capacity is based upon the historical acetylene-based Reppe route.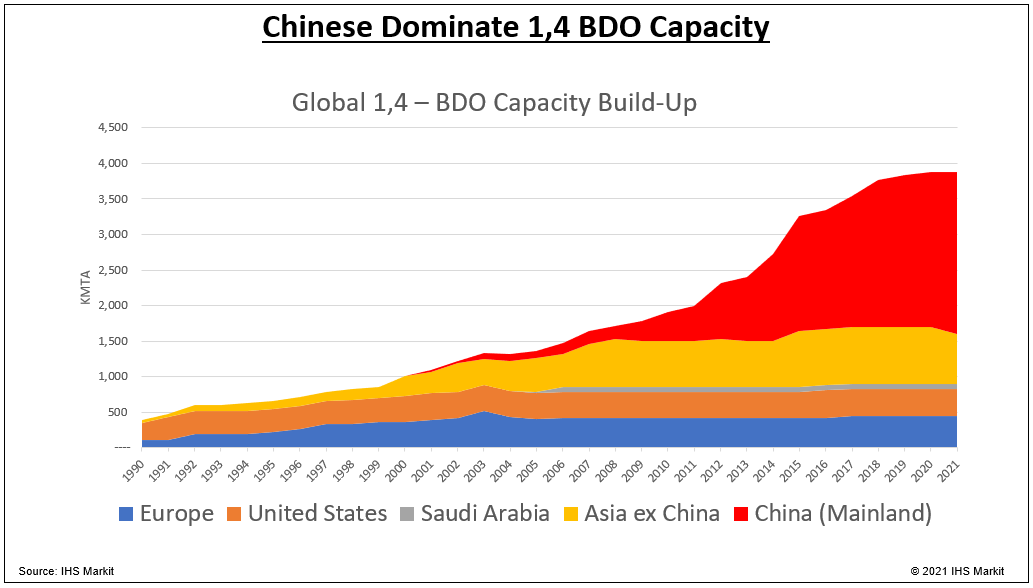 The problem is that total global BDO capacity stands a shade under four million metrics per annum while global demand is estimated to only be about 2.5 million metrics per year—obviously a significant supply overhang. Exacerbating the business' issues is the fact that much of BDO demand is captive or tied up in long-term supply contracts causing this supply overhang to compete for a relatively narrow merchant market. The good news for Cargill, Helm, and Novamont, the "green" BDO they are making or planning to make will differentiate their product, both in terms of market pull and premium pricing, hopefully making their ventures successful and launching yet another phase in BDO's fascinating life cycle!
For additional Petrochemical information, check out some of our training courses on IHS Markit's Learning Center at:OMDC TRAINING
RELATED INDUSTRIES & TOPICS
{"items" : [ {"name":"share","enabled":true,"desc":"<strong>Share</strong>","mobdesc":"Share","options":[ {"name":"facebook","url":"https://www.facebook.com/sharer.php?u=http%3a%2f%2fihsmarkit.com%2fresearch-analysis%2fbutanediol-capacity-expands-once-again.html","enabled":true},{"name":"twitter","url":"https://twitter.com/intent/tweet?url=http%3a%2f%2fihsmarkit.com%2fresearch-analysis%2fbutanediol-capacity-expands-once-again.html&text=1%2c4-Butanediol+capacity+expands+once+again%e2%80%93+Oh+no%2c+more+BDO!++(But+at+least+this+new+stuff+will+be+green.)+%7c+IHS+Markit+","enabled":true},{"name":"linkedin","url":"https://www.linkedin.com/sharing/share-offsite/?url=http%3a%2f%2fihsmarkit.com%2fresearch-analysis%2fbutanediol-capacity-expands-once-again.html","enabled":true},{"name":"email","url":"?subject=1,4-Butanediol capacity expands once again– Oh no, more BDO! (But at least this new stuff will be green.) | IHS Markit &body=http%3a%2f%2fihsmarkit.com%2fresearch-analysis%2fbutanediol-capacity-expands-once-again.html","enabled":true},{"name":"whatsapp","url":"https://api.whatsapp.com/send?text=1%2c4-Butanediol+capacity+expands+once+again%e2%80%93+Oh+no%2c+more+BDO!++(But+at+least+this+new+stuff+will+be+green.)+%7c+IHS+Markit+ http%3a%2f%2fihsmarkit.com%2fresearch-analysis%2fbutanediol-capacity-expands-once-again.html","enabled":true}]}, {"name":"rtt","enabled":true,"mobdesc":"Top"} ]}