Customer Logins
Obtain the data you need to make the most informed decisions by accessing our extensive portfolio of information, analytics, and expertise. Sign in to the product or service center of your choice.
Customer Logins
Bumpy road ahead for renewables and conventional power developers in South Korea as power market faces uncertainties amid coronavirus (COVID-19)

Two years ago, South Korean President Moon Jae-In announced that he would like to see his country rely less on coal and nuclear for electricity generation and put forth a target of 20% renewable generation by 2030, up from only 6% in 2018.
To meet the renewable target, 40 Gigawatts (GW) of solar and wind projects would need to be installed by 2030. Will the wholesale power prices reach a level that can incentivize new investment in renewables but avoid creating a political backlash against high retail prices?
To address concerns about a potential rise in electricity prices, the government recently announced a new natural gas price scheme, designed to reduce gas-fired generator's fuel costs. The policy enables the state-owned Korea Gas Corporation (KOGAS)—currently the monopoly reseller of imported LNG within South Korea—to supply gas to generators priced on a per contract basis rather than the current regulated price based on KOGAS's total average import costs.
Moreover, over 13 GW of new nuclear and coal power plants are expected to come online in the next five years (they had been under construction before President Moon's term), adding downward pressure on the system marginal price (SMP), the wholesale price in the Korean Power Exchange. The decline in power demand caused by COVID-19 can also have a moderating effect on power prices in the months ahead as restriction policies remain in place.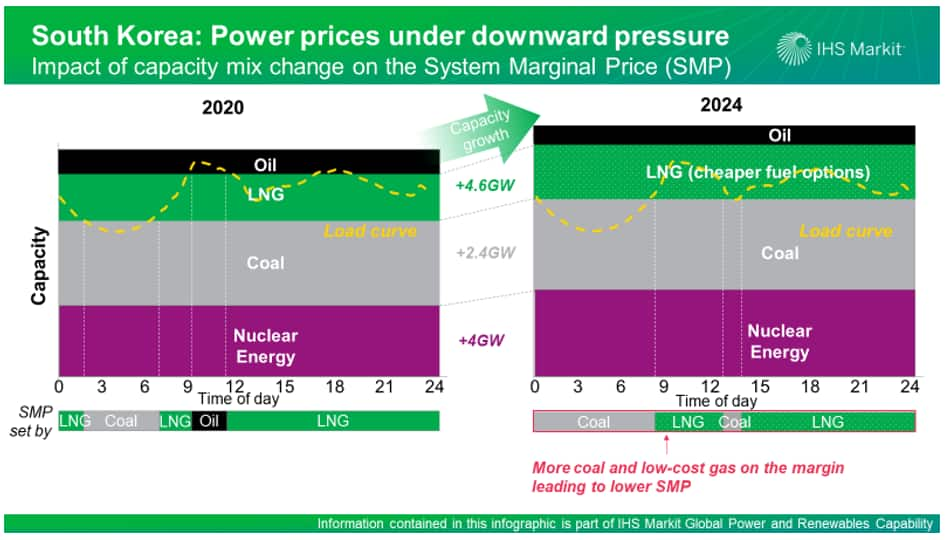 Figure 1: South Korea: Power prices under downward pressure
However, over the long-term there are other policy and market factors which will can make the SMP fluctuate both ways.
Typically, gas-fired power plants are the marginal generators determining the SMP in the Korean Power Exchange, with the cost of imported LNG a key influencer. Therefore, expected fuel prices, the gas tariff structure, capacity mix, and power demand are among the key variables needed to understand the potential direction of South Korea's power prices.
IHS Markit expects the SMP to decline through 2024. This is driven by additions of relatively cheap baseload capacity (nuclear, coal, and new gas power plants) as well as a decline in import LNG prices.
Renewable players may face significant challenges in financing new projects over the next 2-3 years. Korean Electric Power Corporation (KEPCO), the vertically integrated national utility and single buyer of electricity, will benefit from the lower SMP.
From 2024 to 2030, the SMP is likely to gradually increase. The planned retirement of existing coal and nuclear plants along with increasing gas prices and power consumption are expected to drive up the SMP. However, this trend will be partially offset by a growing number of gas-fired power generators which able to access cheaper fuel either from KOGAS' new individual tariff scheme, or by directly importing LNG from the global market.
Today, the levelized cost of energy (LCOE) for solar and offshore wind is about $100/MWh and $210/MWh, respectively. Although they are expected to drop by about 30% by 2030, the profit margin for new renewables project is likely to be squeezed because of the drop in the SMP in the next few years along with the plunging renewable energy credit prices.
Therefore, additional government support will be needed to meet the 2030 renewable target. Authorities are starting to act. For instance, the Ministry of Trade, Industry, and Energy (MOTIE) is a drafting a plan to include carbon prices in the power dispatch mechanism; the seasonal shutdown of coal-fired power plants could also put upward pressure on the SMP, which would help renewables.
Learn more about IHS Markit's coverage of Asia's power and renewables markets through our Asia Power & Renewables Analytics service.
IHS Markit experts are available for consultation on the industries and subjects they specialize in. Meetings are virtual and can be tailored to focus on your areas of inquiry. Book in a consultation with Vince Heo.
Vince Heo is an Associate Director and research lead in Asia gas and power at IHS Markit.
Posted 28 April 2020
---
Follow IHS Markit Energy
RELATED INDUSTRIES & TOPICS