Customer Logins
Obtain the data you need to make the most informed decisions by accessing our extensive portfolio of information, analytics, and expertise. Sign in to the product or service center of your choice.
Customer Logins
Bright prospects for both photovoltaics and battery storage

27 June 2019
IHS Markit Technology Expert
As photovoltaic (PV) installations continue to build throughout the world, the global PV installed base is forecast to reach 780 gigawatts (GW) by the end of 2020, up nearly 2,000% from a mere 40 GW a decade ago in 2010. Although some of the strongest periods of year-over-year growth in the global PV market are behind the industry, IHS Markit predicts that global PV installations will exceed 100 GW annually over the next five years.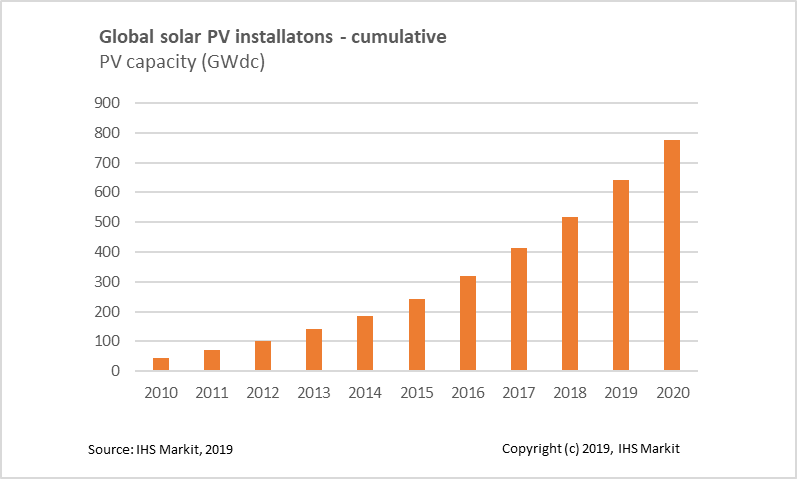 That phenomenal expansion is fueled by many growth drivers, including social and political factors related to climate change and carbon emissions. But PV's remarkable growth can also be attributed to a rapid reduction in costs and technology improvements, making solar-generated power more competitive with traditional fossil fuel sources like gas and coal.
One challenge standing in the way of further growth in the space is intermittency in the generation of renewables, with production in the case of solar limited to daytime hours. This aspect of renewables acts as a natural limitation for growth and requires balancing with other energy resources, such as gas or other fossil fuels. Increasingly, however, the PV market is seeing greater diversity come into play as more countries begin to invest in solar. While European markets like Germany traditionally led in the PV space, new players like China, India, and the US have now become powerful actors as well—a diversification that has been helpful as well in spurring PV growth.

Battery storage as alternative power resource
Much of the skepticism against renewables as a stable and predictable source of power vanishes if the science and mechanics of energy storage, especially in batteries, could be perfected—or so the argument goes. While battery-storage technologies aren't commonplace in electricity markets yet, continuing advancements in the field have been helpful in spurring growth in the entire energy storage space.
To this end, IHS Markit is forecasting demand for 80 gigawatt-hours (GWh) of energy from battery storage to be deployed within the next five years, a cumulative increase of approximately 400% compared to the installed base at the end of 2018. Like the spectacular expansion currently happening in the global PV space, technological innovation and cost reductions will continue to fuel growth in the battery-storage industry during the coming years.
The glowing prospects for battery storage will be good news to proponents of integration with renewables, since solar and battery resources can be combined in a relatively natural, organic fashion. Abundant solar energy during the middle of a clear and sunny day, for instance, can be used as a charging element for batteries. The extra energy stored in the batteries can then be discharged and made available for use as power after the sun goes down in the evening.
Such a scenario is especially appropriate for the US market, which is poised to become the largest market for solar paired with energy storage over the next few years. The abundant deployment of solar energy within the country, paired with growing demand for more flexibility from American utilities and customers, will drive deployments of hybrid solar and battery storage resources in the United States.
Beyond the practical economics and advantages of integration with renewable energy, batteries can provide additional value as an independent resource in a variety of settings, including utility applications or behind-the-meter applications for customers of the electric power grid.

Costs in the overall equation
For both solar and battery storage, the ongoing reduction in equipment manufacturing and deployment costs will be a critical factor in propelling both industries forward.
With solar, incremental efficiency gains will continue to optimize the manufacturing process across the supply chain, from polysilicon development to semiconductor wafer and cell integration. With battery storage—lithium-ion, especially—the field will be the happy recipient of benefits derived from the increased scaling of the electric vehicle industry, with profound implications for the future as electric-powered transportation gains greater market traction and a switch to clean-fuel cars gets underway.
Within five years, IHS Markit believes solar and battery storage technology costs will reach a tipping point that will allow such resources to compete directly with natural gas, which has become a global benchmark for new electrical generation. That tipping point is the ability of solar and energy storage systems to generate energy at an approximate cost below $50 per megawatt-hour. In turn, the lower cost will help catalyze a paradigm shift for the global energy industry to move to a cleaner and more resilient electrical system.

Camron Barati is senior analyst for solar and energy storage at IHS Markit
Posted 27 June 2019
RELATED INDUSTRIES & TOPICS