Customer Logins
Obtain the data you need to make the most informed decisions by accessing our extensive portfolio of information, analytics, and expertise. Sign in to the product or service center of your choice.
Customer Logins
Brexit update: What will be in the impact on the petrochemical industry?

The news this week has not been encouraging for those wishing for minimal fallout from Britain's August 23, 2016 decision to leave the European Union sometime in the foreseeable future. As reported in the Financial Times on 12 October 2016, Britain could be facing separation costs of as much as $20 billion resulting from a legacy of joint financial obligations covering such things as pension pledges, multi-year obligations and commitments to fund infrastructure projects. The pound plummeted to its lowest level on record as markets tried to price in the impact of a hard UK exit.
Although the UK economy has seemingly held up better than expected so far, IHS suspects that it will progressively lose momentum over the coming months like a slow puncture. The fundamentals for consumers will likely increasingly weaken as purchasing power is diluted by rising inflation, muted earnings growth and a softening labor market. Businesses are likely to be very cautious over investment and employment, and their uncertainty is likely to increase when the government triggers Article 50, most likely sometime early 2016, and negotiations begin in earnest over the terms of Brexit.
Nevertheless, in our October forecasts, we are set to raise our UK GDP growth projections to 1.9% (from 1.6%) in 2016 and to 0.7% (from 0.2%) in 2018, Growth is still seen at 1.3% in 2018. So, in less the exit negotiations, which are expected to begin sometime in 2017, turn sour, the short-term outlook for the UK economy doesn't look too bad.
For their part, Eurozone businesses seem to have shrugged off the uncertainty resulting from Brexit. IHS Markit PMIs point to continued, albeit sluggish, expansion. We expect real GDP growth of 1.6% in 2016, 1.3% in 2017 (up from 1.1% in our July forecast), and 1.6% in 2018. The upward revision in 2017 reflects slightly higher forecasts for Germany and Spain, where the impacts of Brexit are now expected to be milder than initially estimated.
Globally, the economic impact will be minimal. In the immediate aftermath of the Brexit decision, IHS foresaw global GDP growth in 2017 falling compared to IHS prior forecasts by 0.4%, from 3.1% to 2.7%. Since then, the world has moved on and global numbers have, at least temporarily, been corrected slightly higher; due in part to the improved forecasts for other parts of Europe.
In the final analysis we are talking about losses in GDP growth of only a very few tenths of percent due to Brexit and on a global scale the Brexit effect gets lost in the general noise of even more impactful factors, such as Chinese economic development, Italian bank problems and presidential elections.
But what about the impact on the petrochemical business? Generally, global petrochemical demand grows at factor of 1.3 times GDP growth. This factor is much lower in older, mature markets such as the UK and the Eurozone. While we still do not foresee a major impact of the Brexit decision on demand for global petrochemicals, the Brexit decision has certainly interjected greater uncertainty into a chemicals market already plagued by volatility due to significant price instability in the energy market. In addition, this referendum decision comes at a time when Europe has been showing signs of a fragile economic recovery and can ill-afford any unexpected, major economic aftershocks.
Chemical trade between Europe and the UK might be negatively impacted in the future, if trade talks lead to additional barriers being put in place, but we consider this unlikely as neither party would benefit. The fact is that Europe benefits more greatly from exports to the UK than the other way around! According to the UK government, In the same year, total UK exports to the EU were valued at £223.3 billion, while UK imports from the EU stood at £291.1 billion. The EU is and will remain and important trading partner for the UK and vice versa.
As far as supply is concern, as can be seen in the adjacent graph, the UK is only responsible for an estimated mere 1% of total petrochemical capacity, tendency falling. We expect no impact on supply whatsoever.
In the final analysis, unless things turn really bad during the negotiations between Britain and the European, any direct impact of the Brexit decision on the global and European petrochemical businesses will probably get lost in the general noise and be hardly appreciable.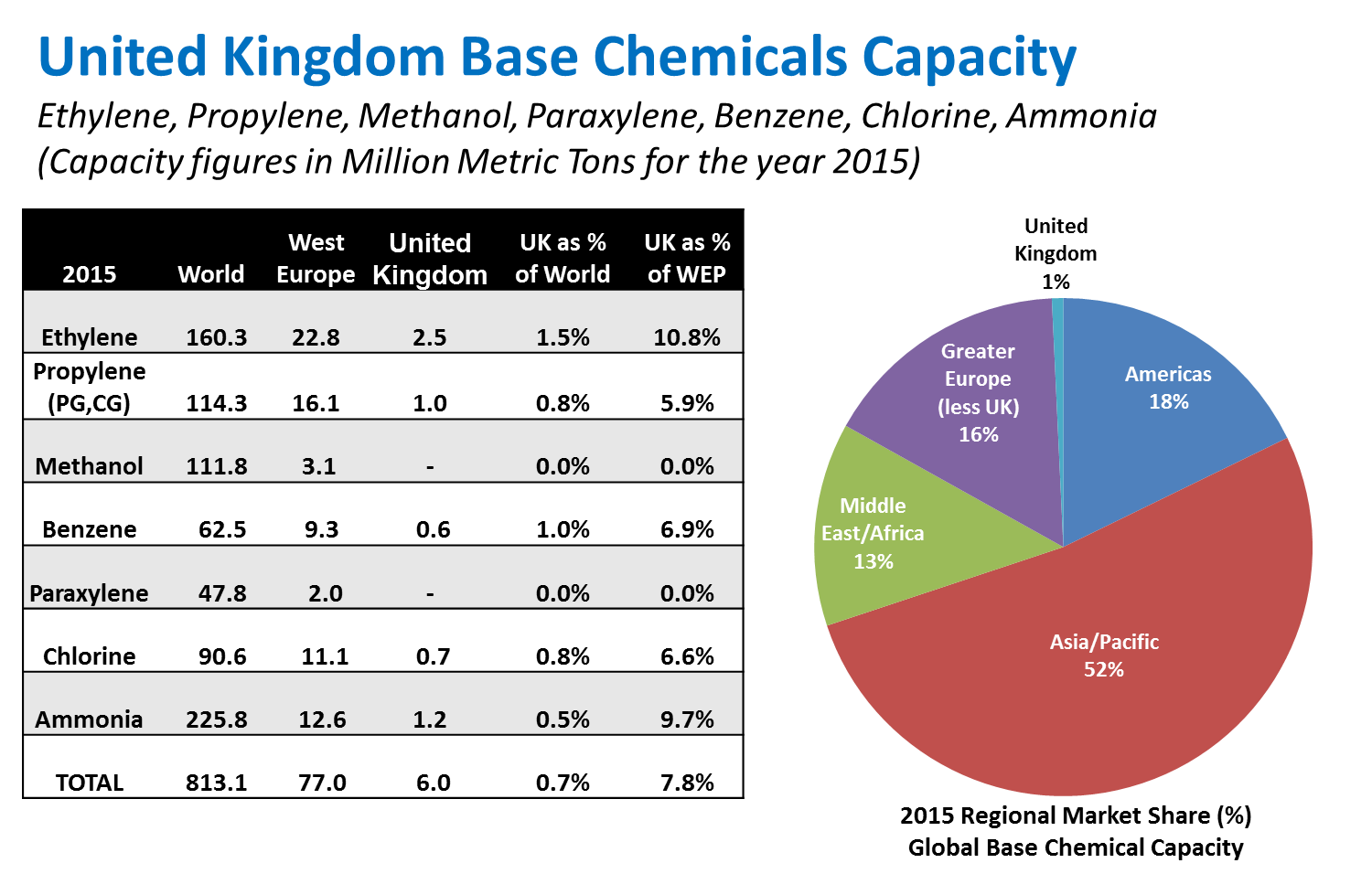 Figure 1 (Left): UK Base Chemicals Capacity, Figure 2 (Right): Regional Market Share of Global Base Chemical Capacity, Which Shows UK Produces Less Than 1% of Global Capacity
Source: IHS Chemical

Posted 19 October 2016
RELATED INDUSTRIES & TOPICS