Customer Logins
Obtain the data you need to make the most informed decisions by accessing our extensive portfolio of information, analytics, and expertise. Sign in to the product or service center of your choice.
Customer Logins
Brazil's fiscal reforms

The Jair Bolsonaro government completed a year in office on 1 January 2020 with a relatively positive balance. This includes improved economic growth, particularly in the second half of 2019; in the third quarter of 2019 private consumption went up by 0.8% quarter on quarter and fixed investment rose by 2.0%, confirming the return of relatively strong growth in capital spending observed in the second quarter of 2019.
The government has made progress with the approval of the critically important pension reform and concrete steps towards privatisation and even a marked decline in crime indicators. In 2019, dozens of airport and electricity-distribution concessions were granted as well as divestment of assets by strategic state-run companies such as Petrobras. Such progress was accompanied by improved business confidence and robust foreign direct investment inflows: USD76 billion in 2018, the best result in five years, with 2019 expected to attract similar inflows. However, the main challenge for Brazil is whether these positive trends will be maintained through 2020 and beyond.
The successful amendment of Brazil's pension system constitutes the country's most important transformation in 20 years. The Brazilian Congress approved substantial changes to Brazil's pension system on 22 October 2019, following several failed attempts by previous administrations since the late 1990s. The adjustments represent a significant political and economic development that will help to stabilise Brazil's stock of sovereign debt, which had been growing at an unsustainable rate since 2013. Under the new reform, the retirement age will increase from 56 to 65, pension contributions will increase, and the generous benefits previously available will be reduced. The government expects the changes to save fiscal outlays totalling USD194 billion over the next 10 years. Its approval has restored public and market confidence in policy-making and better-than-expected economic growth in the second half of 2019 has added to the more positive outlook. In response, IHS Markit has upgraded its forecast for GDP growth in 2020 to 1.7% of GDP from 1.5%.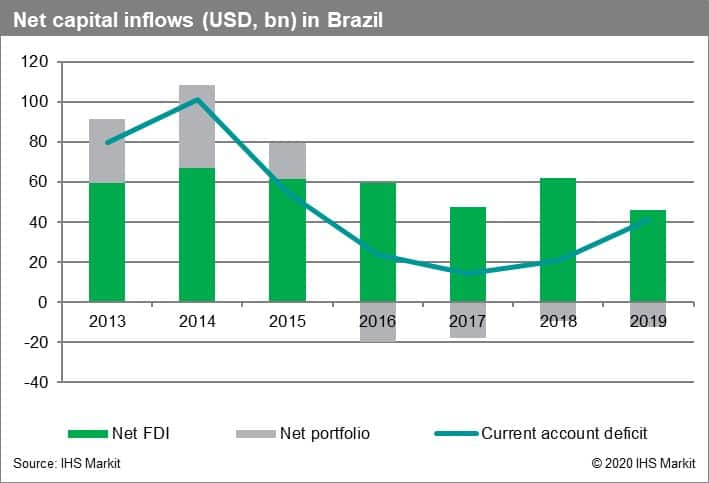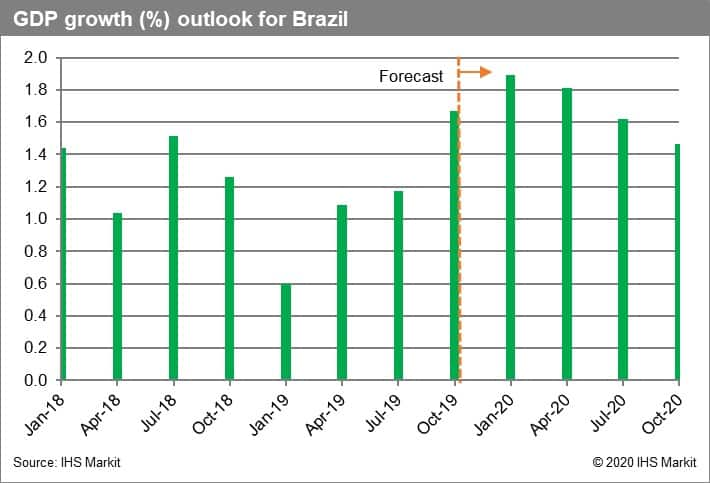 The alignment of Congress with the liberal agenda of Economy Minister Paulo Guedes has helped to achieve approval for pension reform, but such co-operation is unlikely to be maintained for the second phase of market reforms. Brazil's large fiscal shortfall, which is about 7% of GDP, requires further fiscal adjustment to restore public-debt sustainability. Guedes has pledged further substantial changes in 2020. His objectives include tax and administrative adjustments, which if approved by Congress, would aim to eliminate the primary fiscal deficit. His proposed measures will be discussed by Congress in February 2020. However, the relevant bills are likely to face strong resistance, particularly the draft legislation to change the public administration. This comprises a major overhaul of the civil service, including restraints on public-sector wages and a reduction of generous benefits. Likely opposition will be exacerbated by electoral factors; Brazil is holding local elections in October 2020 and from July, legislators can be expected to shift their focus towards the upcoming campaigns. This implies that they would be to likely to avoid supporting unpopular austerity policies. Changes to the tax system will also require detailed negotiations with Congressional leaders and state governors before a final consensus version can be agreed upon.
President Jair Bolsonaro's stance on fiscal rationalisation is likely to be lukewarm as his priority will be the promotion of his socially conservative agenda. Bolsonaro has expressed his public support for the pension overhaul and the additional fiscal amendments promoted by Guedes. In practice, he has given his economy minister effective freedom to pursue fiscal austerity. However, the president has avoided taking a role of personal leadership in sponsoring the changes. Instead, he has adopted a hands-off approach, failing to engage Congress in negotiations, and occasionally having public disagreements with Rodrigo Maia, the influential Speaker of the Lower House. Bolsonaro has instead prioritised the socially conservative policies on law and order, crime, and education that were central to his election campaign in 2018. The president's reluctance to drive sponsorship for the fiscal agenda is a considerable hindrance to the prospects for approval of the additional fiscal modifications proposed by Guedes.
Bolsonaro's lack of a cohesive base in Congress will limit the government's ability to achieve congressional political consensus. Bolsonaro is currently not aligned to any political party after resigning on 15 November 2019 from the Social Liberal Party (Partido Social Liberal: PSL), under which he campaigned as presidential candidate. He is creating a new political vehicle to be named "Alliance For Brazil", but electoral legal constraints have delayed its launch. This implies that the new party will be unable to participate in the October 2020 local elections as initially intended. Additionally, in-fighting within the PSL has split his 60-strong base of congressional deputies. This is a major hurdle in efforts to secure the votes needed to approve fiscal changes. Failure to approve the proposed measures would damage the business environment, discouraging foreign investment and constraining economic growth.
Indicators of changing risk environment
Increasing risk
Leaders of centre-right parties in Congress announce strong opposition to the proposed administrative reform, following nation-wide protests by labour unions.
State governors refuse to support draft fiscal measures, arguing that the measures will cut state-level income streams; instead, they urge congressional legislators to reject the bill.
In-fighting between Bolsonaro and his former PSL allies results in the latter withdrawing support for key parts of the government's agenda.
Decreasing risk
The heads of the Lower House and the Senate reach an agreement with Guedes to prioritise the bill to modify Brazil's state administration.
State governors indicate support for unification of value-added taxes after the government offers additional budget reallocation of revenues from "pre-salt" oil auctions.
RELATED INDUSTRIES & TOPICS