Customer Logins
Obtain the data you need to make the most informed decisions by accessing our extensive portfolio of information, analytics, and expertise. Sign in to the product or service center of your choice.
Customer Logins
Brazilian light-vehicle market's full-year sales drop 19.8%, with production down 11.7% and exports up 25.7%

06 January 2017
IHS Markit Automotive Expert
> Download our infographic: Top 7 reasons why the Brazil automotive sector will not rebound soon
For 2016, Brazil's light-vehicle sales dropped by 19.8%. Full-year production was 11.7% lower than in 2015, although exports increased by 25.7%. However, on easing inflation, the central bank reduced its key interest rate in October and November, and there is expectation that 2017's sales will stabilise.
IHS Markit perspective
Significance: Brazilian light-vehicle (LV) sales in 2016 returned another significant drop, closing the year down by 19.8%, although sales in November and December were better than in the preceding months. Exports are up on increased efforts from the industry, although production was still notably down in 2016.
Implications: The Brazilian market has continued its downward spiral, with LV sales in contraction for 24 consecutive months, on the absence of economic momentum and consumer confidence, along with the banks' caution towards lending. In November, Brazil's central bank dropped its Selic interest rate to 13.75%. This followed the drop to 14.0% at its October meeting, which was the first drop in the rate in four years. It remains to be seen how quickly this will affect the automotive market or if another rate reduction will come in January 2017.
Outlook: The automotive market faced a weak 2015 and 2016 was worse than expected, even against low expectations. Along with a fiscal deficit and inflation, the country is affected by corruption scandals and a lack of political co-operation. However, IHS Automotive expects the change in government to slowly contribute to an improvement in confidence, leading to essentially flat sales for 2017 and growth in 2018, bringing the market back to 2.0 million units.
Light-vehicle (LV) sales slumped in the Brazilian market in 2016, marking two full years of sales declines and posting the lowest sales pace since 2006, according to the National Association of Motor Vehicle Manufacturers (Associação Nacional dos Fabricantes de Veículos Automotores: Anfavea). However, sales have improved month on month (m/m), with December sales up 14.7% from November 2016. Production declined by 11.0% for the year. Anfavea president Antonio Megale was quoted as saying that the industry ended 2016 operating at 48% of production capacity, stating, "Vehicle makers in Brazil had a difficult 2016. Brazil has a lot of potential … but it is difficult to say when it will reach that potential." The country's economic improvement, said Anfavea, is set to be slow and dependent on the ability of Brazil's government to push through economic measures during political turmoil.
Although consumer confidence is down and difficult economic conditions include increasing unemployment and weak credit availability, there is a break in interest rates. In January, Megale reported Anfavea's projection for 2017, that sales of cars, light trucks, trucks, and buses will improve 4% to 2.13 million units. Anfavea reported that 2016 light commercial vehicle (LCV) sales contracted 12.7%, although there was an increase in some months, while sales of passenger cars dropped 21.0%. Passenger car sales fell to 1.67 million units and LCV sales dropped to 311,876 units. Established manufacturers Fiat, General Motors (GM), and Volkswagen (VW) faced larger declines over the year than those with a smaller share, like Toyota, Honda, and Hyundai. Fiat Chrysler Automobiles (FCA) held its status as Brazil's top seller with 249,986 passenger cars sold, down 30.6%, and 114,881 LCVs sold, down 6.6%. GM kept its lead over VW for second place, with 304,560 passenger cars sold (an 8.0% decline) and 41,322 LCVs sold (down 27.5%). VW had passenger car sales drop to 185,327 units, down 36.2%, and sales of 43,146 LCVs (down 37.5%). Renault-Nissan sold 184,840 passenger cars and 26,040 LCVs in 2016, ahead of Ford, which sold 164,552 passenger cars and 15,830 LCVs. Hyundai's passenger car sales were up 2.4% in the year, to 167,674 units. Toyota's passenger car sales, including Lexus, declined by 5.6% to 135,257 units.
Exports were somewhat volatile in 2016, although generally positive in the final months of 2016. For the year, exports gained 25.7%. Brazil lacked a strong export base to accommodate excess capacity, causing automakers to cut back on shifts and slow down production in a weak domestic sales environment. Efforts in 2016 helped address this within the South American region. Production for the year declined 11.0%, with passenger car production down 11.9% and LCV production down 5.3%.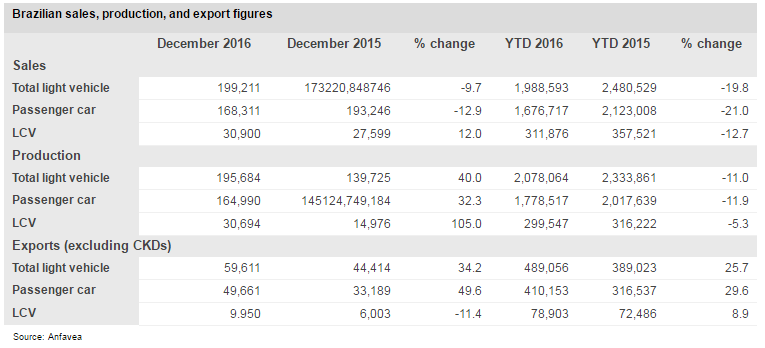 Outlook and implications
After a weak 2015, the automotive market failed to meet low expectations in 2016. The market may be stablising, however, and IHS Automotive forecasts flat sales for 2017. Along with a fiscal deficit and inflation, the country continues to be affected by corruption scandals and a lack of political co-operation (in early December, the president of the Senate refused to step down, as directed by Brazil's Supreme Court over an embezzlement charge). Brazil's economy is estimated to have declined 3.55% in 2016, after falling 3.77% in 2015. However, IHS Automotive expects the change in government to slowly contribute to an improvement in confidence. In 2018, we predict that the market could recover to 2.0 million units.
Factors pushing the near-term decline include an absence of economic momentum and consumer confidence, continued cautious bank lending, and the discontinuation of tax benefits. Government investment has also been frozen, as it works to bring a growing deficit in check and to cope with intensifying repercussions of alleged corruption at Petrobras. Increasing vehicle prices (with 15.8% on mandated safety equipment), high inflation, high interest rates (25% in August 2016, compared with 18.5% in the third quarter of 2014), and tight credit availability have been driving sales down since 2014 and these factors have grown more severe. Brazil's inflation remains high, although media reports suggested that it decelerated in recent months and ended 2016 at 6.38%, compared with October's 8.48% and 10.36% in February 2016. The central bank has a target ceiling of 6.5%. Over the first half of 2015 and in reaction to inflationary persistent pressures, the Central Bank of Brazil raised the Selic rate several times, settling at a 14.25% rate imposed on 30 July 2015. In October, however, the rate was cut to 14.0%, in an effort to support the recovery signals, followed by a second cut in November to 13.75%; another cut may come with the January 2017 meeting. The October cut came only after slowing inflation and initial approval of a key austerity proposal by Brazil's Congress, reported Reuters.
In 2015, the market continued a downward spiral on an absence of economic momentum and consumer confidence and difficult credit; this spilled into 2016. IHS Automotive's model still forecasts vehicle sales to be at 2.7 million units with a 3.7% GDP contraction. The same model is telling IHS Automotive that even if the Brazilian economy shrank by 3.7% in 2016, the market would contract to 2.3 million units.
Looking further ahead, sales are in for a long recovery. There will be no change in the economic situation so no drivers for LV sales in the next few years. As a result, through 2020 LV demand will not break 2.5 million units. After that IHS Automotive expects a stronger recovery. The potential for Brazil is there, but achieving it will be a complicated process given the country's looming political uncertainty.
Brazilian opportunities include a low motorisation rate (a little more than five people per car). The nominal USD10,000 GDP-per-capita milestone was broken in 2010 - this is the point at which a significant portion of the population may be in the right position to be new-car buyers. In 2016, however, Brazil is closer to a per capita GDP of just USD8,000. Also, a larger number of brands have brought a wide spectrum of products, sparking excitement in consumers.
This combination of elements puts the forecast for the Brazilian market at close to 3 million units by the end of the forecast horizon. IHS Automotive's outlook puts Brazil's motorisation rate at roughly 4.0 people per car within five years and working towards 3.5 people per car in 10 years. This helps to explain why Brazil has become such a critical pillar of growth for original equipment manufacturers (OEMs) worldwide.
About this article
The above article is from IHS Automotive Same-Day Analysis of automotive news, events and trends, and is a deliverable of the World Markets Automotive Service. The service averages thirty stories per day and also provides competitor and country intelligence. Get a free trial.
RELATED INDUSTRIES & TOPICS