Customer Logins
Obtain the data you need to make the most informed decisions by accessing our extensive portfolio of information, analytics, and expertise. Sign in to the product or service center of your choice.
Customer Logins
China's BOE to have world's largest TFT-LCD+AMOLED capacity in 2019

BOE, a major player in the flat-panel display industry, will reach a new milestone in 2019.
According to the most recent IHS Markit Display Supply Demand & Equipment Tracker, BOE's TFT-LCD and AMOLED semiconductor display technology capacity will reach 54.8 million square meters (m²) that year, surpassing LG Display's 53.8 million m², Foxconn Group's 53.7 million m², and Samsung Display's 52 million m². The projected attainment for BOE will make the Beijing-based company the owner of the largest active-matrix flat-panel display capacity in the world.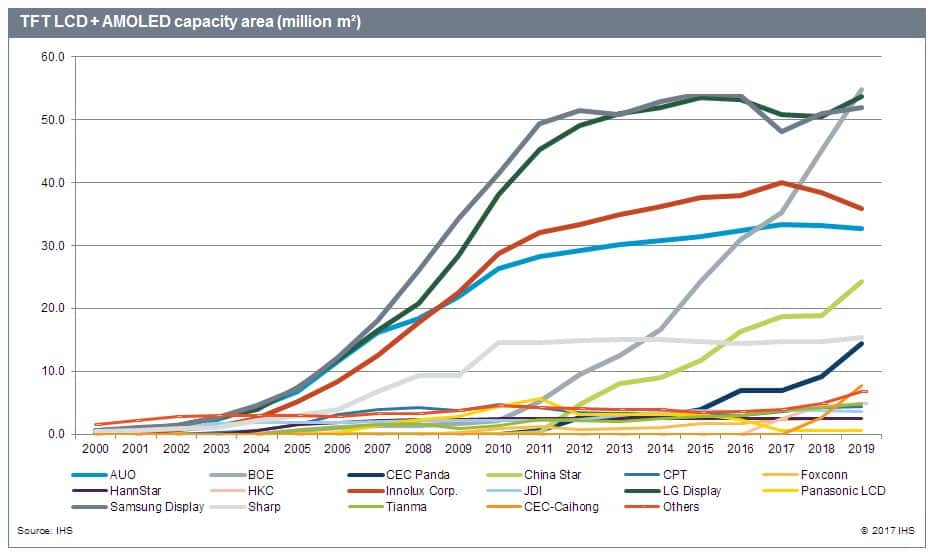 For years, BOE has attempted to become the world's largest flat-panel display manufacturer. Keys elements of the company's strategies for success have been its focus on continuous expansion and achieving economies of scale. BOE found the golden formula for building fabs in China through government support. The manufacturer has since expanded its business portfolio into set assembly, the OEM/ODM business, semiconductors, medical care, solar, lighting, and components and materials. Even so, the display business remains BOE's primary revenue generator.
In calculating the current display capacity totals, IHS Markit combined TFT-LCD and AMOLED capacity because companies like Samsung Display and LG Display are shutting down TFT-LCD capacity in favor of expanding capacity in AMOLED. Significant TFT backplane capacity is reserved for AMOLED displays, including LTPS-or low-temperature polysilicon-for mobile OLED displays and oxide for large OLED displays.
TFT, or thin-film transistor, and AMOLED, or active-matrix organic light-emitting diode, are two types of displays utilized in mobile phones and other devices, including televisions and computers. Unlike TFT, AMOLED uses organic materials, such as carbon. And lacking a backlight, AMOLED displays are thinner than their TFT-LCD counterparts and consume less power. AMOLED displays also produce better color than TFT because the hue and light intensity of a pixel is controlled independently, with no light seeping between adjacent pixels.
Among global display suppliers and manufacturers, LG Display is the current leader in capacity with 50.9 million m²; followed by Samsung Display with 48.2 million m²; Innolux from Taiwan with 40 million m²; BOE with 35.2 million m²; and AUO, also from Taiwan, with 33.4 million m². If the Foxconn Group is combined to include both Sharp (including SDP, or Sharp Display Products) and Innolux, then its capacity would reach 57.3 million m², making the Foxconn Group owner of the largest capacity. However, because Sharp and Innolux are still run separately, the aforementioned capacity figure cannot be used for comparison purposes.
In the first chart shown earlier in this article, included in the calculation are four Gen 10.5 fabs, including: BOE's Hefei fab, China Star's Shenzhen site, Sharp's SDP Guangzhou location, and LG Display's Paju P10 fab. Further analysis on these fabs can be found in the article, "New Gen 10.5/11 factory plans, new FPD equipment forecast revision," on the IHS Technology website.
For BOE, which has been steadily expanding capacity in the last several years, its current fab structures are shown in the table below.

With the construction of these fabs, including TFT-LCD and OLED, BOE's capacity is forecast to grow from 9.5 million m² in 2013 to 54.8 million m² in 2019, as shown below. Interestingly, 2017 will be the most modest growth year for BOE in terms of annual capacity, as the table below indicates. This explains the company's more conservative attitude toward business expansion in 2017.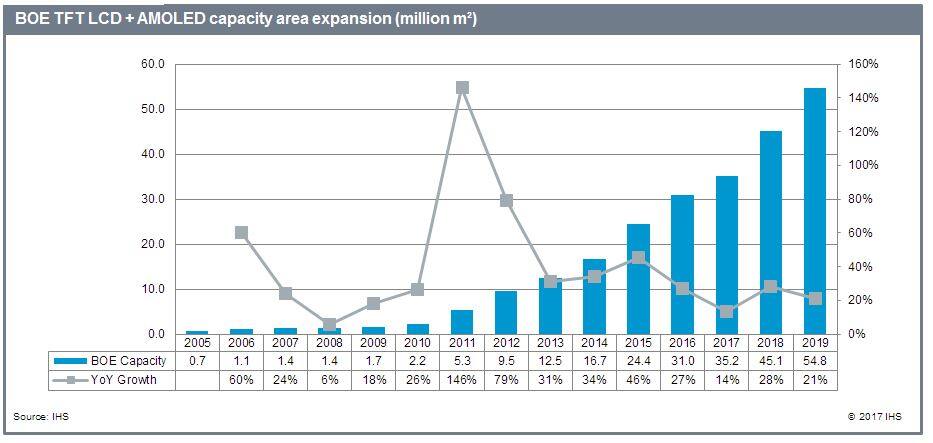 In the various submarkets utilizing displays, BOE is now the No. 1 display supplier to the notebook panel segment in shipments, second in the monitor panel segment, and third in the TV panel segment. In an IHS Markit news release in January, "BOE Takes First Spot in Large Display Unit Shipment, IHS Markit Says," we announced that BOE held the top spot in shipments for larger-than-9-inch displays for tablets, notebook PCs, and monitors. In particular, BOE supplied 29% of the global market for notebook PC displays, further distancing itself from runner-up Innolux, which supplied 20%. Meanwhile, LG remained the top supplier of TV panels with 21.4%, followed by Innolux with 16.3%, and by BOE with 15.9%.
From 2017 to 2018, BOE's capacity is expected to grow by approximately 10 million m², contributed mainly by its B7 and B10 fabs ("B" is the fab code for BOE). For BOE, ramping up its Gen 10.5 (B9 fab in Hefei) in late 2018 will allow the manufacturer to take the capacity crown away from LG Display in 2019.
This year, however, BOE's focus is to improve its product mix rather than increase market share. The company plans to ship 40 million TV panels in 2017, which is less than the 44 million it shipped in 2016. BOE also plans to reduce its portion of 32-inch TV panels, while increasing shipments of larger sizes like 43, 49, 55, and 65-inch.
On the notebook panel side, BOE plans to increase its portion of panels utilizing in-plane switching (IPS) technology to add value; IPS panels display consistent and accurate color from all angles, unlike the older twisted nematic (TN) technology. BOE also plans to grow IPS panels as well as incorporate higher resolution into its monitors.
One challenge for BOE has to do with its struggles in OLED production, especially in its old Ordos Gen 5.5 LTPS + OLED fab. BOE is aiming to commercialize rigid OLED panels this year, and the company has the initial prototype flexible OLED ready for its upcoming Chengdu B7 flexible OLED fab, expected to ramp up in the second quarter of 2018.
David Hsieh is Research & Analysis Director within the IHS Technology Group at IHS Markit
Posted 22 March 2017


RELATED INDUSTRIES & TOPICS