Customer Logins
Obtain the data you need to make the most informed decisions by accessing our extensive portfolio of information, analytics, and expertise. Sign in to the product or service center of your choice.
Customer Logins
Blog: Rapid Growth seen in the market for bioformulations

05 March 2020
Dr. Alan Bullion
There is little doubt that the market for biocontrol products in agriculture has increased dramatically over the last few years and will continue to do so over the foreseeable future. The biggest growth rates are expected in Latin America, mainly due to the entrance of biocontrol products into row crops and cereals in Brazil.
It is estimated that global sales of biocontrol products increased from US$ 0.1 billion in 1993 to around US$ 3 billion in 2016, with a projection of sales of nearly US$ 5 billion in 2020.
According to the Environmental Protection Agency (EPA) in the US, biopesticides are classed as certain types of pesticides derived from such natural materials as animals, plants, bacteria and certain minerals. In an Agrow search carried out in January 2020, there were 366 active ingredients registered by the EPA as biopesticides. There were also 32 Plant Incorporated Protectant Active Ingredients registered by the EPA.
The drivers behind the rapid growth forecast for this crop protection sector are:
Increased Pesticide Resistance
With the increasing use of pesticides, many crops and target pests have developed resistance to traditional pesticides. Strategies to counter this have included pesticide mixtures, rotations but also the inclusion of more natural crop control methods and the use of integrated pest management (IPM).
Consumer Perception
In Europe particularly, there is a negative perception from the public of "chemicals" and pesticides and any products which make a claim to be natural are regarded as being "better" and "safer".
Increased Focus by Regulators/Governments on "Synthetic Pesticides"
Many of the traditional products for crop protection need their approvals renewing and the regulators are now being increasingly wary of renewing approvals. The large majority of biopesticide applications are as insecticides, fungicides or nematicides. There are however relatively few bioherbicides and this is perhaps one application, which if effective actives can be found, then a further growth spurt in the sector could be seen.
Formulation for better products
The market for biocontrol agents is a fast growing one with increasing expectations. Formulation will be key to meeting these expectations and will follow mainly the same path as that for conventional plant protection products with the exception that the changes are likely to be much quicker. Market expectations for the quality and performance of biological products will probably increase, and this is also likely to drive investment in formulation technology across the industry.
Formulation is often called an enabling technology; in that it enables one or more active ingredients to work most effectively in a particular application. The process of formulation enables relatively small quantities of active ingredient to be applied safely and effectively. Clearly without active ingredients a biopesticide or bio-agricultural product will not work, but conversely without proper formulation the product is unlikely to perform at anywhere near its optimum level.
In conventional plant protection products, we have seen the significant development of combining actives, mainly to combat resistance issues, but this trend towards more complex and combined treatment regimens with biocontrol products is being observed and we can expect to see more of these in the next few years and of course formulation will play a key role in establishing compatibility and stability.
As well as these combination products we are expecting to see more regulation, better use of adjuvants and co-formulants and an alignment to the other drivers of smart agriculture.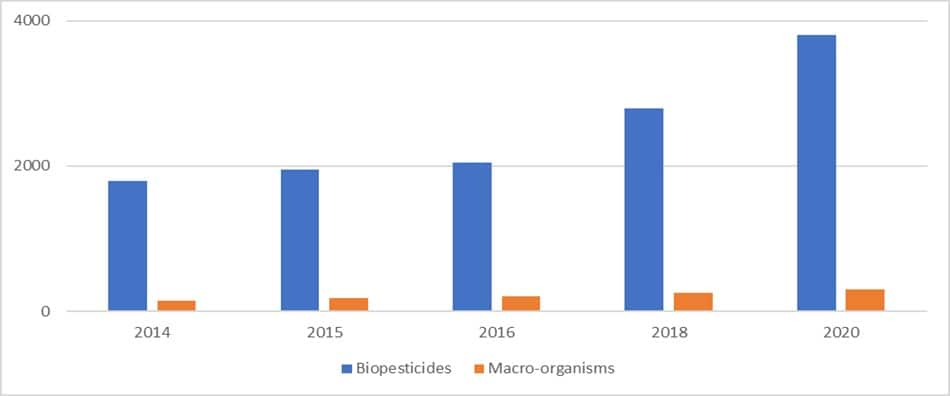 Our latest report offers an in-depth review of the bioformulations market, covering formulations of microorganisms, proteins, peptides, enzymes, bioingredients and other natural chemicals.
---

RELATED INDUSTRIES & TOPICS