Customer Logins
Obtain the data you need to make the most informed decisions by accessing our extensive portfolio of information, analytics, and expertise. Sign in to the product or service center of your choice.
Customer Logins
Blockchain: Young and promising, but also challenging

Digital Orbit is an executive briefing from IHS Markit that tracks how six transformative technologies are disrupting life and industry. In the sixth installment of this series, we turn our attention to Blockchain, a recently minted technology whose application and utility have broad implications beyond the world of finance where it is used most.
Blockchain is the least mature of the six transformative technologies tracked by Digital Orbit. Utilizing cryptography to create secure distributed ledgers, Blockchain is complex and remains an enigma to many, with its widest application still confined to the financial market.
Perhaps it comes as little surprise, then, to find out that the inaugural edition of Digital Orbit found Blockchain, along with 5G, as the transformative technology least ready for adoption by industries like healthcare as well as power and energy. Blockchain had the lowest score in 7 out of 10 readiness measures, and only 5G had a lower cumulative readiness score.
The global business value of Blockchain last year across all industry verticals reached $5 billion, IHS Markit estimated, of which 72% came from the financial sector. This isn't surprising, since the financial sector was where Blockchain was originally targeted for use. It is also where the largest number of proof-of-concept trials and commercial deployments of the technology, such as the cryptocurrency Bitcoin, have occurred to date.
However, by replacing human or specific third-party gatekeepers with a more secure, automated, and distributed system, Blockchain can foster greater data reliability and security in a range of industries. For this reason, verticals ranging from healthcare to logistics are now carefully examining the feasibility of incorporating Blockchain into their operations. And although it was the financial sector that launched Blockchain into the mainstream, IHS Markit believes other industries will be the biggest Blockchain adopters in upcoming years, pushing the overall business value of Blockchain to $2 trillion by 2030.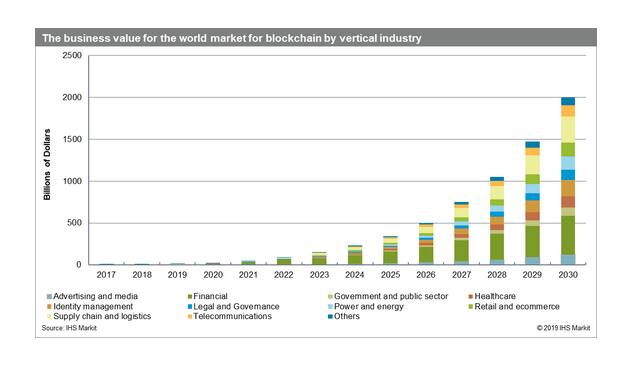 Many challenges still in store
Even so, Blockchain faces numerous challenges to widescale adoption and deployment. While the breadth and depth of blockchain trials and projects is expanding, relatively few examples can be found to date of Blockchain applications being used in everyday life.
For one, Blockchain's key features are not always advantageous. Immutability—promoted typically as a big benefit by ensuring ironclad security—also makes it nearly impossible to remove or revise a record, which could make Blockchain impractical for some applications. Governance is an issue, as there is no central authority providing guidance on how to define and regulate Blockchain or how it may even negate existing regulatory conditions.
Blockchain is also likely to face numerous questions ahead of commercial deployment, including those involving privacy vs. transparency, speed of execution, and computational requirements.

Assessing readiness
The commercial deployment of Blockchain is less clear than those of other transformative technologies examined in Digital Orbit. As a result, IHS Markit believes the timeline for Blockchain adoption will vary greatly by vertical, depending on industry readiness and the willingness of key companies within that market to experiment and find a role for the technology.
Digital Orbit found that Blockchain's readiness score was highest in the Automotive, Transport, and Logistics industry. This high standing was specifically driven by the supply chain and logistics sector which, outside of the financial sector, forms one of the largest and most immediate use cases of Blockchain technology. Blockchain solutions are already being used to securely log and maintain information about a shipment throughout its journey, which can involve a range of parties, multiple geographical locations, and varying time periods.
Blockchain's readiness score was lowest in the healthcare market, where adoption of new technologies is traditionally slower given the conservative nature of that industry.


Readiness vs. impact
Blockchain's low marks in readiness are not mirrored on impact, Digital Orbit's measure to determine how transformative technologies will influence industries. In fact, both IHS Markit analysts and key industry influencers believe Blockchain's impact will be significant, especially in healthcare, and power and energy, both of which require high data security and integrity.
In healthcare, Blockchain has the potential to resolve significant concerns that have dogged the industry for years, including the creation of a common database of health information that both doctors and providers could access, regardless of the electronic medical system being used.
In power and energy, Blockchain can provide a more efficient marketplace for traders and reduce fraud in energy trading and process optimization. Blockchain can also enable automated management of the power grid and help protect against fraud in grid edge transactions, thanks to a highly structured and immutable audit trail, complete with the identity of every actor in the system.
For more details, visit our Digital Orbit section, where you can also download a free white paper.
Josh Builta is senior principal analyst for transformative technologies at IHS Markit
Posted 21 May 2019
RELATED INDUSTRIES & TOPICS