Customer Logins
Obtain the data you need to make the most informed decisions by accessing our extensive portfolio of information, analytics, and expertise. Sign in to the product or service center of your choice.
Customer Logins
Biomethane capacity in central, eastern Europe to soar: Uniper

Central and eastern Europe's path to decarbonization is set to get a boost from biomethane, with regional production capacity poised to surge as the current decade progresses, according to a senior executive at German energy company Uniper.
Biomethane could replace conventional natural gas in the electricity generation, industrial, fuel, and heating sectors, in addition to providing a cleaner source of fuel for power stations than coal, which currently dominates electricity production in countries such as Poland.
Biomethane is a source of methane produced either by "upgrading" biogas or through the gasification of solid biomass.
Poland, Hungary, and Romania have a combined biomethane production capacity potential of up to 100 TWh, Peter Arp, Uniper vice president, origination CEE, said during an Atlantic Council conference on central and eastern Europe 10 June. Of that, 50% is located in Poland, less than 20% in Romania, and the rest in Hungary, he told Net-Zero Business Daily in a phone interview 15 June.
In contrast, Germany (see graphic below; for reference 11 TWh equals about 1 billion cubic meters), Europe's largest biomethane market at the moment, currently has around 10 TWh of capacity, he said in the interview.
Germany's share of European biomethane production is about 40%, according to IHS Markit's plant tracker for the sector.
More than 92% of European capacity is connected to the gas grid, facilitating a variety of potential heating, power, and industrial uses.
Poland, Hungary, Romania, Ukraine
Poland and Hungary offer positive conditions for market access, while Romania has "huge first mover potential," Arp told the conference.
Ukraine adds another 80 TWh of potential, but the risk profile is higher, he added.
The production costs throughout the region will be below those in Germany, Arp said in the interview.
Poland "has space, so, everybody who has space has an advantage for biomethane," he said. "This would be a chance for investments, and biomethane will help us also to get the gas more green."
The substantial agricultural base in Poland provides ample potential feedstock, Arp said. Construction on much of the first of the region's plants could begin in around 18 months' time, according to Uniper estimates, and can be expected to be up and running two or three years after that.
Uniper is currently purchasing liquefied biogas in Germany under long-term contracts, but "would love to buy it" from Poland or the US, said Arp.
Germany has a very large biogas market at the moment, he said, but upgrades to biomethane plants are missing.
The problem with biogas is that while it can be used by power plants, it cannot be injected into the existing pipeline infrastructure, said Arp. That is why Uniper is looking into biomethane, he said.
Uniper finds customers and other stakeholders asking for green alternatives regularly, Arp said in the interview.
Uniper operates power generation, energy trading, natural gas storage, and supply businesses. The Dusseldorf-headquartered company has 34 GW of generation capacity. Its biggest shareholder is Finnish energy company Fortum. Uniper operates one power plant in the central and eastern European countries where Arp sees biomethane growth—the 428-MW Gonyu gas-fired facility in northwest Hungary.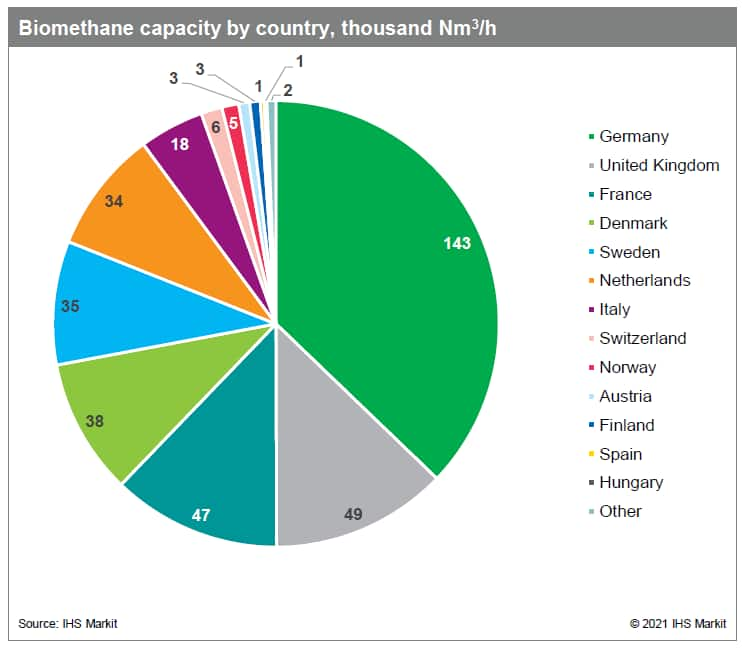 Ambitions
Poland will have almost a new power system by 2040, Minister for Climate and the Environment Michal Kurtyka told a session at the Atlantic Council conference.
The revamp will come from mostly zero-emission sources, with a heavy investment in renewable energy sources, Kurtyka said.
Poland does not make the top 10 countries for European biomethane capacity at the moment, but the Polish government has big plans for the sector.
In March, the government released its Polish Energy Policy 2020 battleplan. The government envisages that by 2030 some 10% of gas transported in networks will be biomethane and hydrogen, according to international law firm Dentons.
The government estimates that the share of renewable energy will reach an overall 23% of gross domestic consumption by 2030 and at least 28.5% by 2040. In addition, a 14% share of renewable power in transportation by 2030 would be achieved through the use of biocomponents and biofuels, development of advanced biofuels, electromobility policies, and biomethane.
Earlier in 2020, the Polish Power Exchange and state-controlled energy company PGNiG signed an agreement to develop a biomethane market.
Hard-to-abate sectors
Biomethane will allow countries to reduce emissions in some hard-to-abate sectors, such as heavy industry and freight transport, according to the International Energy Agency (IEA). It also helps to make some existing gas infrastructure more compatible with a low-emissions future, thereby improving the cost-effectiveness and security of energy transitions in many parts of the world, the multilateral agency added.
Upgrading biogas captured from landfill sites is typically the cheapest option to produce cost-competitive biomethane, the IEA said in a report issued in 2020 titled Outlook for biogas and biomethane: Prospects for organic growth.
Under the IEA's Stated Policies Scenario (STEPS) in the report—that is, enactment of each country's currently stated energy and climate policies—by 2040, European biomethane use would reach 12 million mt of oil equivalent (mtoe) in 2040, accounting for 2.5% of the gas used by natural gas grids.
The potential for biomethane production today globally is over 700 million mtoe, which is higher than biogas because of the inclusion of woody biomass as a feedstock for thermal gasification, the IEA said in the report.
Climate and Sustainability News has been renamed Net-Zero Business Daily™ in order to better reflect our focus on the business and financial impacts of the global transition to a lower-carbon and, eventually, net-zero carbon global economy. Each day, IHS Markit will bring you accurate and detailed information on recent developments, as well as far-sighted analysis on the challenges that lie ahead.