Customer Logins
Obtain the data you need to make the most informed decisions by accessing our extensive portfolio of information, analytics, and expertise. Sign in to the product or service center of your choice.
Customer Logins
Biden administration ramps up efforts to reduce carbon footprint of buildings

The Biden administration has devoted a significant amount of attention to the building sector as part of its efforts to reduce US carbon emissions.
Led by the Department of Energy (DOE), these programs seek to revive and expand upon Obama administration programs, and to support states and individual developers as they seek to accelerate building efficiency and electrification.
DOE says there are almost 129 million non-industrial buildings in the US that collectively use 75% of the nation's electricity and 40% of its energy. Energy use in buildings is responsible for 35% of US CO2 emissions, according to DOE.
For those reasons, buildings were cited specifically when, on 22 April, President Joe Biden raised the US goal for carbon reduction to 52-55% from the 2005 baseline by 2030. "The United States can create good-paying jobs and cut emissions and energy costs for families by supporting efficiency upgrades and electrification in buildings through support for job-creating retrofit programs and sustainable affordable housing, wider use of heat pumps and induction stoves, and adoption of modern energy codes for new buildings," the White House said at the time.
The April announcement also said that the US will invest in "high-performance electrified buildings."
The government's renewed emphasis on this sector is positive news, according to Elizabeth Beardsley, senior policy counsel for the US Green Building Council (USGBC), which is best known for creating the LEED (Leadership in Energy and Environmental Design) rating system. "We are seeking more movement…. With President Biden, for the first time we see specific buildings policies mentioned in plans he put forth. Also, building efficiency is in the blueprint for the Build Back Better [agenda]," Beardsley said.
This includes an interagency effort through the US Council on Environmental Quality, announced in May, to develop performance standards for federal government buildings, to "establish metrics, targets, and tracking methods to reach federal carbon emissions goals."
With management of over 1 billion square feet of building space, not counting the Department of Defense, the federal government "is leading by example," said Karen Palmer, senior fellow, Resources for the Future (RFF), a policy think tank, in a webinar in June.
Progress
To be sure, progress has been made in decarbonizing US buildings. DOE's Energy Information Administration said that from 2007 to 2017, energy intensity decreased 19% in new residential buildings (measured as million Btu per household) and 15% in new commercial buildings (thousand Btu per square foot), thanks to stronger building codes and higher efficiency standards for appliances.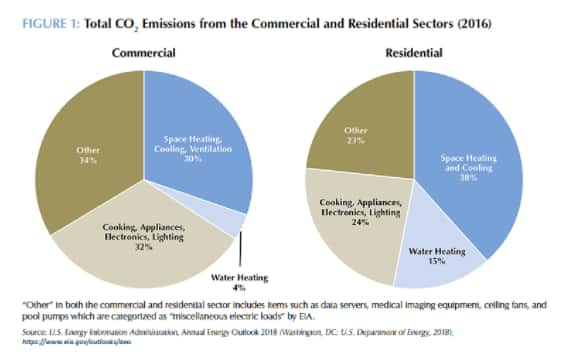 The problem, as Palmer pointed out in a paper published in April, is that US commercial building floor space between 1999 and 2018 increased by 44%—easily overwhelming the improvements in carbon intensity.
Part of the challenge is that there are so many buildings, owned by so many parties, and they last so long, that solutions are hard to implement. Raising automobile mileage standards or reducing methane leaks on natural gas pipelines, as difficult as those are to achieve, are quicker and easier to achieve because there are far fewer companies that need to be targeted. It's a very different challenge to retrofit 100 million structures owned by tens of millions of people, companies, and all levels of government.
"I was at the Paris COP21 five years ago, when, for the first time, buildings were recognized as a sector that needed attention and decarbonization solutions," Beardsley said. "This [dispersed ownership] is the crux of why we are still talking about efficiency five years later, and why we have not squeezed out everything from our buildings."
Programs: existing and proposed
The US government provides annual funding to improve energy efficiency in every state, most prominently as weatherization programs aimed at low-income homeowners and renters. About $3.7 billion will be spent in fiscal year (FY)2021 on the Low Income Home Energy Assistance Program (LIHEAP), which both pays bills and invests in energy efficiency.
In a paper published this summer, The Evergreen Coalition and the Roosevelt Institute proposed LIHEAP be expanded to $10 billion per year. The groups said investments should go much further, reaching across all income levels with a mix of tax credits, rebates, and subsidized loans. The idea is to entice homeowners and residents at every income level and in every region of the country to switch to more energy-efficient appliances and improve their homes' efficiency.
"Any path to rapid decarbonization must address these emission sources, and the most cost-effective way to do so is through building improvements that prioritize energy efficiency, electrification, and conversion to renewable energy," the groups said.
As an example, they said that the government should help finance rebates on high-efficiency heating, cooling, and water heating units that are available to everyone at the time of sale. These three services account for about 70% of average home energy use, but for cash-strapped homeowners the upfront costs of new units make it difficult to justify the investment, even if they understand the net savings over time.
Innovation can come at the builder's end as well by offering consumers better products, and DOE's Office of Energy Efficiency and Renewable Energy (EERE) and Building Technologies Office (BTO) is offering its support there too. It opened a new round of grants this summer through the "Advanced Building Construction - 2021" program.
Specifically, the program seeks to support construction of "high-performance, low-carbon buildings with lower energy bills, improved indoor air quality, improved comfort, and reduced maintenance," and also to "deliver faster building renovations with less disruption to building occupants." It's aimed particularly at construction that can be applied in areas that experience extreme temperature highs or lows.
Congress
Congress is backing the push as well, potentially spending tens of millions of dollars on energy efficiency, power grid expansion and resiliency, and renewable power generation to meet anticipated demand from electrification of buildings.
The $1.2-trillion infrastructure bill, still in limbo in the Senate and House of Representatives, includes nearly $100 billion in housing-related investments. The largest share would go towards ensuring greater safety in water supplies, such as fixing leaking pipes and replacing lead pipes. But the bill also would invest in upgrades for existing public housing, retrofits of 2 million homes and commercial buildings, and construction of more than 500,000 new homes in low-income areas. To meet with Biden's executive orders, these decisions would be made with an eye towards limiting or reducing carbon emissions at the same time.
The FY2022 budget reconciliation bill making its way through Congress is another avenue for building decarbonization investment. According to the USGBC, the bill as passed by the House Energy and Commerce Committee would allocate $27.5 billion for financing low- and zero-emission technology adoption, including green buildings; $17.5 billion for building upgrades and clean energy procurement at federal agencies; $3.2 billion for upgrading critical public facilities like schools, public hospitals, and emergency facilities; $18 billion for rebates for home efficiency and electrification improvements; and $3.5 billion for DOE's Weatherization Assistance Program.
The same bill would raise incentives under Section 179D of the US tax code from $1.80 per square foot (sqf) for efficiency improvements to a sliding scale between $2.50 and $5.00/sqf, while expanding eligibility for the tax deduction for retrofits to existing buildings. The bill would modestly raise the credit for new homes meeting Energy Star standards from $2,000 currently to $2,500, and to $5,000 for net-zero energy homes.
As part of the budget negotiations, the Energy and Commerce Committee approved a Clean Electricity Performance Program (CEPP) on 15 September. This would set annual goals for each utility to increase the clean energy share of their generation mix by 4% per year, backed by fines for utilities that fail to meet the goal. The purpose of this program, including $150 billion of new funding, would be to bring zero-carbon power to residential and commercial customers rapidly.
Building codes
Building codes are another way to shift the trajectory of emissions, and Secretary of Energy Jennifer Granholm raised that issue in a speech to the International Code Council (ICC) on 21 September. The ICC is an industry-run group that develops model codes that often are adopted by states and cities.
Granholm noted that DOE supports the current ICC code, which became effective in 2021, because it will provide a 9.4% improvement in buildings' efficiency from the prior code that became effective in 2018. On 4 October, DOE released REScheck 2.1.0, an update to software that enables builders, designers, and contractors to demonstrate that a particular home complies with the 2021 version of the code.
But she said the next update, which is scheduled to be implemented in 2024, can go much further, such as by incorporation of all-electrification standards and by ensuring that buildings can support smart-grid technology and charging of EVs. "With stakes this high, we can't afford to shy away from workable avenues for reducing emissions," she said.
The New Buildings Institute will push for an all-electric mandate for new homes in the new ICC, said Kim Cheslak, associate director of codes and policy, in September. "We need to advance the [code] book as fast as we can," she said in an online posting.
Think tank Energy Innovation came to the same conclusion. Electrification is the most viable solution to curtail planet-warming emissions and eliminate harmful indoor air pollutants without compromising comfort, Sara Baldwin, the group's director of electrification policy, wrote in September.
Energy Innovation said US Census data indicate that half of the 1.4 million US homes built in 2020 rely on oil and gas for heating and/or appliances.
"Because the average appliance lasts 10 to 15 years and most buildings for at least 50 years, every new appliance or structure burning gas or other fossil fuels locks in higher emissions and costs for decades," Baldwin wrote. "Energy Innovation modeling shows electrifying all new buildings by 2025 and all new equipment by 2030 is essential for reaching net-zero by 2050."
Not surprisingly, California is already on the electrification pathway, much like it has been a leader on other ways of greening its economy. In August, the California Energy Commission (CEC) used the every-three-years update of the state's codes to propose a series of reforms to the California Building Standards Commission (CBSC).
The CEC's proposed 2022 Building Energy Efficiency Standards, which would go into effect on 1 January 2023, would include the following for newly constructed homes and commercial buildings:
Establish electric-ready requirements for single-family homes, including EV charging options;
Encourage the use of electric heat pump technology for space and water heating;
Upgrade solar photovoltaic (PV) system and battery storage standards; and
Strengthen ventilation standards to improve indoor air quality.
"The 2022 Energy Code firmly pivots California's buildings toward the clean, low-carbon technologies that are the bedrock on which our collective path forward will rest," said Commissioner J. Andrew McAllister, who is the lead commissioner on energy efficiency. "Over the next 30 years, the 2022 Energy Code is estimated to provide $1.5 billion in consumer benefits and reduce 10 million metric tons of GHGs, equivalent to taking nearly 2.2 million cars off the road for a year."
Electrification of buildings
Electrification of buildings—and with it, banning installation of gas for heating and cooking in new and renovated buildings—was first proposed by several California cities and towns in 2018 and approved by the CEC in 2019. To date, more than 50 cities in the state have bans that are phasing in over the next few years, and a few cities in Massachusetts have enacted bans as well.
However, fossil fuel interests have pushed back strongly against the bans, and legislatures in 20 states have enacted "bans on the bans," prohibiting localities from requiring building electrification. The justification is consumer choice.
The pushback against electrification creates one of the biggest problems facing proponents of building decarbonization: time. "There is an urgency of the climate crisis, so we need some of those things to start happening yesterday," Beardsley said.
This is why improving efficiency of existing buildings is another strategy emphasized by the USGBC. "Our main role at USGBC is trying to say we can and should be building and operating buildings better. We can do that with technology that can pay for itself, providing long-term dividends in energy savings, resiliency, and health," Beardsley said.
Industry efforts
The US government and the states aren't alone in needing to solve this problem, of course. The building industry has had decarbonization on its radar screen for decades, said Matt Tinder, senior manager, media relations, for the American Institute of Architects (AIA).
In 2005, architect Ed Mazria laid out the 2030 Challenge, which is for all new buildings, developments, and major renovations in the US to be carbon-neutral by 2030, defined as "using no fossil fuel GHG emitting energy to operate."
More than 400 architectural, engineering, and planning specialty firms have taken the pledge, according to Tinder.
Under this model, solving the building carbon footprint is about more than "operational carbon," defined as the building's operations such as heating, cooling, and lighting, Tinder said. It also includes "embodied and embedded carbon" from the manufacturing and transportation of building materials plus building construction, and also "avoided carbon," which is emissions avoided by reusing existing buildings and materials.
"Embodied carbon is the biggest factor for new buildings and major renovations because those reductions to emissions are immediate and lasting, depending on the building life cycle," Tinder explained.
Whether it's new buildings or renovations, new standards will help to drive change, said Beardsley. And this raises a question about whether the current decentralized approach—in which states set most building codes—is the right way to tackle the problem. While she's not predicting an attempt by the federal government to enforce national building standards, Beardsley said the federal government could start by setting standards for buildings in which they are providing a share of the funding.
The other thing the federal government can do is encourage more retrofits, she said. The Intergovernmental Panel on Climate Change (IPCC) has assessed the impact of end-use energy sectors on reaching the goal of the Paris Agreement to limit global warming to 1.5 degrees Celsius, and concluded that "… projections are generally optimistic for the industry sectors, but not for buildings and transport sectors."
IPCC's analysis called for a familiar set of solutions: increase the pace of building retrofits to improve efficiency; mass electrification; higher energy standards for appliances; and government incentives to make all of those changes happen.
The future: smarter homes, stronger grid
Looking down the road a few years, two issues that come up regularly are the potential impact of smart technology to reduce energy demand, and the reliability of power to homes as electrification is adopted more widely.
"Smart home technology represents the next frontier of home performance, linking advanced monitoring and controls as well as increased electrification and distributed renewable energy generation with energy systems for providing improved heating and cooling at lower cost," The Evergreen Coalition and Roosevelt Institute said.
Roughly speaking, "smart technology" is defined as software and systems that enable information to flow from energy producers to users and back in the other direction—in contrast to traditional systems in which the information only flows from centralized power producers to end-users.
Smart technology is critical for expansion of distributed energy resources as well, said Guidehouse Insights in a recent report. Whether it's recharging EVs or powering storage batteries with excess solar PV power during the day, distributed energy from commercial buildings and homes could be a $39-billion global business by 2030.
"Price reductions for PV modules, inverters, and balance-of-system components are expected to drive cost reductions" said Daniel Talero, research analyst with Guidehouse Insights. "Proliferation of EVs has also increased rapidly, creating the need for added distributed charging infrastructure in commercial buildings for passenger vehicles in education, office, retail, healthcare, and hospitality settings."
At the same time, a building stock that's more reliant on electric power becomes vulnerable to grid disruptions, as was experienced in February 2021 in Texas. This led to hearings in Texas, at the Federal Energy Regulatory Commission, and in Congress, as government and industry explored ways of improving reliability, while facing the challenges of rising demand, intermittent energy from renewables, and cyber-attacks.
Regional power networks currently can overcome a single major unforeseen event, said Joe McClelland, director of the Office of Energy Infrastructure Security at FERC in a Congressional hearing in July. "But if there are multiple contingencies, those can result in prolonged outages, and those outages depend on the extent of damage to the equipment and the availability of that [power]," he said.
Congress recognizes the challenge, and it's listening to the power industry, said Gregory Wetstone, CEO of the American Council on Renewable Energy, in September. "A stable, long-term, full-value clean energy tax platform is foundational for decarbonizing the grid and will create millions of good-paying American jobs," Wetstone wrote.
The power industry is pushing for an investment tax credit (ITC) to support grid upgrades that support further electrification as well as minimizing the impact of multiple challenges causing prolonged blackouts. Wildfires that have affected the grid and energy production in the US West for the last two summers also are behind the drive to improve resiliency of the network.
"The growing momentum for a transmission ITC is grounded in the broadly recognized need for dramatically expanded high-voltage transmission to successfully decarbonize the grid," said a coalition of more than 50 trade groups in a letter to Congress in September. "A well-designed transmission ITC, with appropriate guardrails on eligibility and usable by all types of transmission developers, can spur needed investment in large-scale transmission necessary to cost-effectively decarbonize the electric grid."
The bottom line is that "solving" the building decarbonization puzzle will require many steps, and those will have to be taken at many levels: from upgrades to regional power grids to development of new building codes to and more efficient appliances, but all the way down to individual homeowners' purchasing decisions.
It's about carbon emissions, but it's also about health and money. As Mahesh Ramanujam, CEO of the USGBC, wrote in a recent report: "We all pay for weather disasters one way or another — through taxes, insurance premiums or direct losses. And while building and modernizing infrastructure isn't cheap, the cost of inaction is far higher, with the physical, financial and emotional losses only becoming more severe and catastrophic."
RELATED INDUSTRIES & TOPICS
{"items" : [ {"name":"share","enabled":true,"desc":"<strong>Share</strong>","mobdesc":"Share","options":[ {"name":"facebook","url":"https://www.facebook.com/sharer.php?u=http%3a%2f%2fihsmarkit.com%2fresearch-analysis%2fbiden-administration-ramps-up-efforts-to-reduce-carbon-footpri.html","enabled":true},{"name":"twitter","url":"https://twitter.com/intent/tweet?url=http%3a%2f%2fihsmarkit.com%2fresearch-analysis%2fbiden-administration-ramps-up-efforts-to-reduce-carbon-footpri.html&text=Biden+administration+ramps+up+efforts+to+reduce+carbon+footprint+of+buildings+%7c+IHS+Markit+","enabled":true},{"name":"linkedin","url":"https://www.linkedin.com/sharing/share-offsite/?url=http%3a%2f%2fihsmarkit.com%2fresearch-analysis%2fbiden-administration-ramps-up-efforts-to-reduce-carbon-footpri.html","enabled":true},{"name":"email","url":"?subject=Biden administration ramps up efforts to reduce carbon footprint of buildings | IHS Markit &body=http%3a%2f%2fihsmarkit.com%2fresearch-analysis%2fbiden-administration-ramps-up-efforts-to-reduce-carbon-footpri.html","enabled":true},{"name":"whatsapp","url":"https://api.whatsapp.com/send?text=Biden+administration+ramps+up+efforts+to+reduce+carbon+footprint+of+buildings+%7c+IHS+Markit+ http%3a%2f%2fihsmarkit.com%2fresearch-analysis%2fbiden-administration-ramps-up-efforts-to-reduce-carbon-footpri.html","enabled":true}]}, {"name":"rtt","enabled":true,"mobdesc":"Top"} ]}