Customer Logins
Obtain the data you need to make the most informed decisions by accessing our extensive portfolio of information, analytics, and expertise. Sign in to the product or service center of your choice.
Customer Logins
Back-to-school retail sales outlook

26 July 2018
James Bohnaker
The back-to-school shopping season is the second-most-important time of year for many retailers, behind the winter holidays. In 2017, retailers hauled in $662.4 billion in sales ahead of the new school year, dominated by spending on books, school supplies, clothing, footwear, computers, computer software, smartphones, and tablets. This year, thanks to elevated consumer confidence, rising incomes, and lower tax rates, back-to-school retail sales are forecast to rise 4.9% from their year-earlier level. This would be the best year for growth in school sales since 2014, but not the surge one might expect given the strength of the economy in 2018. Therefore, we are giving a grade of "B+" to the expected back-to-school season.
It is no coincidence that back-to-school retail sales are forecast to grow at a brisk pace, considering the current strength of the economy. In just the last year, 2.3 million additional people have attained jobs and the unemployment rate has fallen to 4.0%. More importantly for back-to-school shopping, the summer job market for young adults (aged 16-24) boasts the lowest June unemployment rate since 1969. Not only do more potential back-to-school shoppers have jobs, but their pay is increasing as well; the employment cost index for wages and salaries (i.e., nominal wages) is growing 2.9% year over year (y/y) as of first quarter 2018, which is the fastest growth in nearly 10 years.
Some consumers still face restraints on their ability to open their wallets over the back-to-school season. Many young parents may still be paying off their own student loans, while rising rents and unaffordable home prices in many areas of the country are another impediment to discretionary school purchases. More generally, consumer price inflation is the highest it has been in years. These factors alone are not enough to cause the retail season to be a failure, but the combination is likely to forestall an all-out shopping spree from parents and students.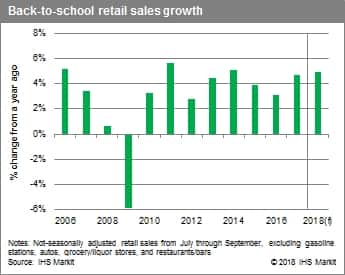 Where will consumers shop for back-to-school gear in 2018?
General merchandise, which includes department stores, warehouse and supercenter stores, and dollar stores, is the largest retail category in terms of volume of money spent on back-to-school items. We anticipate that sales in the category will grow 2.3% over last year and capture 24.8% of back-to-school sales this season. Department stores will not be as fortunate, as they lose out to online competition; we expect that subset of general merchandise to decline 0.5% from 2017's sales.
Electronics and appliance stores, while also in heated competition from discount online retailers, are poised to fare better during this crucial time of year. We forecast that this category will grow a respectable 3.4% over last year for its first back-to-school season in the black since 2014. Sporting goods, hobby, book, and music stores are more susceptible to cannibalization from online retailers. The Amazon effect has been especially detrimental to this category over the last decade, and the bleeding is unlikely to stop soon. Back-to-school sales in this category are expected to decline 2.6% from 2017 levels.
Clothing and accessories stores have solid momentum for the back-to-school season, as retail spending in the category is already up more than 5% from last year. Retailers finally have some pricing power, after an extended period of price deflation hurt revenues for years. We expect clothing and accessories stores to grow 4.6% relative to last year, accounting for 9.6% of back-to-school sales.
Online retail at the top of the class
As a share of total back-to-school sales, online sales (at electronic shopping and mail-order houses) are expected to reach 20.6% this year, up from 19.5% in 2017. In other words, online sales account for an impressive $1 for every $5 spent on back-to-school shopping.
Amazon has played a big part in the explosion of e-commerce, but especially so during the back-to-school season. Amazon Prime Day, which just completed its fourth annual installment in mid-July, has become the company's largest sales event and marketing tool. Amazon reported that sales this Prime Day (which was actually a 36-hour period) surpassed those of Prime Day 2017, Cyber Monday, and Black Friday. Other large retailers are trying to piggyback on this success by offering online back-to-school sales of their own earlier in the summer. The effect of these earlier promotions, in addition to the year-round convenience factor of online shopping, has caused the traditional back-to-school season to become less concentrated in August. Shoppers are looking for deals earlier in summer, and also know that waiting longer can sometimes lead to a better price.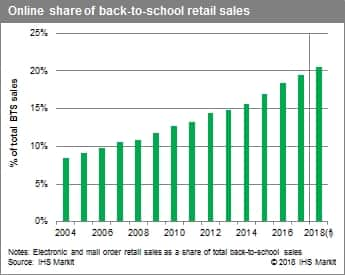 Note: IHS Markit defines back-to-school retail sales as not-seasonally-adjusted retail sales from July through September at all retail locations excluding gasoline stations, motor vehicle and parts retailers, grocery and liquor stores, and restaurants.
RELATED INDUSTRIES & TOPICS