Customer Logins
Obtain the data you need to make the most informed decisions by accessing our extensive portfolio of information, analytics, and expertise. Sign in to the product or service center of your choice.
Customer Logins
Australian green mega-project pipeline grows

Australia continues to draw proposed major green energy investments—even as projects run into roadblocks, the government lags its neighbors' climate ambitions, and coal still dominates the country's generation mix.
A consortium comprising InterContinental Energy, CWP Global, and Mirning Green Energy on 13 July unveiled plans for a wind and solar project in southeastern Western Australia that could be as large as 50 GW, with the output to be used to produce up to 3.5 million mt of green hydrogen or 20 million mt of ammonia annually.
The Western Green Energy Hub, unlike many other energy mega-projects announced around the world, has the backing of both local aboriginals and politicians eyeing jobs and tax revenues. Mirning Green Energy is a wholly owned subsidiary of the Mirning Traditional Lands Aboriginal Corporation.
"The Western Green Energy Hub is a truly massive proposal that would see [Western Australia] home to one of the world's largest renewable energy projects," said Western Australia Hydrogen Industry Minister Alannah MacTiernan. "Our state is perfectly positioned to lead the global renewable hydrogen industry, delivering a strong economic future for WA and becoming a major contributor to global decarbonization."
In November 2020, Western Australia unveiled a hydrogen roadmap. The state's leaders are looking to develop export projects, mirroring its success as an LNG exporter. Australia is the world's second-largest LNG exporter, and Western Australia accounts for more than half those volumes.
Western Australia hopes to have approved a green hydrogen project by 2022. Green hydrogen production involves electrolysis using power from renewable resources.
The state already has backed a separate headline-grabbing mega-project proposed by InterContinental Energy and CWP Energy. The developers' proposed Asian Renewable Energy Hub (AREH)—a 15-GW to 26-GW wind and solar facility that would supply power to local industry and an up to 10 million mt ammonia export project—won support at the state level in late 2020. AREH is to be located in northwestern Western Australia's Pilbara region, an iron ore industry hub. AREH also won fast track approval status from the federal government.
But those grand plans encountered a major obstacle last month when federal environment minister Sussan Ley said the updated 26-GW version of the project would adversely affect fragile wetlands and several species of migratory birds and violate the Environment Protection and Biodiversity Conservation Act. Ley called for detailed environmental studies. AREH's backers were not available for comment on where the project stands now.
The decision discomforted Australian clean energy advocates. The Clean Energy Council, calling AREH a "transformative economic opportunity for Australia," demanded "urgent clarification" from the minister 20 June on the processes involved in the decision.
Follow the data
Beyond such mega-projects, Australian clean energy efforts are already on the rise, according to government data.
Australia saw 7 GW of renewable energy capacity additions in 2020, the country's highest single year of additions and nearly 40% higher than 2019's total, as well as exceeding government projections of 6.3 GW for the year, according to the country's Clean Energy Regulator. David Parker, Clean Energy Regulator chair, expects Australia to add more than 6 GW of renewable capacity in 2021 and 2022.
Since 2014, around 12.5 GW of large-scale wind and solar capacity and 8.5 GW of rooftop solar PV has begun operating, according to data released by the Australian Energy Regulator (AER). Wind output exceeded natural gas-fired generation for the first time in 2020, it said.
On 11 October 2020, the state of South Australia operated for a period where over 100% of its regional demand was met by distributed and grid-scale solar PV generation, the AER said. Distributed solar PV alone met over 76% of regional demand for a few periods that day and over 70% for four hours, it added.
And by 2025 other mainland states in the National Electricity Market (NEM) could be regularly operating close to or above 50% penetration, the AEM said. The NEM covers five states: Queensland, New South Wales, Victoria, South Australia, and Tasmania.
The government agency said in its State of the Energy Market 2021 report released 2 July that over the next two decades, 26-50 GW of new large-scale wind and solar capacity is forecast to come online, along with 13-24 GW of rooftop solar PV. However, it warned, to balance this, the NEM will need 6-19 GW of new utility-scale, flexible, and dispatchable resources by 2040—which should be read as coal or gas-fired capacity.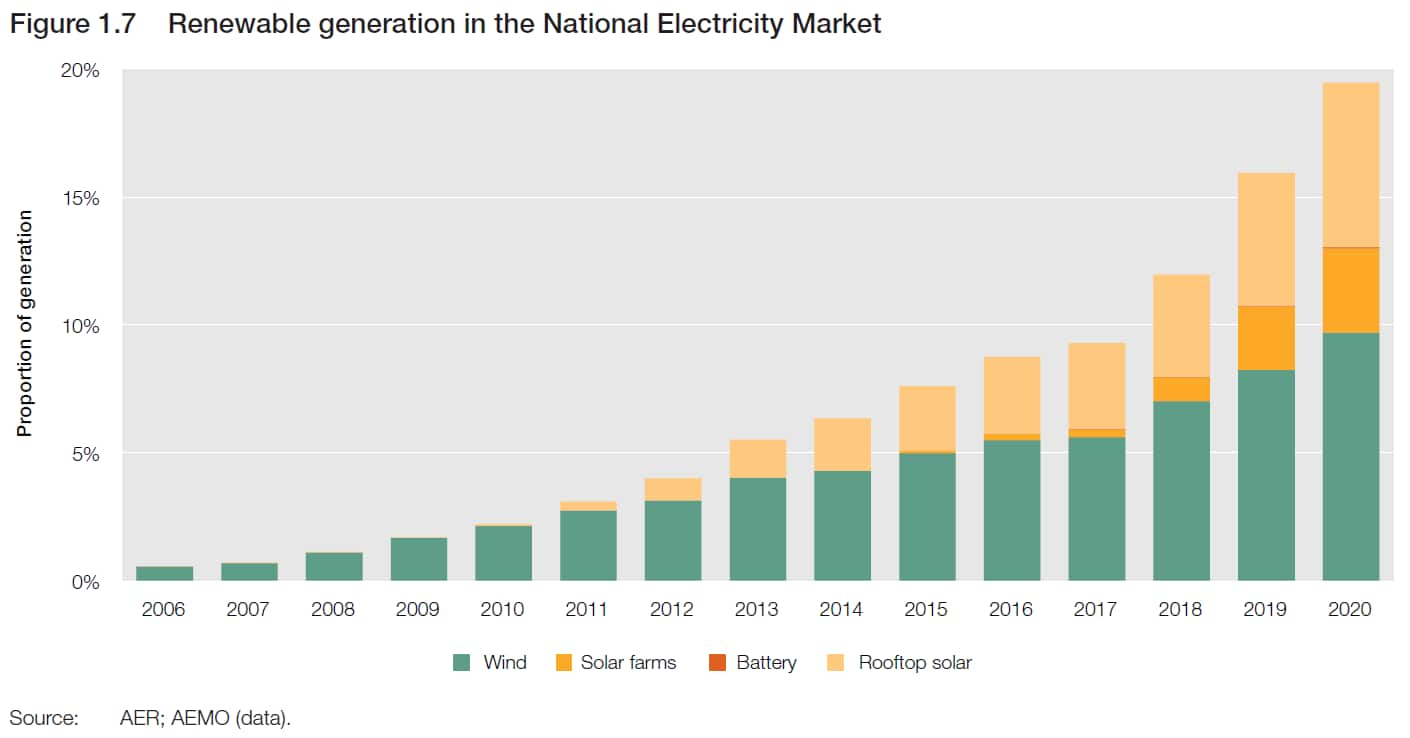 Renewables
Existing wind and solar plants are facing difficulties too though.
A rise in the frequency of negative spot prices in South Australia and Victoria is encouraging wind and solar farms to curtail their operations for economic reasons, even though weather conditions to operate were suitable, the AER said. Economic self-curtailment was greater than plant curtailment by the Australian Energy Market Operator in the first quarter of 2021, accounting for 58% of all curtailment across the market, the regulator said. That quarter is a summer period in the Southern Hemisphere.
In addition, the government has declined to increase the size of the Renewable Energy Target (RET) that incentivizes large-scale projects such as wind and solar farms and small-scale suppliers such as rooftop solar PV. The current government's policy is to not increase the target beyond the 2020 requirement of 33,000 GWh—commitments that were reached by 2019—and to not extend or replace the target after it expires in 2030.
One bright spot is an initiative to cluster new wind and solar projects in hubs, called renewable energy zones (REZs, see map below), so that efficient transmission investment can be made to transport energy to customers. REZ locations have been and are being implemented by state governments.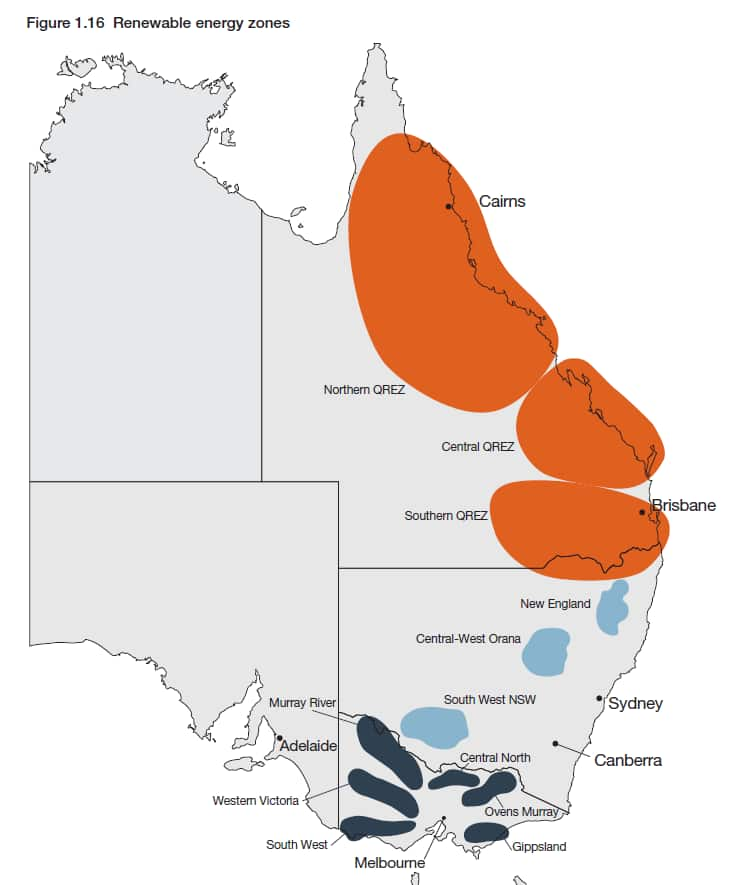 Source: AER
Meantime, the Australian Energy Market Commission has extended the date for publishing a final report on integrating solar, batteries, and other new energy technology until 12 August.
Delays are distracting from the focus on tackling climate change and building renewable energy generation, according to the Clean Energy Council and developers. Investor confidence in the Australian renewable energy sector has fall over the past year and is now at its lowest level since December 2019, according to a survey the advocacy group carried out.
"This is the time to be opening the doors to new investment in utility-scale clean energy projects, boosting jobs and regional development, and ensuring that sufficient new generation is in place before old fossil-fuel generators retire or are priced out of the market," said Clean Energy Council Chief Executive Kane Thornton.
"Instead, we've seen governments backing two gas plants in New South Wales, the surprising decisions from the federal government not to support the Kaban Green Power Hub [in Queensland] and then reject the world-leading Asian Renewable Energy Hub hydrogen project, on top of moves to change the funding remit of the Australian Renewable Energy Agency. It's a concerning series of events and not a particularly welcoming environment if you're an investor in clean energy," Thornton said.
Multiple proposals for new gas-fired plants are on the table in Queensland, New South Wales, Victoria, and South Australia, the AER said in its review of 2020.
Whither coal?
Financing for such plants might be tight in the coming years though. Australian investment bank Macquarie—an AREH backer through Pathway Investments—said in May it will exit the coal sector within the next three years.
The bank's move away from coal extends its series of pro-climate decisions. In December 2020, it pledged to achieve net-zero emissions as a company by 2050, and in March Macquarie joined the Net Zero Asset Managers Initiative. The bank's principal investment unit has more than 30 GW of renewables currently under development across four continents.
During the next two decades, 16 GW of thermal generation (61% of the current coal fleet in the NEM) is expected to retire as plants reach the end of their economic lives, the AER said. Since 2014, more than 4 GW of coal- and natural gas-fired generation left the market, it added.
Despite the plant closures, coal-fired generation remains the dominant supply source in the NEM, meeting around 66% of energy requirements in 2020, the AER said. Utilization rates of some remaining coal plants have risen to cover the supply gap left by the closures, it added.
There are 18 remaining coal-fired power stations in the NEM, with a median age of 35 years: 10 in Queensland (median age of 24 years), five in NSW (median age of 39 years) and three in Victoria (median age of 37 years).
And there is more product available domestically since China banned imports of Australian coal. Australia is the world's second-largest exporter of steam coal, according to IHS Markit data.
GHG reduction targets?
Any transition away from hydrocarbons typically means job losses, an even trickier topic after the hardships of the past 18 or so months of the COVID-19 pandemic, as executives are discovering.
In April, the top executive at Stanwell described the energy transition journey the coal-heavy Australian power generator was on midweek, but by the end of the week a different transition had the state of Queensland abuzz—that of the executive from his job. When CEO Richard Van Breda discussed renewable energy and hydrogen opportunities for Stanwell as well as the possibility that its two coal-fired plants may not operate as baseload generation facilities down the line, that straight talk saw his long career at the company end instead.
So markets and technology, in lieu of regulations or a carbon tax, will be Australia's climate solution, Prime Minister Scott Morrison on 22 April told the Leaders Summit on Climate organized by US President Joe Biden.
Australia's nationally determined contribution (NDC) under the Paris Agreement is to reduce its GHG emissions 26-28% compared with 2005 levels by 2030. At the leaders summit, Biden nearly doubled the US' proposed cuts to 50-52%. Australia's neighbors China, Japan, and South Korea have each made zero-carbon pledges for future decades.
According to the Investor Group on Climate Change, a group of Australian and New Zealand investors with A$2 trillion (approximately US$1.5 trillion) in assets, Australia will have the highest emissions intensity of any G20 country by the end of this decade unless it surpasses its current 2030 emissions reduction target.
That said, Australian carbon emissions have fallen in recent years (see graph below). The electricity sector has become increasingly important in driving this trend, with emissions reductions of almost 12% over the past five years. But emissions across other sectors rose by 4% over this period, according to the AER.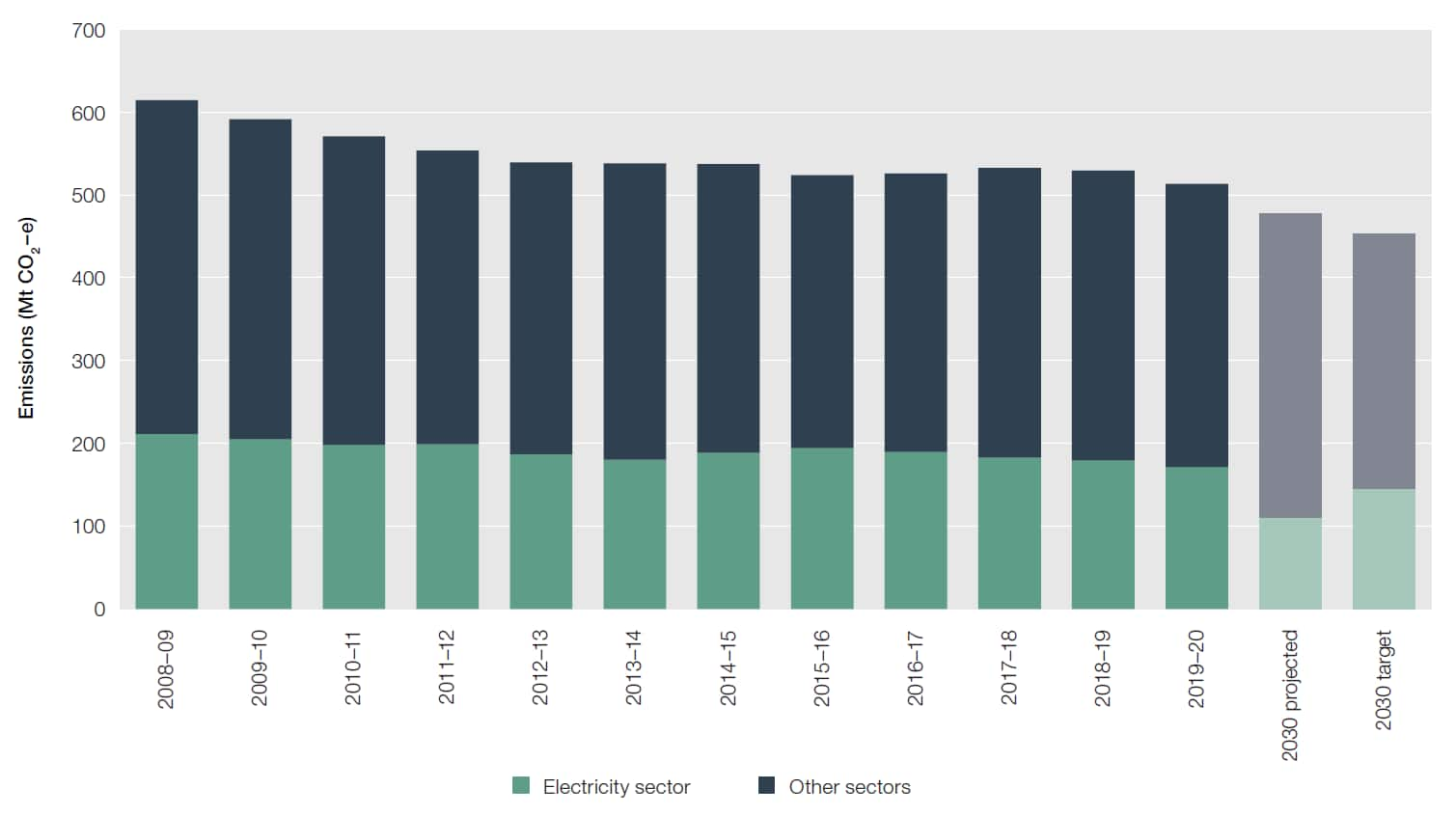 Source: AER
RELATED INDUSTRIES & TOPICS