Customer Logins
Obtain the data you need to make the most informed decisions by accessing our extensive portfolio of information, analytics, and expertise. Sign in to the product or service center of your choice.
Customer Logins
Asia Pacific Regional Integrated Service Research Highlights, Q3 2021

In the third quarter of 2021, 22 new insight papers have been published in the IHS Markit Asia Pacific Integrated service, apart from the regular updated reports. This research highlight summarizes the key impact papers and provides an overview the market signposts in Q3. A link to a select set of reports is provided below.
The graphic of the quarter is selected from the "Low-carbon initiatives in the Asia Pacific power sector," showing the progress of initiatives in each market.
Low-carbon initiatives in the Asia Pacific power sector
The Asia Pacific region is the largest emitter globally, accounting for nearly half of the world's carbon dioxide equivalent (CO2e) emissions in 2019, and the electric power sector has been among the largest emitters of greenhouse gases.
In this paper, we describe the emission history from the power sector in various markets in Asia Pacific and discuss the low-carbon initiatives by focusing on policies and measures that will lower emissions. We also provide recommendations in response to the challenges and significant barriers.
IHS Markit will continue to track the region's decarbonization progress, analyze the emission trend, and provide a carbon emission forecast in our next report.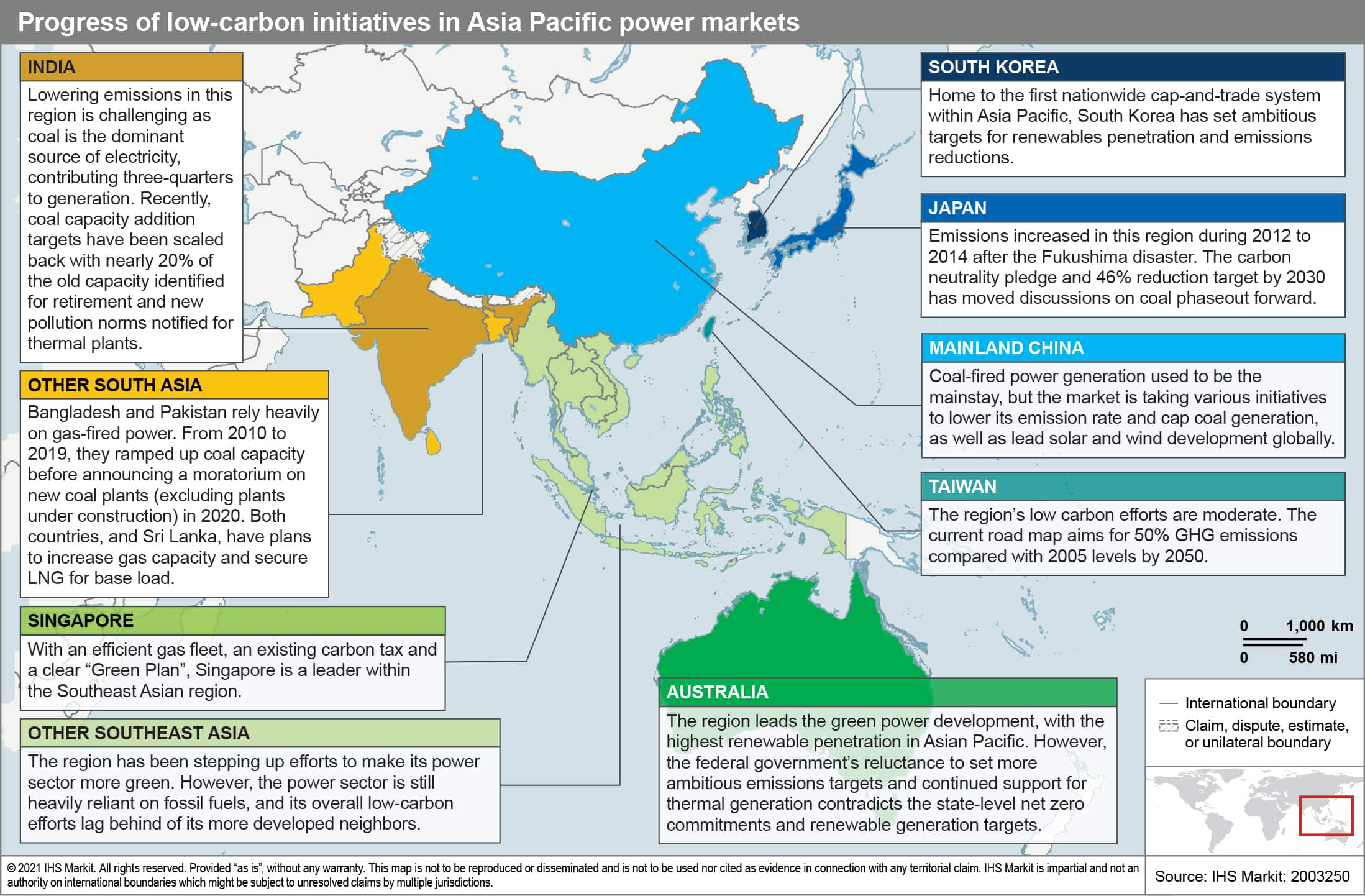 Highlighting challenges with grid reliability under the energy transition for power markets in Asia Pacific
More frequent grid reliability events have been reported in Asia Pacific markets, and the trend will continue. Recently, most Asia Pacific power markets experienced certain grid events, such as renewable curtailments, frequency violation, high spot prices, load shedding, or even blackouts. The energy transition is accelerating progress and amplifying these impacts on grids. Power market regulators and operators need to rethink the power system operations, planning criteria, and market structures as countries make headway in the energy transition. If left unchecked, the frequency of grid events would increase in the future.
The challenges for power systems in Asia Pacific are significant. There are a few unique factors that make energy transition challenges on power grids even more significant for Asia Pacific countries: robust demand growth, a lack of generation and demand flexibility, developing infrastructure, and the lesser maturity of the power market structure.
Bangladesh's central and southern regions will shape the future gas story, but pipeline access remains a bottleneck
Bangladesh has 10 GW of under-construction gas-fired power plants that are expected to come online by 2030. However, limited existing pipeline connectivity in the south of the country is a bottleneck that will need to be resolved to realize this growth outlook.
Bangladesh's existing gas demand is mostly localized around the central and eastern parts of the country. The central and southern regions are expected to be the new demand centers based on Bangladesh's power sector plan and the IHS Markit power outlook.
However, trunk pipeline connectivity will be a constraint as the southwestern region is still underdeveloped. Should infrastructure fail to be developed on time, there is a risk that the gas-fired power plants that are being built will be stranded.
China's national carbon market officially opened trading
On 16 July 2021, trading at China's national carbon market officially began. The trading inauguration of the world's largest carbon market with over 4 billion metric tons of carbon emissions each year in its first phase marks an important milestone of a market-based tool to address the carbon emissions issue.
The future price trajectory will depend on emissions allowances compared with the allowance benchmarks and market participants' willingness to trade. Although the carbon price provides a market-based signal to help China curb carbon emissions, the government views high additional carbon costs on industries as undesirable in the short term.
Southeast Asia initial steps in hydrogen development
Development to encourage hydrogen use has just started in Southeast Asia. A clean energy transition is underway that focuses on shifting coal dominant regions toward low-carbon fuels. Developed countries like Singapore and resource-rich Malaysia are the front-runners in laying out hydrogen pathways, attracting companies that are keen to embark on pilot projects. While IHS Markit expects the short-to-medium term deployment of hydrogen to be small, the initial steps taken have the potential to transform into commercial leaps.
Singapore's push to become a chemical hub will increase hydrogen production from unabated gas in the near-to-medium term. It is exploring various hydrogen pathways to determine the suitability of scaling up blue or green hydrogen use.
Singapore, Indonesia, Malaysia, and Thailand have started to explore the use of hydrogen, setting targets for the long term. However, emerging countries like the Philippines and Vietnam are still grappling with the clean energy transition.
Sarawak, Malaysia, has attracted companies looking to commercialize green hydrogen production with its rich hydropower resource and represents the best chance for large-scale deployment.
China kicked off national-level corporate renewable procurement pilot
Full report available for clients only
On 7 September 2021, China's grid companies kicked off a national-level renewable transaction pilot with 7.935 TWh wind and solar power traded across 17 provinces with a 30 to 50 yuan/MWh premium to local mid-to-long term contract prices. The conducted transactions were following the reported approval of the Green Power Transaction Pilot Work Plan (the Work Plan) [绿色电力交易试点工作方案], which officially enabled the renewable direct power purchase (DPP) transaction between developers and end users nationally, although document details are not yet released.
Local nonsubsidized solar and wind projects are the most favored sellers in green power transactions. The Work Plan encourages corporate buyers to trade with local nonsubsidized renewable projects to help them gain extra revenue. The economic attractiveness is undermined for subsidized renewables since they may need to forgo the subsidy for the market-traded power.
Australia hydrogen market tracker
Full report available for clients only
The IHS Markit Climate and Sustainability team is pleased to introduce the Australia hydrogen market tracker, in which we provide key market developments, policy updates, major project announcements, available funding, and a project pipeline. The tracker covers the evolution of the hydrogen supply chain across Australia including feasibility studies, research and development, demonstration, and commercial-scale projects.
Key developments in the second-half 2021 edition include
Hydrogen eligibility has been included in over A$5 billion in announced funding packages since 2018.
The federal government's support for a globally competitive hydrogen industry gains momentum with announced progress toward initiatives outlined in the November 2019 National Hydrogen Strategy.
The Asia Renewable Energy Hub revised 26 GW project proposal was rejected by the Minister for the Environment in June 2021.
China's 2021 natural gas development report: Natural gas will be an important force to achieve carbon ambitions
In August 2021, the China National Energy Administration (NEA) issued the 2021 China Natural Gas Development Report (the Report). The Report reviews the recent development in the global and Chinese gas markets and highlights the central government's ambitions in developing the industry in the coming years. Specific measures to help realize these ambitions are expected to follow.
Natural gas will play a vital role to help China achieve the dual goals of carbon peaking and net-zero carbon. While the 2020 report focused on the impact of COVID-19 on market development, carbon ambitions have become the theme in the 2021 report. The Report confirms the government's commitment to use natural gas to displace higher carbon intensity energy sources in the short and medium term and develop technologies to reduce emissions from natural gas in the long term to achieve the net-zero emissions goal.
The NEA will guide the industry to develop in an "orderly" manner. The implied growth rates indicate a deceleration of growth for the next 10 years, just about half of that seen in the previous five years. Instead, the government is placing more importance on quality over quantity in future gas market development centering around supply security.
Role of nuclear power generation in the Asia Pacific energy transition: Opportunities amid challenges
Nuclear power plays a significant role in the energy supply. However, the industry has been struggling since the Fukushima accident in 2011. Many Asia Pacific regions have adjusted their strategies and adopted different nuclear power development policies after weighing the affordability, safety risks, and the desired contribution to the energy transition.
Mainland China and India are expected to lead Asia's nuclear power development owing to robust power demand and prominent environmental pressure.
Traditional nuclear power countries such as Japan and South Korea are unlikely to approve new reactors given strong public opposition and political reasons.
The nascent small modular reactors (SMRs) might provide a solution for the industry, although they are not commercially mature yet.
South Korea's new gas plan raises long-term LNG expectations
On 27th April 2021, South Korea's Ministry of Trade, Industry and Energy (MOTIE) released the 14th Long-Term Natural Gas Supply and Demand Plan (2021-34) ("the Plan"). This document is the main planning tool for South Korea's natural gas sector. Several aspects of the Plan have significant implications for Korea's LNG market.
Higher expectations for long-term LNG demand.
Intention to introduce more flexibility in Korea's long-term contract portfolio.
Change in minimum LNG storage requirements.
Additional Insights and Strategic Reports published in third quarter 2021
What does China's red-hot summer LNG market mean for imports in the 2021/22 winter? -- View public article
China's 2021/22 winter supply preparation: Improved but still at risk of a supply shortage in a colder-than-average winter -- View public article
New renewable trading rules released in China: How to procure renewables in Guangdong and Zhejiang -- View public article
How far is China's offshore wind from reaching grid parity? -- View public article
China drafts new midstream regulations: Standardizing pipeline operation and maintaining supply security
India's gas market renaissance led by KG Basin production
The Erawan dispute further boosts Thailand's LNG imports in 2022-23
China's new time-of-use power pricing: A transitional measure to secure peak hour supply
Market-based cross-border electricity trade in South Asia: A step toward an integrated regional power market
How the power sector emissions in South Asia will define its global contribution to climate change
New ambitious target: How far is Taiwan from the offshore wind capacity goal?
The future of Afghan-Central Asian energy trade and relations: An initial assessment
Learn more about our Asia-Pacific energy research.
Logan Reese is an associate director on the Asia Pacific Regionally Integrated team at IHS Markit, focusing on Australia power and gas markets.
Ankita Chauhan is a senior renewable analyst on the Climate and Sustainability team at IHS Markit, covering research and analysis for Indian and South Asian markets.
Posted on 1 November 2021.
---
Follow IHS Markit Energy
{"items" : [ {"name":"share","enabled":true,"desc":"<strong>Share</strong>","mobdesc":"Share","options":[ {"name":"facebook","url":"https://www.facebook.com/sharer.php?u=http%3a%2f%2fihsmarkit.com%2fresearch-analysis%2fasia-pacific-regional-integrated-service-research-highlights-q.html","enabled":true},{"name":"twitter","url":"https://twitter.com/intent/tweet?url=http%3a%2f%2fihsmarkit.com%2fresearch-analysis%2fasia-pacific-regional-integrated-service-research-highlights-q.html&text=Asia+Pacific+Regional+Integrated+Service+Research+Highlights%2c+Q3+2021+%7c+IHS+Markit+","enabled":true},{"name":"linkedin","url":"https://www.linkedin.com/sharing/share-offsite/?url=http%3a%2f%2fihsmarkit.com%2fresearch-analysis%2fasia-pacific-regional-integrated-service-research-highlights-q.html","enabled":true},{"name":"email","url":"?subject=Asia Pacific Regional Integrated Service Research Highlights, Q3 2021 | IHS Markit &body=http%3a%2f%2fihsmarkit.com%2fresearch-analysis%2fasia-pacific-regional-integrated-service-research-highlights-q.html","enabled":true},{"name":"whatsapp","url":"https://api.whatsapp.com/send?text=Asia+Pacific+Regional+Integrated+Service+Research+Highlights%2c+Q3+2021+%7c+IHS+Markit+ http%3a%2f%2fihsmarkit.com%2fresearch-analysis%2fasia-pacific-regional-integrated-service-research-highlights-q.html","enabled":true}]}, {"name":"rtt","enabled":true,"mobdesc":"Top"} ]}