Customer Logins
Obtain the data you need to make the most informed decisions by accessing our extensive portfolio of information, analytics, and expertise. Sign in to the product or service center of your choice.
Customer Logins
Asia Pacific Regional Integrated Service Research Highlights, Q4 2021

In the fourth quarter of 2021, 31 new insight papers have been published in the IHS Markit Asia Pacific Integrated service, apart from the regular updated reports. This research highlight summarized the key impact papers and provides an overview the market signposts in Q4. A link to a select set of reports is provided below.
The graphic of the quarter is selected from "How will the Asian Power market respond to rising fuel prices?" and shows electricity market performance by market.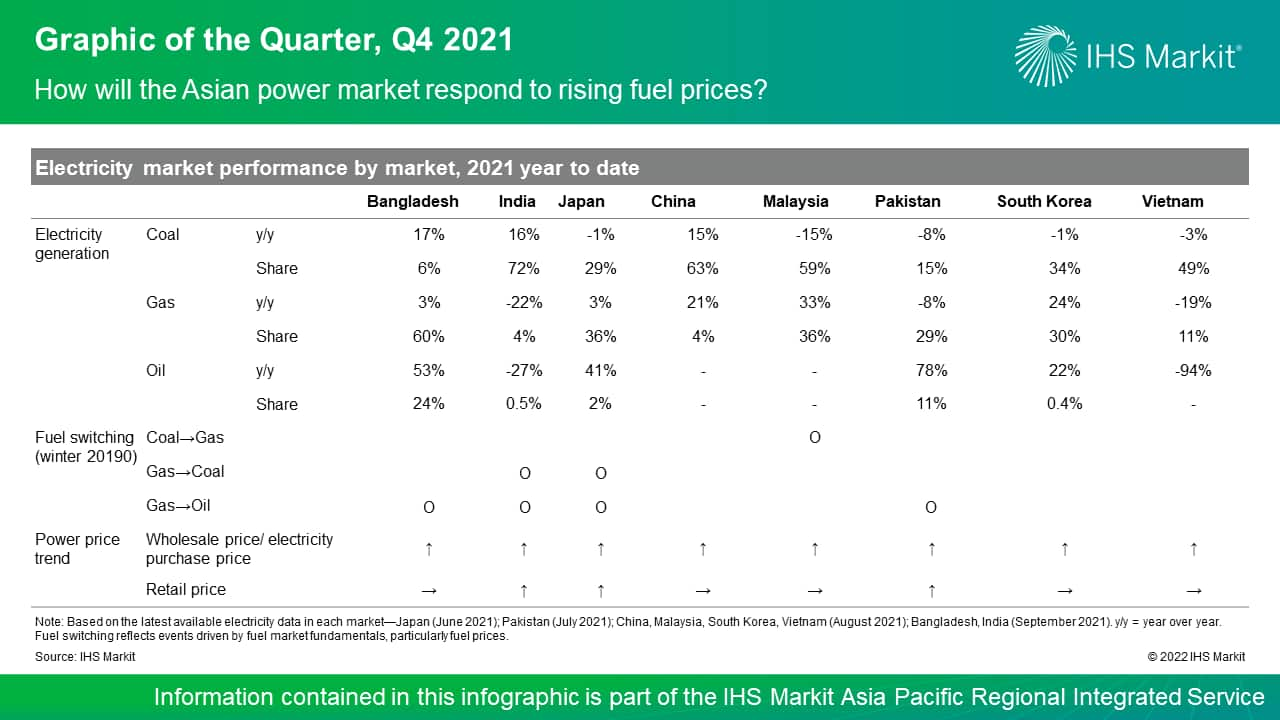 How will the Asian power market respond to rising fuel prices?
The power market across Asia is facing energy security and affordability issues. A heat wave and a strong economic recovery in 2021 have spurred electricity demand growth and even power shortages in some Northern Hemisphere regions, underpinned by the soaring costs and supply constraints of the Asia's primary fuels—coal and LNG.
In markets with a regulated tariff structure, the financial condition of some distribution companies (DISCOMs) and retailers could be under strain this winter, since they are unlikely to pass through soaring fuel costs to consumers. In India, the fuel crisis is aggravating the financial stress and thereby overdue payments by the DISCOMs. However, serious financial distress is unlikely in most other markets where the electricity market is governed by state-owned companies.
Gas-to-oil switching is likely to occur this winter in Bangladesh and Pakistan if the current high LNG spot prices persist through the winter. As price-sensitive markets with high exposure to LNG spot markets and sufficient oil-fired power capacity, both Bangladesh and Pakistan have the potential to switch from spot LNG to cheaper oil. Other large LNG importers such as Japan and South Korea have limited potential for gas-to-oil switching, given their limited oil-fired power capacity and oil storage tanks.
The power supply crunch faced in China and India is likely to persist this winter. In China, energy-intensive sectors—such as metals, cement, and chemical—will be among the worst hit in power-rationing measures and higher power costs, as incremental coal production will most likely fail to match the winter energy demand. Continued coal shortages in India may result in load shedding in the agriculture, rural, and residential segments, but with winter approaching and lower cooling demand the situation may start improving in November-December.
China's winter energy supply policy: What does "secure supply at all costs" really mean?
After maintaining power supply security during two decades of robust growth, in September 2021, China started to experience a serious power shortage that led to power rationing in more than two-thirds of provinces ahead of the winter season. Strong economic rebound, weather conditions, and fuel supply constraints are the fundamental factors behind this power rationing.
Top government officials call for "secure supply at all costs" to address this energy crisis. Natural gas, as a premium and relatively scarce fuel with inadequate storage capacity to provide peak winter supply in China, experiences supply curtailment frequently during winter seasons. Power rationing, on the other hand, has a much more profound repercussion on the market operation and economic activities.
However, guaranteeing supply security will only focus on residential use. China's National Development and Reform Commission subsequently clarified that maintaining energy supply to the residential sector is of utmost importance. This is a common practice in China, with the residential sector typically having the highest energy supply security and the lowest prices among the various consuming sectors.
The impact of the current policy direction to alleviate the power shortage on additional spot purchases for coal and gas from the global market will be limited. The signs point to domestic production—whether for coal or natural gas—as the backbone of fuel supply increase. The recently approved upward adjustment for the coal-fired power tariff will help but does not fundamentally solve the profitability problem of power plants or change the coal-versus-gas comparison in generation profit in the current spot price environment. Power rationing remains the tool of last resort to address the shortage problem this winter. It also helps the fulfilment of another important set of targets—the "dual control" of energy consumption and energy intensity.
Carbon capture in power generation cost: An Asia Pacific case study
Power generation in Asia Pacific is a key area for exploring the potential use of carbon capture and storage (CCS) or carbon capture, utilization, and storage to decarbonize. In 2020, power generation accounted for 36% of global carbon emissions, and Asia Pacific represented a 47% (and growing) share of global power demand. We identify three markets—Australia, Vietnam, and China—as case studies to showcase the diversity in economic development, power market structure, decarbonization goals, resource availability, and affordability across the region. Incremental carbon capture (CC) capex does not vary among different markets at the current stage. However, CC premium as a percentage of total generation cost diverges widely owing to the high level of variation of components in the non-CC levelized cost of electricity (LCOE), impacting coal-gas competition differently across the region.
CCS can be a crucial tool for decarbonizing the last mile in power generation, although diversification from fossil fuels will remain the biggest contribution to carbon emissions reduction from power generation. Non-fossil fuel power capacity will be the largest contributor in reducing carbon emissions from power generation in all three case study markets.
Australia announces a 2050 net-zero emissions target
On 26 October 2021, Prime Minister Scott Morrison announced Australia's Long-Term Emissions Reduction Plan (The Plan) to deliver net zero by 2050. The net-zero target brings together and builds on the Morrison government's existing plans for a significant transformation of Australia's energy economy by driving down costs of low-emissions technologies and enabling their deployment at scale while continuing to export coal and natural gas beyond 2050.
Reaching net-zero greenhouse gas (GHG) emissions will require a major restructuring of Australia's energy economy. Australia is the 17th largest emitter of GHG today with high reliance on coal-fired generation. Electrification and renewable growth will be needed to move the country toward a net-zero pathway.
All pathways toward net zero will require transformative reductions in fossil fuel consumption. Even in a high carbon capture and storage (CCS) pathway, Australia will need to cut its fossil fuel consumption. The retirement of an aging coal fleet will result in a significant shift in the nation's generation mix. Government policy points to hydrogen and low-carbon gas playing an important part in the plan, with the ambition to become a global supplier of hydrogen.
The retirement schedule of coal-fired generating capacity is expected to accelerate. Aging coal generators are encountering increased operating and refurbishment costs together with reduced revenues from declining wholesale prices thanks to increased competition with low-cost generation. Australia's net-zero target will place additional pressure on early retirement, especially for the brown coal facilities that emit 35% more carbon dioxide equivalent (CO2e) per unit of electricity generated than black coal.
Maintaining the position as one of the world's largest natural gas exporters will likely require CCS and other offsets. Gorgon LNG is home to one of the world's largest CCS projects, and Santos is investigating the viability of CCS for use at Darwin LNG. The carbon-neutral LNG market remains quite small but is expected to become a growing part of the business.
Corporate renewable procurement in Southeast Asia: Current opportunities and outlook
Corporate renewable procurement is gaining traction in Southeast Asia. The volume of signed corporate power purchase agreements (CPPAs) has grown by more than 20 times in the past five years, reaching 220 MW in 2020.
Corporate demand for renewable energy has been growing and is forecast to log at least a 100-fold increase to 35 TWh over the coming decade in Southeast Asia. Southeast Asia's commercial and industrial (C&I) sector power demand is forecast to rise from 600 TWh in 2020 to 933 TWh over the coming decade. In 2020, RE100 members recorded nearly 5 TWh of power consumption in Southeast Asia, with only 7% currently from renewable sources, despite their commitment to renewables. With 56% of the RE100 members having operations in Southeast Asia, the 100% renewable target year drawing closer, operations growing in this region of strong economic growth, and RE100 and similar initiatives proliferating, the demand for renewables will undoubtedly rise as well.
All markets are taking steps to introduce more corporate renewable procurement options. This is to ensure that access to renewable energy improves to remain attractive to corporations looking to set up operations overseas and to achieve national renewable targets. Markets are opening more options through liberalizing the electricity retail segment and other innovative solutions such as peer-to-peer trading of renewable energy.
South Korea announces three pathways to carbon neutrality
The Presidential Committee on Carbon Neutrality in South Korea proposed three different pathways to reach carbon neutrality by 2050 on 5 August 2021.
The South Korean government will adopt one of three 2050 carbon neutrality scenarios proposed by the Presidential Committee on Carbon Neutrality prior to the COP26 UN Climate Summit in Glasgow. The Committee also proposed to raise the interim 2030 nationally determined contribution (NDC) target from the current 26% emissions reduction target to 40% lower than the 2018 level.
All three carbon neutrality scenarios call for a drastic transformation in the country's energy economy, cutting emissions at least by 96.3% compared with the 2018 level. The country's number one electricity supply source, coal-fired power plants, will be nearly phased out in 2050 in all three scenarios. Gas-powered generation with carbon capture, utilization, and storage will continue to be the most prominent conventional power plants in 2050 in scenarios 1 and 2, while scenario 3 leaves no room for gas-fired power plants in 2050.
The scenarios leave some questions on the implementation measures, including the early retirement of coal-fired power plants, deployment of new low-carbon technologies, and decarbonization of hard-to-abate sectors such as industrial and residential. The forthcoming 10th Basic Plan for Electricity Demand and Supply (due in 2022) and the 15th Long-term Natural Gas Demand and Supply Plan will shed more light on those unanswered questions.
Japan's 6th Strategic Energy Plan aims to raise non-hydrocarbon energy source to 59% by 2030
On 22 October 2021, the Japanese cabinet approved the country's 6th Strategic Energy Plan, which includes key themes of achieving carbon neutrality by 2050 and reducing greenhouse gas (GHG) emissions by 46% in fiscal year (FY) 2030 relative to 2013 levels. The Strategic Energy Plan is renewed every three years, and the 6th Strategic Energy Plan will come into effect in FY 2022.
Renewables and nuclear are placed as key non-hydrocarbon energy sources to drive decarbonization. The targeted FY 2030 power mix outlined in the plan included a much stronger share of renewables (36-38% versus 22-24% in the previous policy) and a sustained level of nuclear (unchanged at 20-22% from the previous policy). This combined renewable plus nuclear share would increase Japan's non-hydrocarbon power generation source to 59% by FY 2030. Given the slow progress of restarts so far and ongoing public opposition, whether Japan will be able to restart enough reactors to achieve this mix remains questionable.
Fossil fuel-based energy sources have been reduced to 41% of the targeted FY 2030 power mix. Most notable is the lower share of coal at 19% (versus 26% in the previous plan). This is in line with the coal phaseout plan announced in 2020, placing more emphasis on the newer technology and more energy-efficient power plants. Natural gas share has also been reduced to 20% versus 27% in the previous policy. Oil generation will be even lower at 1% versus 3% previously.
Hydrogen and ammonia will support decarbonization in the power sector. Notably, a target for hydrogen/ammonia generation has been included for the first time in the power mix. Although the targeted FY 2030 share is only 1%, this translates to 10 TWh in generation. Along with ambitions to install up to 24 GW of battery storage in industry and households, it is envisioned to support the development of the hydrogen sector in the energy transition to a cleaner, more distributed, and natural disaster-resilient power network.
Singapore takes a proactive stance to secure natural gas supply
For November and December 2021, Singapore is looking to secure additional spot LNG. The request for spot cargoes has been issued by Singapore LNG Corporation Pte Ltd (SLNG), the government entity operating Singapore's regasification terminal. Although unusual, this is a pre-emptive measure to stabilize and safeguard Singapore's energy security and an analogue to the energy crisis that is being experienced in the LNG market today. The Energy Market Authority has decided to intervene in the market to arrest any possibilities of market failure in these extraordinary times.
India resolves to translate its green hydrogen plan into reality
The energy ecosystem in India responded after the government's announcement of its National Hydrogen Mission: On 15 August 2021, Indian Prime Minister Narendra Modi highlighted India's commitment to meeting its climate targets and announced the launch of the National Hydrogen Mission, which will focus on promoting low-carbon hydrogen. The National Hydrogen Mission is expected to be the key driver for wider change in the energy basket of the country compared with the previous policies around hydrogen. After the announcement, various government and private companies announced investment plans to support India's goal of becoming a global hydrogen production hub.
Uptake of low-carbon hydrogen to be driven by policy and regulatory interventions: Hydrogen adoption in the short-to-medium term will be driven by various policies to reduce the cost of production via subsidies in the form of tax breaks and grants. Policies to encourage demand via mandates will be a key component for wide-scale adoption. Of critical importance is the proposed green hydrogen consumption obligation, which mandates fertilizer production and petroleum refining to consume 10% of the green hydrogen by 2030.
Bangladesh turns to oil to mitigate high LNG prices
Bangladesh is one of the newest entrants in the LNG market and imported close to 4.5 million metric tons (MMt) of LNG volumes in 2020. Given the low spot price environment last year, the country planned to procure about 18 spot cargoes; however, the current price spike has prompted a slowdown in spot imports as it became financially challenging to accommodate such high prices.
In response, the country increased oil-fired generation and started rationing gas supply among the sectors to mitigate the impact of high LNG prices. However, the measure was short-lived as economic recovery and high industrial activity necessitated more gas supply. Consequently, Bangladesh has procured three additional spot cargoes, one cargo for September and two cargoes for October.
In the next few months, Bangladesh is expected to continue its reliance on oil-based generation to meet its power requirements, with occasional spot cargo procurement to mitigate the gas supply shortages. The near-term volatility will add to the government's financial burden, which may compel the government to increase end-retail tariffs and sign additional LNG term deals.
Additional Insights and Strategic Reports published in fourth quarter 2021
China's new guidance on carbon ambitions: Natural gas will play a supporting role - View article
China's "dual-control" implementation: A tight balancing act amid the energy transition - View article
China kicked off renewable mega base development for its climate ambition: 100 GW of wind and solar predominantly in the desert area - View article
China's top-level guidance on climate ambitions: Charting the decarbonization path ahead - View article
Indonesia sets 2060 net-zero ambition, but the power sector does not appear strongly committed yet - View article
Assessing India's bold yet confusing climate action announcements at COP26 in Glasgow - View article
Overseas financing rises with India's renewable ambition - View article
India's domestic gas prices increase yet again
China's Central Economic Work Conference: Secure energy supply to facilitate economic stabilization
A vital step in liberalizing power pricing in China: Turning the crisis into an opportunity
Wind farm repowering officially granted in China: Another boost for onshore wind installation
Japan's power sector prepares for another cold winter
China's power rationing risk: Tight fuel supply this winter, declining reserve margin in the next few years
China's green hydrogen project pipeline expands, but uncertainties abound
South Korea raises 2030 climate ambitions ahead of the UN climate conference
Pakistan eyes another winter gas crisis
Indonesia's greener electricity supply business plan—2021 RUPTL
India's LNG procurement strategy in focus amid high spot prices
India approves changes to the renewable energy certificate mechanism
Singapore to import up to 4 GW of low-carbon power—A plan to reduce emissions and meet growing renewable demand
India's power crisis: Assessing the drivers, impact, and adequacy of policy response
Learn more about our Asia Pacific Regional Integrated Energy service.
Logan Reese is an associate director on the Asia Pacific Regionally Integrated team at IHS Markit, focusing on Australia power and gas markets.
Ankita Chauhan is a senior renewable analyst on the Climate and Sustainability team at IHS Markit, covering research and analysis for Indian and South Asian markets.
---
Follow IHS Markit Energy
{"items" : [ {"name":"share","enabled":true,"desc":"<strong>Share</strong>","mobdesc":"Share","options":[ {"name":"facebook","url":"https://www.facebook.com/sharer.php?u=http%3a%2f%2fihsmarkit.com%2fresearch-analysis%2fasia-pacific-regional-integrated-research-highlights-q42021.html","enabled":true},{"name":"twitter","url":"https://twitter.com/intent/tweet?url=http%3a%2f%2fihsmarkit.com%2fresearch-analysis%2fasia-pacific-regional-integrated-research-highlights-q42021.html&text=Asia+Pacific+Regional+Integrated+Service+Research+Highlights%2c+Q4+2021+%7c+IHS+Markit+","enabled":true},{"name":"linkedin","url":"https://www.linkedin.com/sharing/share-offsite/?url=http%3a%2f%2fihsmarkit.com%2fresearch-analysis%2fasia-pacific-regional-integrated-research-highlights-q42021.html","enabled":true},{"name":"email","url":"?subject=Asia Pacific Regional Integrated Service Research Highlights, Q4 2021 | IHS Markit &body=http%3a%2f%2fihsmarkit.com%2fresearch-analysis%2fasia-pacific-regional-integrated-research-highlights-q42021.html","enabled":true},{"name":"whatsapp","url":"https://api.whatsapp.com/send?text=Asia+Pacific+Regional+Integrated+Service+Research+Highlights%2c+Q4+2021+%7c+IHS+Markit+ http%3a%2f%2fihsmarkit.com%2fresearch-analysis%2fasia-pacific-regional-integrated-research-highlights-q42021.html","enabled":true}]}, {"name":"rtt","enabled":true,"mobdesc":"Top"} ]}