Customer Logins
Obtain the data you need to make the most informed decisions by accessing our extensive portfolio of information, analytics, and expertise. Sign in to the product or service center of your choice.
Customer Logins
Artificial Intelligence: Ready and impactful—or is it just hype?

Digital Orbit is an executive briefing from IHS Markit that tracks the readiness and impact of six transformative technologies across key industries. In the fifth installment of this series, we discover the reasons explaining the appeal of Artificial Intelligence and why it rates so highly in key measures of testing and evaluation.
Many have asked, not entirely without justification: Is Artificial Intelligence (AI) the real thing, or is it the manufactured product of oversize media attention and hype?
To look at the scores obtained by AI in Digital Orbit, one could be led to believe that AI is, indeed, that singular rarity—a stellar performer with the highest scores in the two key measures assigned by Digital Orbit in evaluating six of the most important transformative technologies of our time.
Its true standing, however, may be a matter of debate.

AI's strengths stand out
AI scored well in the first key measure of readiness, placing among the top three technologies—together with IoT as well as Cloud & Virtualization—deemed closet to adoption by industry. AI also impressed mightily in the second measure of impact, garnering the highest score in 9 out of 10 criteria assessing the total impact of a specific transformative technology, as shown in the chart below. In this way, Artificial Intelligence was also ahead of Blockchain, Video Everywhere, and 5G.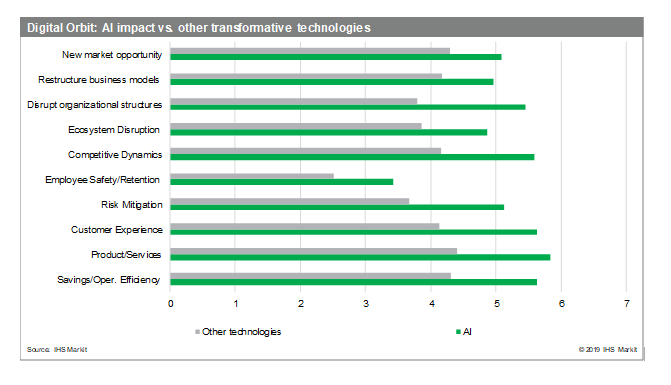 One reason accounting for AI's high impact score is its unique point in development. The technology is advanced enough for its anticipated impact to be meaningful while also being at an early enough stage of adoption with its greatest impact still lying ahead. AI's enviable position contrasts with that of Blockchain and 5G, whose maximal impact is unlikely to be felt for years; or with IoT and Cloud & Virtualization, where expectations have leveled off since their solutions have been around for years.
A second reason lies in the high hopes placed on AI, given that it is just starting to scratch the surface of its future capabilities. As the technology evolves further, AI will demonstrate greater abilities, including human-like intelligence and far higher speeds to process data. The rapid change in AI capabilities will be game-changing, resulting in a much broader transformative impact on a variety of industries.

Advancing AI
Driving advancements in AI will be breakthroughs in computer processing power and communications technology, which in turn will spur an explosion of collectable and analyzable data. Moving to a cloud AI-based deployment will also be a factor, enabling more computing power to tap artificial neural networks (ANN) or deep learning network types, where centralizing data and massive computation are required.
The projected advancements in AI will dramatically increase the technology's influence in upcoming years, IHS Markit believes, affecting—and disrupting—labor, ethics, education, and other aspects of society in major ways. However, for AI to fully develop, many components and driving forces must mature, advance, and succeed. As our Digital Orbit scores show, industries relying on more complex AI solutions, such as healthcare and automotive, are not yet ready for broad AI adoption compared to the consumer segments, where AI is making large inroads via smart cameras and smart speakers.
To be sure, AI is an extremely broad technology, ranging from simple algorithms to the highly complex networks of deep learning. While simple algorithms might be ready for deployment and use, much more effort must be taken if advanced and more powerful algorithms are to be implemented. These differing perspectives may not be immediately apparent from a cursory examination alone of Digital Orbit's results.
In automotive, for instance, different types of AI applications can coexist because requirements can be distinct. ADAS and automated vehicle control units require high-performing processing units to enable real-time computation with little to no latency. In comparison, automotive HMI has more relaxed requirements and do not entail safety-critical mandates. Natural speech recognition or virtual assistance, meanwhile, do not require real-time operation at all as execution can be carried out in the Cloud, dispensing with the need for in-vehicle localized hardware.
In healthcare, medical imaging and diagnostics are especially propelling interest in AI-based solutions. Already, AI-based systems have been shown to perform better in screening accuracy and analysis, even when compared to a pool of expert radiologists and doctors. Beyond imaging and diagnostics, applications like genome sequencing, drug discovery, and micro-chirurgical equipment represent the most advanced fronts where machine learning will be implemented, converging with the advances expected in high-performing computing (HPC).

Media attention and hype
An assessment of AI wouldn't be complete, however, without considering the undesirable effects of aggressive media attention on AI, which can lead to unrealistic expectations on the impact, timing, and importance of the technology in its present form. For this reason, the high readiness scores of AI in Digital Orbit come as somewhat surprising—precisely because AI is relatively new, with many industries still figuring out how to best utilize the powerful technology.
IHS Markit believes that the speedy adoption of AI in the initial applications of the present, combined with the considerable amount of hype surrounding the technology, could be leading to misconceptions about AI's readiness for wider-scale implementation. What many believe to be AI as it is deployed for use today is, in fact, machine intelligence—a more limited application of AI also commonly referred to as "narrow AI."
Meanwhile, the implementation of AI in more complex applications, where the technology assumes more human-like intelligence, will take a little more time to develop, not having reached the mass-production stage yet. For that to happen, continued improvements are needed in compute-processing power, and advances in the cognitive sciences and neuroscience must also take place.
For more details, visit our Digital Orbit section, where you can also download a free white paper.
Josh Builta is senior principal analyst for transformative technologies at IHS Markit
Luca De Ambroggi is senior research director for artificial intelligence at IHS Markit
Posted 13 May 2019
RELATED INDUSTRIES & TOPICS