Customer Logins
Obtain the data you need to make the most informed decisions by accessing our extensive portfolio of information, analytics, and expertise. Sign in to the product or service center of your choice.
Customer Logins
Are gas prices having an impact on vehicle choices?

27 March 2012
IHS Markit Automotive Expert
With the recent upturn in gas prices, I thought I would look to see if there has been a noticeable impact on the kinds of vehicles that people are buying. Gas prices have been flirting with the highs seen in 2008, but it has been a more gradual increase this time around. Nonetheless, I was curious to see if the elevated gas prices were starting to impact vehicle choices.
The truth is that with the registration data through January 2012, there is not a clear correlation between gas prices and hybrids, car share or smaller segment vehicle registrations or with a drop in larger vehicle purchases. I had to think about the market dynamics before I could make sense of it all. Here are some thoughts on what I think is behind a more moderated reaction to gas prices than what we have seen before.
More Gradual Increase = More Gradual Change - Gas prices have not spiked as dramatically as before allowing people to acclimate themselves and not be as reactionary to gas price hikes. The market is resetting a "new normal" for itself in terms of expectations of what to pay at the pump. Gas prices will have to hit a new high to send similar shock waves through the market the way they did in 2008.
A More Fuel Efficient Vehicle is a Relative Thing - Choosing a more fuel efficient vehicle means different things to different people. Driving a Ford Explorer is a more gas efficient choice compared to a Chevrolet Suburban. The point is that small compact cars will not work for everyone and there are many more fuel efficient vehicles in different sizes to choose from today.
Overall Value is Still the Priority - While hybrids and electric vehicles may offer better gas mileage, they may not offer better overall value in terms of total cost and function. The market has not been flocking to alternative fuel vehicles, in part, because they are still relatively expensive and in part, because there are some great fuel efficient choices with conventional engines.
We have yet to see gas prices peak, something which is predicted to happen this summer. Until then, the market seems to have adapted to sub $4 a gallon gas. If gas prices spike much above $4 a gallon, we may see bigger changes in vehicle purchases. Stay tuned as this story continues to evolve with gas prices continuing to climb.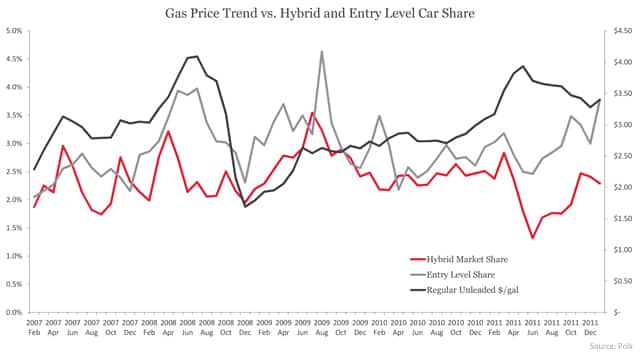 RELATED INDUSTRIES & TOPICS