Customer Logins
Obtain the data you need to make the most informed decisions by accessing our extensive portfolio of information, analytics, and expertise. Sign in to the product or service center of your choice.
Customer Logins
Apple may introduce LTPO TFT backplanes for iPhones to prolong battery life

Power consumption is always a critical element in the smartphone, with the central processing unit (CPU) and display screen the most two power-hungry components in the device. Power consumption, in turn, determines the battery life of the smartphone, itself dependent on the different applications, usage patterns, content type accessed by a user. In helping prolong the overall battery life of a smartphone while also reducing its power consumption, an important element is the smartphone display, especially for emissive types like AMOLED, or active-matrix organic light-emitting display.
At present, mobile AMOLEDs have adopted low-temperature polysilicon thin-film transistor (LTPS TFT) as the standard backplane, whether in rigid OLEDs with a glass substrate or in flexible OLEDs with a polyimide substrate. This is because of good electron mobility, which drives OLED circuitry and materials to achieve high pixel densities. In the AMOLED industry, there is a saying that if display makers wish to make good-quality AMOLED displays, achieving mature manufacturing in LTPS TFT first is a must.
However, a new kind of backplane TFT is rising on the horizon which the Apple iPhone may adopt in the long term- the so-called LTPO, or low-temperature polycrystalline oxide. In fact, Apple has applied for three important patents on LTPO. The first occurred in 2014 with the patent title "Organic light-emitting diode displays with semiconducting-oxide and silicon thin-film transistors." The second, in 2015, bore the patent title of "Displays with silicon and semiconducting oxide thin-film transistors." A third took place this year, with the title "Methods of protecting semiconductor oxide channel in hybrid TFT process flow."
Backplane technology is important because it covers the components in thin-film transistors that drive the main display. The backplane is what is responsible for turning individual pixels on and off, and so plays a significant role in determining a display screen's resolution, refresh rates, and power consumption.
According to the IHS Markit AMOLED & Flexible Display Intelligence Service, there is an important diagram showing the structure of LTPO in one of the patents from Apple, as shown below.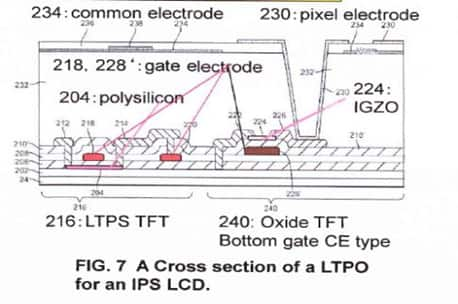 In the diagram, we can see that the backplane includes both the polysilicon (LTPS TFT) and the IGZO (Indium Gallium Zinc Oxide), otherwise known as Oxide TFT. Basically, LTPO equals to Low Temperature Polycrystalline Oxide. The pixel circuit would be patterned such that the switching TFT would be p-Si and the drive TFT would be IGZO.
Oxide has a worse Vth shift performance compared to LTPS, but great merit in low frequency, at <30Hz. We estimate that Apple's target is to strengthen the graphics processing unit in the CPU, and bypass the frame memory in order to reduce power consumption.
However, Apple is also relying on display manufacturers to produce AMOLED panels for its iPhone. Why, then, would Apple develop LTPO backplane technology without the assistance and involvement of the display manufacturers who are its partners? In our analysis, we believe this is because Apple in the long term may want to have more control over components of the flexible OLED.
There are several reasons for Apple to introduce LTPO:
To be more closely involved in flexible OLED component cost and technology
To reduce power consumption of Apple products
To achieve high electron mobility for higher resolution of its displays
To better manage its display supply chain and that of its partner-display manufacturers
As we analyzed in an Insight article, Flexible OLED technology in the iPhone X series, Apple may try to increase the use of flexible AMOLED technology such as Touch on TFE, LTPO TFT, and RGB stripe pixel to differentiate from Samsung Display's currently dominant OLED technologies. Even though Apple may use flexible AMOLED alone from Samsung Display in 2017-2018 because Samsung is the most stable supplier, Apple may try to encourage other suppliers, such as LG Display, China's BOE or even Japan's JDI, to advance these technologies on their own.
The new technologies Apple will apply onto the iPhone flexible OLED will include:
Touch on TFE: This is used to simplify module structures like Samsung Display's Y-OCTA (Youm-On Cell Touch AMOLED) technology, because the current film's add-on touch needs an adhesive layer, and a thicker layer can achieve better optical performance.
LTPO TFT: This is used to reduce TFT power consumption because the oxide TFT structure can reduce the current power-leakage problem of LTPS.
RGB stripe pixel: On the iPhone X, the PenTile screen's 459 pixels per inch (ppi) is similar to RGB stripe 306 ppi, which is less than the 326 ppi on the iPhone's Retina LCD. This means that in the long term, Apple will need to further increase the resolution of iPhones or revert to the lower-resolution RGB stripe
In the long term, flexible OLED panels will be the most important element in iPhones, and all iPhone models will move to flexible OLED screens as a result We can see that Apple hopes to reduce the influence of panel makers and for the company to be more involved directly in the supply chain. Apple's current involvement on key components of iPhone panels can help explain Apple's possible intentions.
Already, Apple has been involved in many discussions with component suppliers of the iPhone flexible OLED panel, such as for the cover glass (with Corning), the touch sensor (with Nissha), the organic light emitting materials (with UDC, Merck, Dow, Dupont, and Idemitsu Kosan), and the fine metal mask (with Dai Nippon Printing). However, in the case of display makers and the special pixel layout as well as TFT backplanes they produce, Apple is not involved in the driver IC-the main suppliers here being Samsung LSI and Silicon Works; nor in the TFT backplane-the main supplier here being Samsung Display, with LG Display possibly coming into the scene by Q4 2018.
Throughout the LCD era, Apple has been involved deeply with display component makers in a bid to understand the technology to reduce costs and improve specs. But in the OLED era, Apple has not been able to get involved in work relating to the TFT backplane and driver IC because the manufacturers of flexible OLED panels maintain exclusive control.
Another important reason for Apple to get in on the action is to reduce the power consumption of OLED displays. As we analyzed in the Smartphone Display Intelligence Service, smartphone displays are moving to a wider aspect ratio and larger size. The iPhone is no exception. The 6"+ and wider aspect ratio of 19.5:9-or even 19.9:9-will become the mainstream size for iPhone. As the aspect ratio gets bigger and the screen gets larger-and most critically, as resolution gets higher-power consumption will become even greater.
According to the AMOLED & Flexible Display Intelligence Service, the power consumption benefits of LTPO can be analyzed in the following figure.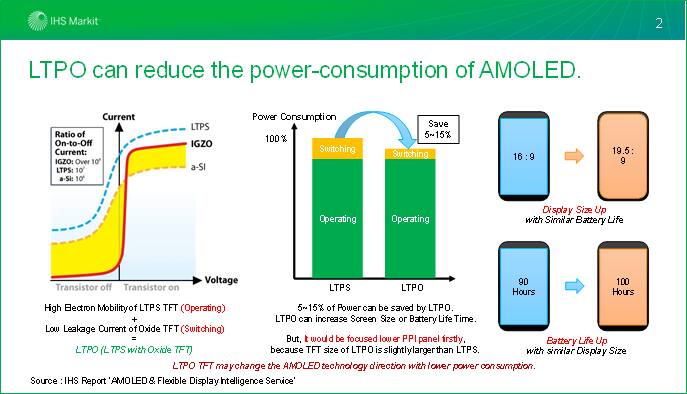 Overall, in theory, LTPS can save 5-15% in power consumption compared to LTPS, especially under the switching model, resulting in the extension of battery life.
At the same time, we believe there are several challenges facing LTPO:
A bigger TFT size: With LTPO, the transistor size of the TFT must be bigger as it needs to comply with both LTPS and oxide design. However, larger TFTs will mean that fewer transistors will be able to fit the glass substrate, resulting in lower resolution.
An increase in the photomask process: The photomask, in LTPO is 20% more than that of LTPS, which is already 100% more than that of amorphous silicon (a-Si) TFT. A bigger photomask entails greater complexity, which then requires bigger equipment and, thus, investment.
Currently, Apple sources flexible OLED panels exclusively from Samsung Display, but LG Display may emerge as a second supplier as it aims for qualification. At present, both Samsung Display and LG Display are suppliers of flexible OLED panels for the Apple Watch, and Apple may soon require them to look at LTPO TFT backplane solutions for flexible OLED.
At the same time, JDI and BOE are both potential suppliers of flexible OLED displays for the iPhone. In particular, JDI has been developing LTPO for some time now.
As pointed out in the AMOLED & Flexible Display Intelligence Service, IHS Markit believes Apple may ask display suppliers to start deploying LTPO first on the Apple Watch, and then gradually introduce it in the iPhone display over the long term.
David Hsieh is Research & Analysis Director within the IHS Technology Group at IHS Markit
Posted 22 August 2018
RELATED INDUSTRIES & TOPICS