Customer Logins
Obtain the data you need to make the most informed decisions by accessing our extensive portfolio of information, analytics, and expertise. Sign in to the product or service center of your choice.
Customer Logins
Analysts see Europe's costly natural gas kicking off "volatility" era

European electricity prices soared in October—with German year-ahead baseload prices rising to record highs—joining commodities like oil that saw increased volatility as a result of the COVID-19 pandemic.
Soaring natural gas and EU carbon allowance (EUA) prices whipped power prices higher in Europe as post-pandemic economies increased their need for energy, and prices for gas-fired power rose.
Chinese LNG import growth is the biggest single contributor, up 26% over the first eight months of the year. The spot price of gas was four times higher than the four-year average and the price of coal also rose, up from two-year lows last year.
Lower gas storage levels were seen at European facilities, a metric analysts viewed as a barometer of global supply levels. "Storage has played a key balancing role in 2021, but low levels will limit its balancing role going forward, driving price volatility," wrote IHS Markit Director Alun Davies in a report outlining European gas market dynamics.
As cold weather continued into May, LNG import levels dropped. UK gas production as well was down 27% from the prior year and power sector demand for thermal generation remained strong as wind power dropped to low levels, according to the report.
The resulting demand for gas from storage saw an 8 Bcm swing in just two months from a 2 Bcm surplus to the five-year average to a 6 Bcm deficit by the end of May, the report found.
On 4 October, EU member state ministers in the policy group Eurogroup received an update on recent energy price developments from Cristian Zinglersen, director of the EU Agency for the Cooperation of Energy Regulators (ACER).
The key price driver behind the events was global LNG supply and demand, in particular spot LNG demand in Asia ahead of what is expected to be a cold winter, according to a presentation from Zinglersen.
To a lesser extent, Zinglersen blamed other factors as well: increased use of power due to hot weather in Europe; rising coal prices; and record carbon allowance prices. EUAs last week reached their highest ever at €65/metric ton(mt), and carbon allowances in the newly established UK system reached £76 (€88)/mt.
Hot weather last summer left Europe vulnerable, Zinglersen said, as gas inventories fell below normal levels, exacerbated by production that has been slow to rebound from the economic downturn caused by the COVID-19 pandemic because producers invested less.
Lower wind and hydropower generation recently, as well as unstable pipeline gas supplies, made worse by lower investment in the production of gas, exacerbated the price spike. "With similar demand compared to 2019, the EU has in 2021 net approximately 10% less gas supply at its disposal. So far, the gap has been picked up by gas storage," wrote Zinglersen in the presentation.
He expected the tight market conditions would continue until Spring 2022 when Russian gas flows would increase, possibly via the new Nord Stream 2 pipeline, and shuttered LNG export terminals would restart.
Since December 2019, Russia has cut back on its exports via pipeline, causing several countries and 40 members of the European Parliament to suggest it was seeking to gain political influence in Europe.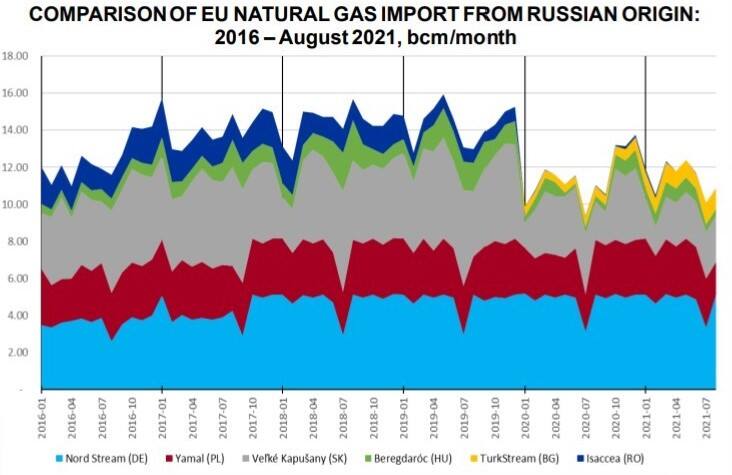 Source: ACER
There did not appear to be any systematic manipulative behavior or insider trading behind the LNG price volatility, but Zinglersen noted that as economies push for greater electrification to meet net-zero targets, and use pricing signals to drive energy use changes, volatility was "here to stay" and comprised the "new business model." Zinglersen recommended more cross-border energy markets to prevent the use of costly, fossil-fired backstop generation.
Despite the ACER director placing the most blame on lower gas supplies, the far-right Hungarian Prime Minister Viktor Orban pointed the finger at the EU's Fit for 55 carbon neutrality legislation. This has been encouraging speculative investment in EUAs, a growing cost factor for non-renewable power generators.
Favoring a more regulated approach, European Council President Charles Michel said the European Commission is planning to publish a "policy toolbox" to help national governments react to high gas and power prices, for example a strategic gas reserve. A European Council meeting where leaders are set to broach the issue is scheduled for 21-22 October.
The office of the Presidency of the Council of the European Union encouraged EU member states to share best practices but also take collective action on new policies at the EU level in a 6 October statement.
The same day, EU Energy Commissioner Kadri Simson gave a speech explaining that member states could quickly dole out "targeted support to consumers, direct payments to those most at risk of energy poverty, cutting energy taxes, shifting charges to general taxation."
President of the European Commission Ursula von der Leyen was quoted as saying the EU should look into ways to decouple the price of gas from the price of electricity.
State strategies in Europe
The energy price shock was foreshadowed last winter, when spot prices at Europe's gas hubs rose as much as 21% year on year as LNG cargoes were redirected towards more lucrative Asian markets, according to the EU's market observatory for energy.
Germany has seen a 125% increase in baseload electricity prices since last year, but this mostly came on the back of stronger prices for gas and not the high carbon prices in the period, according to the ACER presentation.
On 11 September, day-ahead wholesale power prices for the UK reached a record £400.01 (€471.01) per MWh on the Epex Spot exchange.
The high price was caused by several factors, research lead at Aurora Energy Research Marlon Dey, told Net-Zero Business Daily. "You'd normally expect around 30% of all power to come from wind generation ... In 2021, it was just over 10%. So, it's around a third of what we'd normally experience," said Dey.
"In September, in Great Britain, around 40% of our combined-cycle gas turbine capacity was unavailable due to planned and unplanned outages. And that's what created a very scarce market. And on 15 September, to make things worse, due to a fire, the IFA interconnector between the UK and France went out as well," he said.
"So, all of these capacity issues amounted to the system … being very tight, with a very short amount of capacity left," he added.
In the UK, nine electricity suppliers serving over 1.7 million customers, or 6% of the market, ceased trading amid pressures on profitability alongside regulatory obligations, ratings agency Moody's said on 6 October. The UK government is mulling support via loans and a "bad bank" for energy suppliers, alongside tax relief for consumers, it said.
On 8 October, day-ahead average prices for wholesale electricity in Spain and Portugal reached €229.20/MWh, according to EnergyLive data.
On the same day, Italy's day-ahead power prices also topped €229/MWh. Fortunately for consumers, the government on 23 September decided to pass a bill securing €3 billion to cut energy bills and taxes for retail consumers.
In Greece, where day-ahead electricity prices were €218.73/MWh on 8 October, concerns had been rising. At a September meeting of EU energy ministers, Greek energy minister Kostas Skrekas proposed that EU states access funds from carbon trading auctions to relieve costs paid by energy consumers, according to carbon consultancy Redshaw Advisors.
Spain has experienced high prices since April, causing the government to pledge to introduce laws that slash taxes and prices for consumers. Further sticker shock could be on the cards due to an escalating conflict between Spain, Algeria, and Morocco that threatens this month's renewal of a contract for gas supplies via the GME pipeline.
French finance minister Bruno Le Maire and environment minister Barbara Pompili wrote a letter to Eurogroup President Paschal Donohoe arguing the EU should start to purchase gas collectively for a strategic reserve.
Carbon, gas price dynamics
According to IHS Markit's international gas price tracker, the benchmarks in Europe known as the Dutch TTF and the UK NBP showed spot prices in late September exceeding €75/MWh, an increase of 500% compared with a year earlier, when they were about €12/MWh.
Speaking at the Carbon Forward event on 6 October, Swedish financial services group SEB's chief commodities research analyst, Bjarne Schieldrop, said the high carbon price was not to blame for driving the huge rally in gas prices since 2020, despite generators' past switching from coal to gas to avoid high carbon prices.
"I think right now, you know, gas is in a crazy situation where it's going through the roof. Of course, the carbon price has nothing to do with it," said Schieldrop, explaining that the market still has a surplus of carbon allowances.
Nonetheless, in the coming years generators may struggle to cope with the carbon price given the caps on carbon allowances proposed under the EU's Fit for 55 legislative package.
"The mind-blowing thing about the propositions from the [European] Commission this summer is that when you look at how the [carbon] cap needs to decline in the ETS from 2021 to 2030, it needs to decline by 50%," Rob Pulleyn, head of utilities and clean energy at Morgan Stanley, told attendees at the Carbon Forward event.
"At some time in the future, two or three years out, this paper plan will crash with reality, because I think there are so many companies, saying 'I just can't do this.' I mean, we are totally and fundamentally a fossil fuel economy," he added.
Volue Insight Senior Analyst Espen Andreassen predicted high carbon prices in the years ahead would continue to raise the cost of power.
The installation of renewables needed to reach Europe's decarbonization goals would require a higher carbon price, although not as high as current carbon prices, he said. This was because, he said, despite renewable power being cheaper than electricity from CCGTs, its cost may rise as materials get pricier and the technology development curve flattens out.
{"items" : [ {"name":"share","enabled":true,"desc":"<strong>Share</strong>","mobdesc":"Share","options":[ {"name":"facebook","url":"https://www.facebook.com/sharer.php?u=http%3a%2f%2fihsmarkit.com%2fresearch-analysis%2fanalysts-see-natural-gas-shortfall-kicking-off-volatility-era.html","enabled":true},{"name":"twitter","url":"https://twitter.com/intent/tweet?url=http%3a%2f%2fihsmarkit.com%2fresearch-analysis%2fanalysts-see-natural-gas-shortfall-kicking-off-volatility-era.html&text=Analysts+see+Europe%27s+costly+natural+gas+kicking+off+%e2%80%9cvolatility%e2%80%9d+era+%7c+IHS+Markit+","enabled":true},{"name":"linkedin","url":"https://www.linkedin.com/sharing/share-offsite/?url=http%3a%2f%2fihsmarkit.com%2fresearch-analysis%2fanalysts-see-natural-gas-shortfall-kicking-off-volatility-era.html","enabled":true},{"name":"email","url":"?subject=Analysts see Europe's costly natural gas kicking off "volatility" era | IHS Markit &body=http%3a%2f%2fihsmarkit.com%2fresearch-analysis%2fanalysts-see-natural-gas-shortfall-kicking-off-volatility-era.html","enabled":true},{"name":"whatsapp","url":"https://api.whatsapp.com/send?text=Analysts+see+Europe%27s+costly+natural+gas+kicking+off+%e2%80%9cvolatility%e2%80%9d+era+%7c+IHS+Markit+ http%3a%2f%2fihsmarkit.com%2fresearch-analysis%2fanalysts-see-natural-gas-shortfall-kicking-off-volatility-era.html","enabled":true}]}, {"name":"rtt","enabled":true,"mobdesc":"Top"} ]}