Customer Logins
Obtain the data you need to make the most informed decisions by accessing our extensive portfolio of information, analytics, and expertise. Sign in to the product or service center of your choice.
Customer Logins
Analysts say US offshore wind has potential, but delivery depends on permit streamlining

More than 20 GW of US offshore wind generation capacity will only get up and running if the Biden administration is able to streamline and accelerate the federal permitting and approval process.
The US offshore wind industry has great promise, with many a developer vying to tap into its potential off the country's east and west coastlines, but the sector has yet to deliver in terms of actual-up-and-running projects.
To date, only two facilities totaling 42 megawatts (MW) are operational: the 30-MW, five-turbine Block Island Wind Farm in Rhode Island waters; and the 12-MW, two-turbine Dominion Coastal Virginia Offshore Wind pilot in federal waters off the Virginia coast.
When compared with a global offshore wind installed base of at least 29 gigawatts (GW) by the end of 2020, the US' share is "negligible," according to Rear Admiral (Ret.) Samuel De Bow, who was involved in developing Rhode Island's special area zone management plan as director of University of Rhode Island's Center Of Excellence in Research on Offshore Renewable Energy.
He said the US is the second-largest builder of wind farms on land, but right near at the bottom when it comes to offshore wind facilities.
De Bow, attorneys, analysts, and developers attribute the reason for the slow buildout to extensive environmental impact studies, federal and state permitting coordination approvals, and a lack of infrastructure to support the construction of offshore wind towers and related equipment.
Winds of change
President Joe Biden, upon taking office in late January, singled out renewable energy, offshore wind in particular, as one way the country can generate carbon-free power by 2035.
At the launch of the administration's climate blueprint on 27 January, Biden directed the Secretary of Interior to identify ways to expedite the permitting and siting of renewable energy generating facilities on public lands and waters that have been languishing for months.
The winds have already begun to shift at the Bureau of Ocean Energy Management (BOEM), the Department of Interior's lead agency charged with overseeing the entire offshore wind development process. BOEM is authorized under the Energy Policy Act of 2005 to issue leases, easements, and rights of way for renewable energy development including offshore wind on the Outer Continental Shelf.
On 3 February, Amanda Lefton, BOEM's newly appointed director, indicated the agency would resume its review of the 800-MW Vineyard Wind project off the coast of Massachusetts. The review was halted in December 2020 at the developer's request.
Vineyard Wind had requested a pause in the process after it decided to use a larger turbine than originally indicated, an action the prior administration saw as a reason to start the permit process anew, which observers saw as yet another delaying tactic.
"BOEM is committed to conducting a robust and timely review of the proposed project," Lefton added in a statement.
The question is whether BOEM's commitment to conducting a timely review will translate into more offshore wind facilities coming online sooner than the developers have projected.
"The speed with which BOEM and other state, local, and federal agencies complete their reviews will depend on the complexity of a given project, such as its size, location, environmental, and safety impacts, among others," Rafael McDonald, IHS Markit director of North American Renewable Power, said 5 February.
Buxton, who has been involved in negotiating offshore wind approvals at the state and federal level, expects Biden's directive will result in a positive response from regulators. "I think at the very least it means newly filed applications will move more quickly, but it should also mean that existing projects get completed more quickly," he said.
Developers not only have to obtain an approval, but also must reassure regulators they will comply with the conditions of approvals. Delays usually occur when someone makes a mistake or seeks a change to a permit.
Until now, the regulatory process - in BOEM's own words - could take anywhere from five to 25 years, depending on the size and scope of the project, approvals of site assessment and construction and operations plans, and coordination with state and federal agencies, among other variables.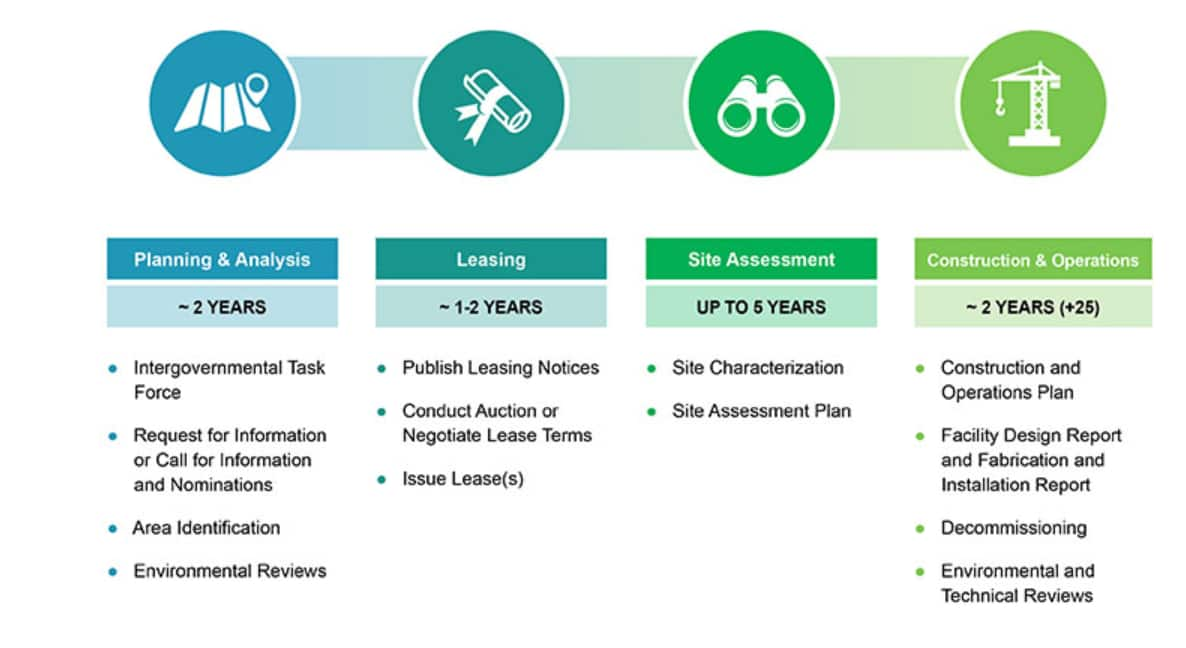 Source: US Bureau of Ocean Energy Management
IHS Markit data show at least 21.9 GW related to 21 offshore wind projects dotting the US Atlantic Coast in varying stages of permitting, planning, and construction.
Of this total, the data show BOEM has approved site assessment plans for 13 projects totaling 13.5 GW, while six projects with 7.99 GW of capacity remain under review.
A total of 10 projects are in various stages of BOEM review today, including Revolution Wind Farm, a 704-MW joint project of Ørsted, a Danish energy company, and Eversource Energy that will send power to Connecticut and Massachusetts, and Dominion's 2,640 MW commercial Coastal Virginia Offshore Wind (CVOW) project.
Permitting hurdles
The data show that permitting, not cost, is the limiting factor. And states as well as the federal government often are the culprits in permit delays.
It's not enough to just get awarded a lease to build an offshore wind facility, IHS Markit Senior Research Analyst Abhishek Singh said. Developers then must contend with obtaining a variety of environmental permit, equipment design, construction, and operation plan approvals from BOEM as well as other federal, state, and local agencies.
"Permitting for any commercial offshore wind project is a matter of years, not just months," Anthony Buxton, who chairs Preti Flaherty's energy practice in Portland, Maine, and served as the regulatory counsel for the New England Aqua Ventus I project—the first demonstration floating offshore wind project in New England and the nation. The New England demonstration project, which also will showcase a first-of-its-kind floating platform made of concrete, is scheduled to come online in 2023. The floating offshore wind turbines that Norwegian oil firm Equinor has successfully installed off the coasts of Norway and Scotland. The difference is the European floating turbines are made of steel, and are akin to a "straw floating in glass," Buxton said.
Until now, Buxton said, a developer has typically been looking at a five-to-eight-year period between filing a permit application and coming online. Others like De Bow place the timeline at least 10 years.
It took Dominion just shy of eight years to get all the necessary permit and design approvals to have its 12-MW pilot project in service off the Virginia coast in fall of 2020. The pilot became operational in October 2020 and entered service in January 2021.
The CVOW pilot project, which is the first one to be owned by an electric utility, has been an important first step toward offshore wind development for Virginia and the United States, company spokesman Jeremy Slayton said. With its completion, Dominion is developing the next installation - the 2,640 MW CVOW commercial project, where it plans to apply the lessons it learned in seeking permits and approvals.
The proposed commercial offshore wind project, which Dominion says would be the nation's largest offshore facility, is in the throes of securing federal and state approvals and won't come online before 2026. The Richmond, Virginia-based utility said construction won't begin until 2024, as BOEM must approve Dominion's commercial and operating plan, which was submitted in December 2020.
The Trump administration is suspected of using the environmental impact study of Vineyard Wind's impact along the entire Atlantic Coast as a reason to hold up the project, Buxton said. "Maybe that assessment will help solve the need for further studies as this one was done so extensively," he added.
De Bow, who is currently a senior adviser at the environmental and water permitting firm of Dawson & Associates, describes the federal permitting process as "ominous."
In the US, one of the biggest impediments to progress is making sure projects not only comply with federal laws, but also state coastal management plans, he said.
The process also entails extensive coordination and approvals from various federal agencies, De Bow said; and it's more complicated if they aren't on the same page, not to mention objections from special interests like the fishing industry or citizen groups that are looking to protect marine life.
To date, BOEM has approved not a single construction and operation plan for any major offshore wind project, Mark Kresowik, the eastern deputy regional director of the Sierra Club's Beyond Coal Campaign told IHS Markit.
Vineyard Wind was the only developer that came close to the finish line, but its approvals were held up too by BOEM under the prior administration, Kresowik said. This 800-MW project off the Massachusetts coast may have lost a year due to the BOEM holdups, Buxton said, adding that is his opinion.
Lack of infrastructure
A lack of support infrastructure also is hampering progress in the US offshore wind sector, Buxton said, especially compared with developments across the Atlantic Ocean in Europe. Port facilities capable of handling and staging materials and equipment for the foundations of offshore facilities that are bolted into the seabed are needed, or which float, he said. Offshore wind turbines can measure 850 feet from the water to the tip of the blade, while floating offshore wind platforms, which developers find can easily be deployed in waters deeper than 60 meters, can span 300 feet in diameter, about the size of a football field.
"Europe has already developed the infrastructure, but we are still in the beginning stages," Buxton said.
According to a 21 January IHS Markit outlook for floating offshore wind, almost 80 MW of floating wind capacity is installed in the United Kingdom, Japan, France, and Norway, and more than 150 MW is either under construction or has been approved by local authorities in the United Kingdom, Portugal, and Norway.
Buxton and De Bow also pointed to the lack of certain classes of vessels that are compliant with the Jones Act, a century-old US maritime law requiring goods, including offshore wind equipment, only be transported between US ports and waters on ships built, owned, and operated by US citizens or permanent residents.
Dominion in December announced plans to build the nation's first Jones Act-compliant vessel capable of transporting foundations and turbines from ports to offshore sites. This vessel, with a hull length of 472 feet and a width of 184 feet, also will include a main crane with a boom length of 426 feet and lifting capacity of 2,200 short tons.
The company expects the offshore wind turbine installation vessel to be available to support US offshore wind turbine installations by the end of 2023, according to Slayton.
Once constructed, Slayton said, "the vessel will be available for charter hire, including by Dominion Energy Virginia, subject to the approval of the Virginia State Corporation Commission, in connection with the installation of the [CVOW] commercial project."
In the interim though, offshore wind developers must rely on foreign-flagged vessels that will supply equipment via Jones Act-compliant feeder vessels.
States driving offshore wind
Sierra Club's Kresowik expects to see a whole suite of projects receive approval from New York to Virginia, Massachusetts to Maryland, and New Jersey under the Biden administration.
States along the East Coast are driving demand for offshore wind, according to IHS Markit's Singh.
Connecticut, Maryland, Massachusetts, New Jersey, New York, and Virginia have established targets to procure a total of 28 GW of power produced by offshore wind facilities by at least 2035 and had selected approximately 9 GW of projects as of January 2021 to help meet these goals, he added.
US offshore wind development is and will continue to be paced by state mandates rather than strictly competitive economics, according to IHS Markit's McDonald.
"The lower project levelized cost of electricity (LCOE) made possible (for longer) by the latest federal policy developments could inspire eastern states to increase mandates beyond current levels, which could then lead to a higher build," McDonald said.
IHS Markit estimates the current LCOE through the lifetime of an offshore facility is $103 per megawatt-hour (MWh).
Aside from economics, the benefit of offshore wind, as most of the world is discovering, is its high capacity factor of 65%, which is much higher than the average 35% capacity factor that the US Energy Information Administration calculated for wind in 2019.
Buxton said the high capacity factor for offshore wind alone could be a boon for Biden who is seeking to replace fossil fuels and especially for Northeastern states, which are looking to reduce their reliance on fossil fuel for heating during the winter months.
'Dramatic impact' of tax credit
The recently enacted investment tax credit for offshore wind generation is expected to have a dramatic impact in the current decade, driving LCOEs as much as $22/MWh lower than they would have been absent the extension, according to an IHS Markit outlook for the North American renewable power industry published in December 2020.
US Senator Ron Wyden, Democrat-Oregon, worked with then Senate Finance Committee Chairman Chuck Grassley, Republican-Iowa, to secure the offshore wind tax credit in a December 2020 spending package that also included a host of reforms to modernize the US energy sector.
"I hope these extensions serve as a bridge to the comprehensive reform desperately needed to end our dependence on Big Oil and ensure that green jobs are good jobs. I plan to keep at it until America kicks its carbon habit once and for all," said Wyden at the time.
On 4 February, Wyden assumed the helm of the chamber's finance committee, which will oversee any future tax credit expansions or extensions.
RELATED INDUSTRIES & TOPICS