Customer Logins
Obtain the data you need to make the most informed decisions by accessing our extensive portfolio of information, analytics, and expertise. Sign in to the product or service center of your choice.
Customer Logins
Analysis: American Propane Entrenches Itself Again in China's Import Mix

22 September 2020
Rajesh Joshi
Propane exports from the United States to China since the second quarter have quietly scaled up to levels seen before the tariff war dried up that flow in the fall of 2018, even as current headlines depict a deteriorating trade relationship between the nations.
IHS Markit experts believe these flows could have staying power. Startups of new propane dehydrogenation (PDH) units and propane-capable steam crackers in China through the end of 2021 increase China's need for propane imports, and U.S. supplies would also benefit from this demand, IHS Markit projects. IHS Markit is the parent company of OPIS.
Data from the IHS Markit Global Trade Atlas (GTA) for the four months from April to July 2020 show American barrels accounted for 32.4% of China's total propane imports (1.672 million mt out of 5.154 million mt). A group of five Middle East suppliers -- the United Arab Emirates, Saudi Arabia, Qatar, Oman and Kuwait -- together accounted for 47.6% (2.455 million mt) of Chinese imports in this four-month period.
The United States was the single largest supplier of propane to China in these four months, according to GTA data.
Flows of U.S. exports were kickstarted after the January 2020 signing of a Phase One trade agreement that obliged China to increase purchases of U.S. goods by $200 billion over 2017 levels, including agricultural and energy commodities.
Contrary to reports that this pact had frayed, officials of both nations on Aug. 24 had a phone call to discuss ongoing implementation of the deal.
U.S. Trade Representative Robert Lighthizer, U.S. Treasury Secretary Steven Mnuchin and Chinese Vice Premier Liu He were reported to have participated in the call, the first such outreach since May. "Both sides see progress and are committed to taking the steps necessary to ensure the success of the agreement," the U.S. Trade Representative's office said in a statement afterwards.
"Current political rhetoric [between the two countries] has not directly affected the LPG business," IHS Markit NGL executive director Yanyu He told OPIS. "China after the agreement was signed appears to have immediately resumed purchases of U.S. propane, after the retaliatory tariff was lifted."
GTA data show U.S. exports of propane to China at zero almost uninterrupted from September 2018 through March 2020, following the tit-for-tat tariff imposition in summer 2018 that had slapped U.S. supplies with an incremental 25% levy.
Before this standoff, the last "normal" month for U.S. propane was July 2018, when U.S. shipments of 0.137 million mt accounted for 12.7% of China's total imports of 1.075 million mt. The Middle East group of five supplied 0.72 million mt that month, 67% of Chinese imports.
Officially reported U.S. exports to China resumed in April 2020, totaling 0.229 million mt. The May 2020 total of 0.63 million mt was 42.7% of that month's Chinese imports and the highest monthly export total from the U.S. to China ever recorded in GTA data. U.S. volumes to China dipped to 0.381 million mt in June 2020 and rebounded to 0.433 million mt in July 2020, as per latest GTA statistics.
This interplay between U.S. and Middle Eastern barrels happened during some noteworthy events:
The short-lived crude oil "price war" between Saudi Arabia and Russia in March was supposed to boost Saudi LPG production, but the increase in U.S. shipments happened during this period.
The price of U.S. propane had slipped significantly in the March to May period, thereby opening up arbitrage opportunities. However, the price of naphtha at the time was even weaker, making naphtha an equally or more attractive feedstocks option for flexi-crackers.
Contrary to expectations, neither U.S. propane production nor total U.S. exports have significantly slowed down so far, as some experts had projected in March. Despite this, the price of U.S. propane actually increased since March.
The propane-naphtha spread weakened significantly in and after June as U.S. prices reached much higher levels. The arb was affected further by an increase in freight. However, U.S. propane exports to China appear to have held firm.
Specific to China, Yanyu He said LPG availability going forward would be dictated by global factors such as Middle East oil production recovery and U.S. export volumes, as well as regional factors such as Chinese refinery output.
Nonetheless, China's appetite for all feedstocks -- including ethane, naphtha and LPG -- is growing. An IHS Markit list of projects shows new ethylene steam crackers with a combined output of 10.6 million mt per annum of ethylene lined up in China from 2019 to 2021:
SP Chemicals, 0.65 million mt, started 2019
Zhejiang PC, 1.4 million mt, started first quarter 2020
Hengli Petrochemical, 1.5 million mt, started first quarter 2020
Liaoning Bora PC, 1 million mt, projected by fourth quarter 2020
Sinochem Quanzhou, 1 million mt, projected by fourth quarter 2020
Wanhua Chemical Group, 1 million mt, projected by fourth quarter 2020
Sinopec KPC, 0.8 million mt, projected by fourth quarter 2020
Zhejiang Satellite, 1.25 million mt, first quarter 2021
Huatai Shengfu, 0.6 million mt, first quarter 2021
Petrochina Lanzhou, 0.8 million mt, mid-2021
Petrochina Tarim, 0.6 million mt, end-2021
Of these, Wanhua's cracker is designed to primarily crack propane, while Zhejiang Satellite is expected to rely solely on ethane. Petrochina's Lanzhou and Tarim plants will rely on ethane from Petrochina's own oilfields in Northwest China. The remaining plants will rely on LPG, naphtha or ethane depending on their design flexibility.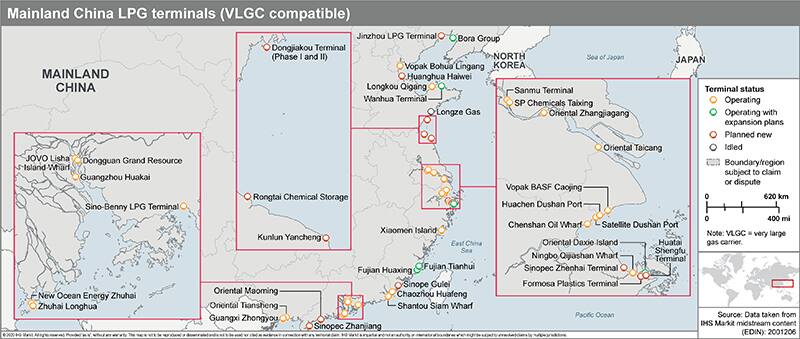 The above IHS Markit map shows the new and planned import terminals in China. Existing and new steam crackers and PDH units such as the ones listed in the article would need to have access to these facilities, if they intend to source overseas LPG supplies based on their own feedstock economics and internal needs.


The exact amount of propane that will be fed into the above slate of projects on a monthly basis is therefore a fluid number, He said. However, the above list confirms a higher need for imports, of which the United States would take a share, he added.
New PDH developments in China provide another signal of increased propane consumption. Demand quantities are a bit more definite here. IHS Markit's project list includes the following (output listed in terms in propylene capacity):
Huahong New Materials, 0.45 million mt, started second quarter 2020
Zhejiang PC, 0.6 million mt, projected by third quarter 2020
Ningbo Fuji, 0.66 million mt, projected by fourth quarter 2020
Fujian Meide, 0.66 million mt, projected by fourth quarter 2020
Anqing Taiheng, 0.2 million mt, first quarter 2021
Jinneng Science & Technology, 0.9 million mt, mid-2021
Ningxia Runfeng, 0.3 million mt, mid-2021
FPC Ningbo, 0.6 million mt, end-2021
This fleet represents a total of 4.37 million per annum in new propylene capacity through the end of 2021, representing an estimated 5.2 million-5.4 million mt per annum of new propane demand.
He cautioned that this demand number remains subject to two material caveats -- whether all PDH units start up as projected, and at what capacity they operate.
However, he said it would be fair to expect U.S. supplies to capture at least some of this demand.
"The fact that U.S. exports to China have already resumed suggests both trade partners are already working towards this objective," he noted.
--------
Gain greater transparency into Asia-Pacific markets for more strategic buy and sell decisions on refinery feedstocks, LPG and gasoline with the OPIS Asia Naphtha & LPG Report. Learn more and request your free trial here.


---
Follow IHS Markit Energy
RELATED INDUSTRIES & TOPICS
{"items" : [ {"name":"share","enabled":true,"desc":"<strong>Share</strong>","mobdesc":"Share","options":[ {"name":"facebook","url":"https://www.facebook.com/sharer.php?u=http%3a%2f%2fihsmarkit.com%2fresearch-analysis%2fanalysis-american-propane-entrenches-again-in-china-import-mix.html","enabled":true},{"name":"twitter","url":"https://twitter.com/intent/tweet?url=http%3a%2f%2fihsmarkit.com%2fresearch-analysis%2fanalysis-american-propane-entrenches-again-in-china-import-mix.html&text=Analysis%3a+American+Propane+Entrenches+Itself+Again+in+China%27s+Import+Mix+%7c+IHS+Markit+","enabled":true},{"name":"linkedin","url":"https://www.linkedin.com/sharing/share-offsite/?url=http%3a%2f%2fihsmarkit.com%2fresearch-analysis%2fanalysis-american-propane-entrenches-again-in-china-import-mix.html","enabled":true},{"name":"email","url":"?subject=Analysis: American Propane Entrenches Itself Again in China's Import Mix | IHS Markit &body=http%3a%2f%2fihsmarkit.com%2fresearch-analysis%2fanalysis-american-propane-entrenches-again-in-china-import-mix.html","enabled":true},{"name":"whatsapp","url":"https://api.whatsapp.com/send?text=Analysis%3a+American+Propane+Entrenches+Itself+Again+in+China%27s+Import+Mix+%7c+IHS+Markit+ http%3a%2f%2fihsmarkit.com%2fresearch-analysis%2fanalysis-american-propane-entrenches-again-in-china-import-mix.html","enabled":true}]}, {"name":"rtt","enabled":true,"mobdesc":"Top"} ]}