Customer Logins
Obtain the data you need to make the most informed decisions by accessing our extensive portfolio of information, analytics, and expertise. Sign in to the product or service center of your choice.
Customer Logins
An update on Latin American bid rounds

Argentina
G&P Neuquen launched the "V Ronda Licitatoria del Plan Nuevos Horizontes" in April 2017, offering six blocks in the Neuquen Basin. The blocks are: Cerro Arena Sur, Las Tacanas Norte, Bajo del Toro Este, Aguada de Castro Oeste I & II, Parva Negra Oeste and La Tropilla 1. It has been said that smaller independent oil and gas operators will be favoured, although the industry as a whole is invited to apply. Bids will be opened on 14 September 2017, with awards to follow on 4 October.
The province also plans to launch a separate bid round called "Plan Exploratorio Neuquen". This "open door" quarterly round will offer opportunities for approximately 50 under-explored blocks that are currently held by provincial oil and gas company GyP Neuquen with no activities. The tender is currently expected to begin on 2 October 2017.
The Ministry of Energy and Mines is planning to open the Round 1 Offshore Bid Round in the fourth quarter of 2017, currently anticipated to involve six to ten blocks in the Austral Basin and possibly an undisclosed number of blocks in the western part of the Malvinas Basin. Awards are expected in 2018.
The Ministry is also understood to be tentatively planning two deep-water Atlantic rounds in 2018 and 2019, focused on the Rio Salado, Colorado and Argentina basins. Blocks in the northern part of the continental shelf slope will be released first as Round 2 in 2018, while remaining blocks in the southern part are planned for Round 3 in 2019. Contract awards for Round 2 and 3 are expected in 2019 and 2020, respectively.
Brazil
The Ministry of Mines and Energy (MME) has indicated that the ANP Round 14, offering a total of 287 blocks, will close on 27 September 2017. Of these, 110 blocks are located in offshore Campos, Santos, Espirito Santo, Sergipe Alagoas and Pelotas basins, while 177 blocks are located in onshore Espirito Santo, Paraná, Parnaíba, Potiguar, Recôncavo, and Sergipe Alagoas basins. More information is available from www.brasil-rounds.gov.br.
The 2nd Pre-Salt Bid Round and the 3rd Pre-Salt Bid Round are being held concurrently, each offering four blocks in the Santos and Campos basins. The first includes the Norte de Carcara, Sul de Gato do Mato, Entorno de Sapinhoa and Sudoeste de Tartaruga Verde blocks, while the second includes the Peroba, Pau Brasil, Alto de Cabo Frio Central and Alto de Cabo Frio Oeste blocks. Bids for both rounds are due on 27 October 2017. Of note, Petrobras will have preferential rights to the Entorno de Sapinhoa, Alto de Cabo Frio Central and Peroba blocks, with a minimum of 30% working interest.
Colombia
The Agencia Nacional de Hidrocarburos (ANH) has adopted a new system for allocating areas for hydrocarbon exploration and production. Rather than conducting bid rounds every few years, there will be a continuous number of blocks on offer. Any company that expresses an interest in a block will 'open' the competition by submitting a bid notification. Once a bid is made, the ANH will inform the market and give 30 days for other companies to make competitive bids, as well as for the original bidder to improve its offer. The first release is expected in the second week of August 2017, with 15 blocks in the Sinu-San Jacinto Basin. In all, the authorities are looking to offer some 40 blocks under this scheme by the end of first quarter 2018, including six to eight blocks in the Caribbean Sea.
Cuba
The country currently has an open licensing round for direct negotiations. BGP recently completed a 25,000 km, 2D long-offset, high resolution, broadband seismic and gravity programme off the northwestern coast, on behalf of the Cuba-Petroleo Company (Cupet). Final results will be made available in the fourth quarter of 2017. Cupet intends to offer exploration rights in the area through a licensing round.
Ecuador
The Ronda Campos Menores 2017 was officially launched on 27 June 2017. The main objective for the government is to attract investment in 15 Petroamazonas' fields in order to increase oil production, which is currently lower than 5,000 b/d. Interested parties are invited to submit their proposals by 7 August 2017. According to Petroamazonas General Manager, Alex Galarraga, "Our main objective as a company is to increase the production of our fields with social and environmental responsibility. We are looking for strategic partners that have the technical and economic conditions to develop these projects." The last offered bid round in Ecuador was the 11th (Suroriente Exploration) Bid Round held in 2012.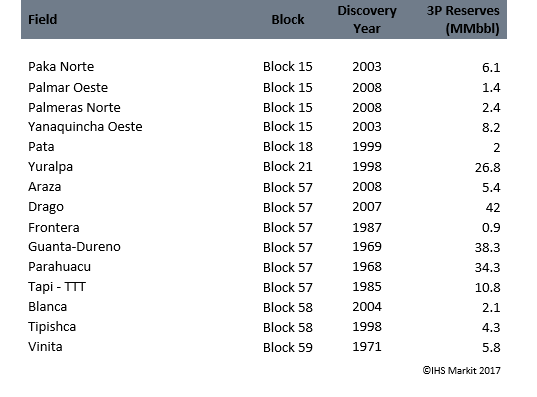 Figure 1: Ronda Campos Menores 2017
French Guiana
Nicolas Hulot, Minister of Ecological and Social Transition, has announced that France will not issue any new permits for oil and gas exploration. Mr Hulot, who was appointed in May following the election of President Emmanuel Macron, stated that he intends to prepare a draft of the law in the third quarter of 2017. Also implicated are French overseas regions, including French Guiana.
Guatemala
The Ministry of Energy may announce a bid round for 2018, with 13 onshore blocks to be possibly offered. No further details have been released so far. The country's last bid round was held in 2012.
Guyana
Licensing is conducted by the Ministry of Natural Resources. For more information, visit the ministry website at https://www.nre.gov.gy.
Mexico
The farm-out bid rounds for the Cardenas and Mora fields (CNH-A3-Cardenas-Mora/2017) and for the Ogarrio field (CNH-A4-Ogarrio/2017), all located onshore in the Sureste Basin, are running concurrently with the CNH-A2-Ayin-Batsil/2017 tender. The deadline for bid submissions is 4 October 2017. Winning bidders for the onshore fields will be granted 25-year development licences, with two possible extensions of five years each. PEMEX will retain a 50% carried working interest in each contract, with the partners holding operatorship. According to the Secretaria de Energia (SENER), the Cardenas, Mora and Ogarrio fields jointly hold remaining 2P reserves of 197 MMboe. For the Ayin-Batsil block, the winning bidder will have to carry PEMEX for USD 250 million for previous work conducted in the block attributable to its 50% working interest.
SENER has announced significant changes to its multi-year bid round plan, known as 'Plan Quinquenal'. Only two bid rounds will be held per year, starting in 2018. Other changes include a nominations process by industry of the 537 blocks that the agency has designated as available, a simplified qualification process, and standard block sizes. After the results of Rondas 2.1, 2.2 and 2.3, and the launch of Ronda 2.4, there are now a total of 484 nominations blocks. However, as was seen in Ronda 2.4, SENER accepted a nominations request by industry for a block in the Yucatan Platform that was not included as an original nominations block. Another modification to the March 2017 Plan Quinquenal that occurred with the launch of Ronda 2.4 was the omission of any onshore unconventional blocks. These blocks will be included in a separate round.
Ronda 2.4 (CNH-RO2-LO4/2017), comprising only deep water acreage, was launched on 19 July 2017. Of the 30 blocks on offer, nine are in the Perdido Area of the Deep Water Gulf of Mexico, 10 in the Mexican Ridges Province, 10 in the Salina Sub-basin of the Campeche Deep Sea Basin, and one in the Campeche Escarpment Basin. Bids are due on 31 January 2018.
The blocks associated with the Maximino-Nobilis farm-out bid round may be launched in the coming weeks.
Peru
Perupetro hopes to pass a series of reforms to allow the licensing authority the flexibility to carry out seismic studies, lower royalties, downsize blocks and make contracts less constraining. According to Perupetro President Rafael Zoeger, the agency plans to start a bidding round for a package of 54 exploration and production blocks divided into nine areas in the second half of 2017.
Suriname
Licensing is conducted by the state oil company, Staatsolie under its "Open Door Invitation for Onshore and Offshore Suriname". Of note, the process is currently suspended and may resume on 15 September 2017.
Trinidad and Tobago
The Ministry of Energy plans to announce an offshore bid round in late 2017, which may include deep water blocks located near the Le Clerc 1 well.
Uruguay
ANCAP is planning to launch Uruguay Round III on 18 September 2017 in Houston, Texas, at the beginning of a roadshow that will also go to London, UK on 18 October 2017. Data rooms will be available at both venues. In total, 17 offshore blocks are expected to be offered in the Pelotas, Rio Salado and Argentina basins, ranging in size from 2,500 to 6,500 sq km. Interested parties will be invited to qualify by 6 April 2018, and bid openings will take place on 26 April 2018. The terms and contract model will likely be in line with those adopted for the previous round, although less restrictive as a result of the low oil price environment. ANCAP intends to divide the acreage into three classes of blocks - A for shelf, B for shelf to deep water, and C for ultra-deep water - and propose incentives for the latter two categories due to the higher risk. Type I category includes Areas 1, 2, 3, 5, and 6, with locations in shallow waters up to 100 m, along with lower qualification requirements for companies and an exploratory period of eight years. The majority of the blocks offered in the round fall under the Type II category, located in deep waters between 100 m up to 3,500 m, namely Areas 4, 7, 10, 11, 12, 16, 17, and 18 with the same exploratory period length of eight years. Finally, Areas 19, 20, 21, and 22 are categorized as Type III, located in ultra-deep waters and with longer exploration periods of up to ten years.
For additional insights on the Latin America bid rounds, register for our on-demand webcast series covering the bid rounds.
Learn more about the International Energy Letter and the IHS Markit Upstream Intelligence Service including, Global Exploration & Production Service (GEPS), License Round Monitor (LRM), and Daily Exploration Alerts (DEA).
Tiziana Luzzi is a Technical Research Associate Director at IHS Markit.
Posted 8 August 2017
---
Follow IHS Markit Energy
RELATED INDUSTRIES & TOPICS