Customer Logins
Obtain the data you need to make the most informed decisions by accessing our extensive portfolio of information, analytics, and expertise. Sign in to the product or service center of your choice.
Customer Logins
AMOLED panel makers train their eyes on automotive

After staking out important positions in the TV and smartphone spheres, the makers of AMOLED panels are setting their sights on the automotive space to serve up better display performance and greater flexibility in design.
The move into new territory is a practical one: AMOLED capacity currently is in oversupply because of smaller-than-expected panel demand from smartphones, a market where display panels are heavily exposed and nearly saturated. In response to softening demand, panel makers are working to develop more AMOLED applications to consume the glut in capacity.
This is where automotive comes in. With their superior images, AMOLED displays are perceived by consumers to provide higher value for their cars. For car OEMs, AMOLED can provide a slim, bendable form factor with fast response times and high contrast ratios compared to TFT LCD, which are features highly appreciated in the automotive market as they provide better display performance and more fluid designability.
For these reasons, automotive has become a key growing market for the display industry. As can be seen in the graphic below, taken at SID Display Week 2018, display makers showed various AMOLED plays targeting the automotive display.
Several car makers have shown interest in AMOLED as automotive displays; among them are Volkswagen/Audi, Daimler/Mercedes-Benz, Toyota/Lexus, and GM/Chrysler. For instance, Audi in 2017 adopted a 5.7‑inch full HD (FHD) display in the A8 as its rear-seat remote display application. But according to the Automotive Display Market Tracker, the upcoming Audi e-Tron will have two 7‑inch 1280 × 800 AMOLED display panels as side-mirror displays; both are rigid AMOLED supplied by Samsung Display.
The new interest surrounding AMOLED has not been lost on domestic Chinese automobile brands, which have recently started investigating AMOLED feasibility for future models.
However, automotive displays require higher reliability requirements and a longer development cycle than in consumer electronic applications. Among the major challenges faced by AMOLED in the automotive market are color shifting over time and in high-temperature environments, as well as low brightness. Moreover, TFT LCD automotive display panel prices are dropping more quickly than ever before as many suppliers join the market, making AMOLED displays and their higher prices unpalatable in comparison.
Overall, global shipments this year of AMOLED displays for the automotive market are forecast to reach 35,000 units, according to the Automotive Display Market Tracker. By 2021, shipments worldwide will exceed 1 million units, as shown in the chart below. An additional increase in shipments is expected in 2022 as more suppliers join the market.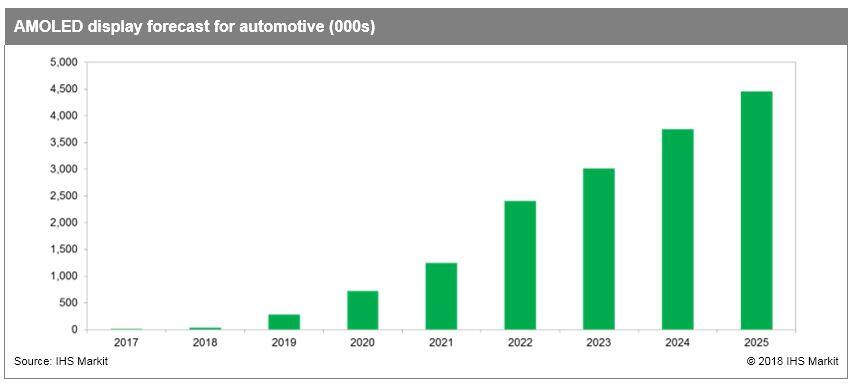 The current leaders in supplying AMOLED panels are the South Koreans, given that both LG Display and Samsung have been promoting AMOLED to automotive makers for many years. Samsung, which produced a small quantity of rigid AMOLED for automotive in 2017 for rear-seat remote displays, is expected to ship side-mirror displays from its Gen 4 A1 rigid AMOLED fab in late 2018. Samsung also plans to have flexible AMOLED from its A2 fab line for automotive, but it does not have any projects for now in development.
LG Display will be the second panel supplier to produce AMOLED for automotive. But unlike Samsung, LG is only at a development stage for flexible plastic OLED, manufacturing the material at the company's E2 fab as samples. LG then plans to mass-produce at its E5 fab in the second half of 2019. AMOLED has become important to LG Display to differentiate its offerings from that of other panel suppliers and to win the premium market.
For their part, Taiwanese panel suppliers lack the resources to invest in AMOLED and will focus instead on mini-LED or micro-LED solutions. JOLED, working with Denso, plans to deploy its inkjet printing technology for automotive displays in 2022. The Chinese panel makers, meanwhile, are gradually ramping up capacity, aiming to join the small circle of AMOLED makers in 2020. The Chinese panel makers that have shown interest in expanding their AMOLED business to automotive include BOE, Tianma, Visionox and EverDisplay.
The table below shows the current suppliers of AMOLED products for automotive, as well as the fab lines of suppliers, and the development status of specific products for use in automotive.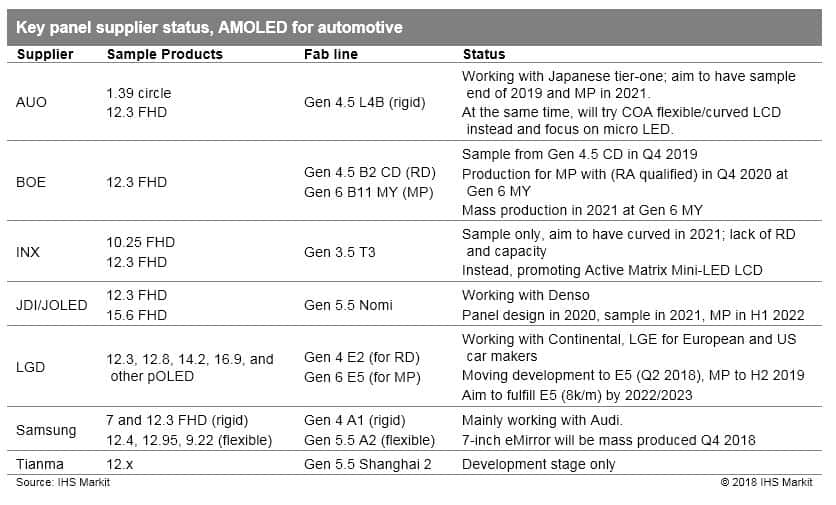 David Hsieh is Research & Analysis Director within the IHS Technology Group at IHS Markit
Posted 19 September 2018
RELATED INDUSTRIES & TOPICS