Customer Logins
Obtain the data you need to make the most informed decisions by accessing our extensive portfolio of information, analytics, and expertise. Sign in to the product or service center of your choice.
Customer Logins
AMNOG One Year On: How Will German Health Reform Impact Pharma Market Access in 2012?

02 February 2012
Anne-Charlotte Ackermann
2012 is already a busy period for German watchdog IQWiG. With five early benefit assessments published since the New Year, and three more to come in February, IQWiG has never been so productive since the implementation of the German health reform - AMNOG - which links pharmaceutical pricing to added therapeutic benefit scores.

In 2011, it took German authorities over nine months to issue their first assessment under the new pricing scheme. One year on, and only ten new therapies have gone through early benefit assessment. Sadly for the industry, first outcomes confirm the G-BA's tough approach towards innovation, and show how difficult it is to succeed in the delicate task of selecting an appropriate comparator.

Brilique - First to Pass G-BA Test with Success
This aside, 2012 is already shaping up to be more active year, and we can expect many of the questions and uncertainties surrounding AMNOG to be addressed. Ten novel therapies are already under early benefit assessment, and pricing negotiations have started for AstraZeneca's heart drug Brilique (ticagrelor).

The G-BA has issued final verdicts for Brilique, as well as Kowa Pharmaceuticals' branded drug Livazo (pitavastatin). With an important additional benefit (rating of 2) obtained in patients with non-ST-elevation myocardial infarction and in those with unstable angina pectoris (UA), Brilique is the first to qualify for price negotiation with the health insurance under AMNOG.

Kowa, however faces challenges, since Livazo has been incorporated into the reference-pricing system after it was found to bring no additional benefit compared with other statins. This came as no surprise to Kowa, as statins have been reference priced since 2005 in Germany. With AMNOG, the system is today common to all therapeutic areas, and entails a risk of low prices for novel therapies that fail to outdo established alternatives.

Added Therapeutic Benefit Scores
Under AMNOG, the level of added therapeutic benefit granted to newly approved drugs is based on a scoring system ranging from 1 to 6:

1: Major added benefit over comparator 2: Significant added benefit 3: Slight added benefit 4: Unquantifiable added benefit 5: No added benefit proven 6: Less than comparator

The score greatly impacts their pricing prospect of drugs in Germany. Those deemed to bring an incremental therapeutic benefit (score ranging from 1 to 4) qualify for price negotiations, and may obtain a price premium over the appropriate therapeutic comparator. But medicines which are either comparable or inferior in terms of patient-related outcomes (score of 5 or 6) will get a non-negotiable price under Germany's reference-pricing system.

So far, approximately 60% of novel therapies were considered to bring a therapeutic benefit in at least one patient subgroup, and are thereby likely to enter into price negotiations with the statutory health insurance upon confirmation from the G-BA.


The chart below shows the added therapeutic benefit scores granted by IQWiG to new medicines so far.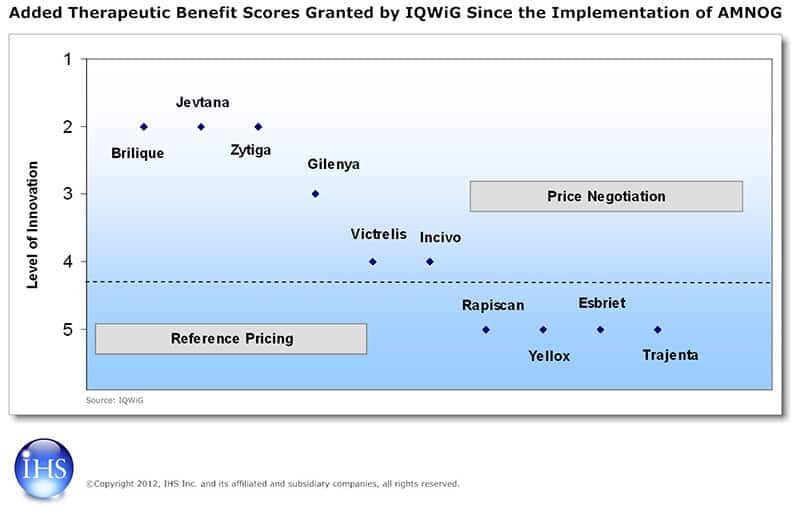 A Hurdle for Pharma Market Access in Germany: Comparator Selection
The G-BA's stringent selection of the cheapest appropriate comparator is set to represent a significant hurdle for pharma market access in Germany. Out of the ten products assessed last year, four have obtained poor innovation scores: Esbriet (pirfenidone), Livazo (pitavastatin), Yellox (bromfenac) and Trajenta (linagliptin), and a majority of manufacturers have struggled - sometimes declined - to provide comparative data versus the appropriate comparator selected by the G-BA.

What is certain is that deviating from the G-BA's selected comparator, without sufficient justification, will result in a negative pricing prospect. Boehringer Ingelheim paid the price for its choice of using a gliptin instead of the appropriate comparator by obtaining a negative opinion for its new drug Trajenta.

Some Positive Verdicts from IQWiG
On the positive side, the good innovation scores granted to Brilique and prostate cancer drugs Zytiga (abiraterone) and Jevtana (cabazitaxel) suggest that IQWiG has somehow evolved under the direction of Jürgen Windeler. But has IQWiG really left its critical attitude towards the industry behind? What is sure is that the health economic assessment body remains stringent and sticks to its principles. All three medicines are admittedly innovative but, in IQWiG's view, in a restricted patient population only. As for cancer medicines, both Zytiga and Jevtana were shown to increase overall survival (OS) versus standard of care; endpoint which is clearly preferred by the Institute. How IQWiG will deal with cancer drugs bringing an improvement in progression-free survival (PFS) remains vague.

For Zytiga, Jevtana and Brilique, a price premium is expected over standard of care. That said, it's worth remembering that negotiations will take into account the different levels of innovation granted per patient subgroup.

Another sign of IQWiG's rigorousness is the way it classified the respective added benefits of Hepatitis C treatments Victrelis (boceprevir) and Incivo (telaprevir) as "unquantifiable" because both refer to the surrogate outcome "sustained virological response" (SVR), which is not a patient-relevant outcome per se for IQWiG.

More to Come
Results of the early benefit assessment of Pfizer's (US) Dupuytren's contracture treatment Xiapex, Eisai's (Japan) breast cancer drug Halaven and GSK's (UK) Trobalt are scheduled to be published by IQWiG this month.

Posted 2 February 2012
RELATED INDUSTRIES & TOPICS