Customer Logins
Obtain the data you need to make the most informed decisions by accessing our extensive portfolio of information, analytics, and expertise. Sign in to the product or service center of your choice.
Customer Logins
Amazon HQ2 search ends in a split decision

Amazon's long, public audition of sites for its planned second headquarters (to supplement its existing headquarters in Seattle) ended with the selection of the Long Island City neighborhood of Queens, NY and the Crystal City area of Northern Virginia, as co-winners. Instead of one site with a planned workforce of around 50,000, each site will host around 25,000 employees. Amazon says that the average salary of its employees will be over $100,000, so each metro area stands to gain an infusion of at least $2.5 billion in annual wages and salaries.
The influx of higher-wage jobs may fit right in in Arlington County, VA, which has an average annual wage of $95,00, but will be more noticeable in Queens County, NY, with a current average wage of $53,000. Long Island City is already amid a transition from an industrial area to a mix of residential, retail, and service-oriented business. Each location is across a river (the Potomac and East, respectively) from the metro core, but accessible via public transit - a key criteria for Amazon Labor supply a key factor The selection of the largest and fifth-largest metro economies in the United States gives Amazon access to a massive labor pool to find the top talent available to fill headquarters facilities. The current labor-market situation, with extremely low unemployment rates, coupled with tight housing markets, likely played a role in the "split decision," instead of trying to hire and house 50,000 workers in one spot. The additional disposable income in these metro areas will spur job creation in other local service industries, as the added workers spend money locally on goods and services.
While several metro areas were worthy contenders, New York and Washington, likely stood out for the availability of workers in professional and business services and information services, as well as the overall size of their metro economies. By its sheer size, the New York City area ranks at the top by size in many economic categories, including employment and gross metro product. Among the metro finalists, only Boston has a higher real gross metro product per capita than the winners. The Washington, DC, area ranks especially highly in its concentration of workers in professional and business services, and has long had one of the largest high-tech workforces in the country. New York also stands out as a centers of power in the media and financial sectors, while Washington is the center of political and regulatory decisions.
Given the split decision, plus the size of the winning metros, Amazon's additional jobs will have a smaller direct impact than they would have had in smaller areas. An infusion of $2.5 billion in wage and salaries amounts to 1% of total wages and salaries in the DC area in 2017, and one-third of one percent in New York City. The indirect and induced jobs created by Amazon's presence could easily double that impact, though, while the impact on the immediate neighborhoods will be far greater.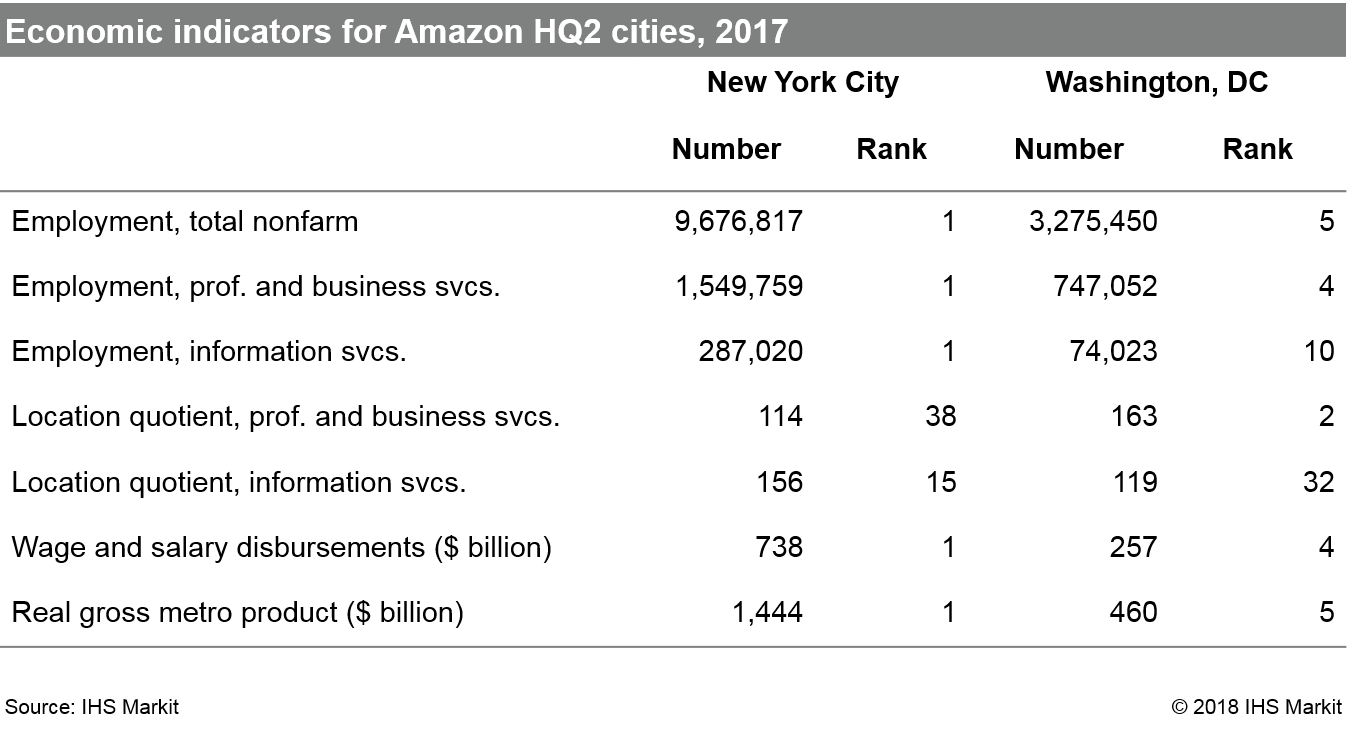 On the downside, both cities also have among the highest costs of doing business, housing costs, and traffic congestion in the nation. In the IHS Markit Metro Business Cost Index calculation, New York City had the fifth-highest cost of doing business among U.S. metros, with Washington, DC, close behind in seventh. New York City has the sixth-highest average home prices outside the state of California, while Washington, DC, has the ninth-highest. Outside of the entire west coast, they rank third and sixth, respectively.
Now comes the hard part
While the search process is over, the work is just beginning for Amazon and for local officials in the Long Island City and Crystal City areas. The addition of this many jobs will involve construction and renovation of office space and housing, along with infrastructure expansion and improvements. Of course, none of this is happening in a vacuum; for example, Google recently signaled its intention to double its New York City-area presence to 14,000 employees over the next ten years.
Amazon also announced that it will locate an East Coast operations hub for its distribution network in Nashville. Amazon's new Center of Excellence for its operations business will employ 5,000 workers in a 1 million square foot space. Nashville was among the 20 finalists for the HQ2 site; the information and outreach it provided to Amazon likely played a role in that decision.
Amazon's extended and public search process also put a spotlight on the subject of regional economic development, and the factors that major employers consider when making a large site investment. The exercise prompted cities to consider their relative strengths, what they might need to do, and what they are willing to do, in order to be attractive not just to Amazon but to a wider range of employers.
RELATED INDUSTRIES & TOPICS