Customer Logins
Obtain the data you need to make the most informed decisions by accessing our extensive portfolio of information, analytics, and expertise. Sign in to the product or service center of your choice.
Customer Logins
Artificial intelligence will be key to innovation and growth in system-on-chip solutions

Fueling much of today's ongoing transformative technologies are tiny but remarkably powerful bits of complex circuitry known as system-on-chip (SoC). And while SoCs are helping drive growth in the processor industry today, a key area of advancement in SoCs is their increasing integration of artificial intelligence (AI) capabilities.
Containing processors, memory, external communication interfaces, and other electronic components, SoCs pack sizable computing power into a small silicon chip no bigger than a coin. But these miniaturized chip solutions are especially valuable: In mobile phones and other battery-operated but highly intelligent devices where space for circuitry is at a premium, SoCs integrate the various components needed by smartphones and similar mobile devices to carry out all the complex tasks required by mobile computing and communications—all while consuming much less power and taking up less room than multichip designs with equivalent functionality.
System-on-chip solutions have been available and in use for some time—prominent examples include Apple's A12 Bionic series for the iPhone and iPad; Samsung's Exynos line for its Galaxy-series smartphones; and Qualcomm's Snapdragon SoC for smartphone brands like LG, HTC, and Google.
However, what will propel the SoC industry in its next big leap forward will be artificial intelligence, as AI-related demand spurs the creation of new technologies requiring more powerful chip solutions. This is true because SoCs will need immense computing power to deploy the complex algorithms characteristic of AI to machines, enabling them to structure high-level abstractions, process multiple layers of information, and perform myriad other cognitive functions normally associated with the human mind.
Chip manufacturers hoping to offer AI know-how and competencies will need to rely on AI-equipped SoCs and related hardware as a differentiating factor from their competition. Through efficient AI inference on the SoC, systems can then process the large quantities of data accompanying AI workloads, find meaningful patterns during data analysis, and extrapolate critical problem-solving insights.

Huge market potential ahead for SoCs
The SoC industry today is valued at $90 billion, but SoCs featuring AI functionality designed into the chip make up slightly less than 3% of the current market. Over the next couple of years, IHS Markit expects that virtually every major semiconductor manufacturer producing processors will want to carry a product line showcasing AI as a key feature.
Within the market for processors targeting AI application and use, IHS Markit projects global revenue in that space to rise to $37.1 billion by 2023, up from $9.9 billion in 2018, as the chart below shows.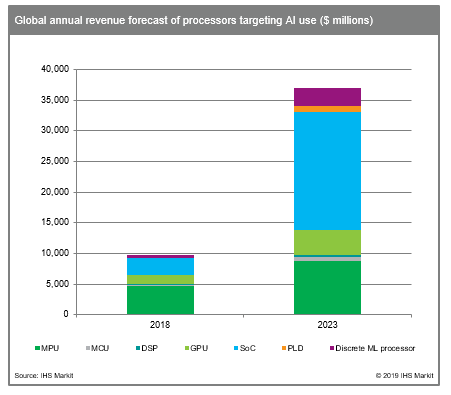 The anticipated uptake of AI-bearing SoCs will translate into robust growth for the miniature solutions. In the next five years, global SoC industry revenue is expected to approximately double each year so that by 2023, nearly half of all SoC solutions will contain built-in AI capabilities. In turn, these solutions will harness the power of AI to enable innovation and advance development further in next-generation technologies, such as facial recognition, advanced driver assistance systems in self-driving cars, and greater security features in everyday devices like smartphones and their cameras.
All told, SoCs with AI will create demand for new technologies and unlock fresh market opportunities, creating a virtuous circle that helps lift overall SoC industry revenue.
And the benefits don't stop there, as SoC market gains from AI are reciprocated in symbiotic fashion. Just as AI will boost SoC prospects, SoC solutions bearing AI capabilities will be a key factor in the next five years to drive growth and innovation in artificial intelligence.

Tom Hackenberg is associate director and senior principal analyst for processors at IHS Markit
Posted 7 June 2019
RELATED INDUSTRIES & TOPICS