Customer Logins
Obtain the data you need to make the most informed decisions by accessing our extensive portfolio of information, analytics, and expertise. Sign in to the product or service center of your choice.
Customer Logins
Anglo Saxon Majors in African downstream: The twilight of the gods

08 October 2017
Stanislas Drochon
Since the middle of the last decade, Anglo Saxon Majors BP, Chevron, ExxonMobil and Shell have been reducing their exposure to refining and marketing globally. The most extreme example of the retreat from downstream can be seen in Africa, where the divestment of their portfolios is almost complete. As the sole remaining Major, Total has taken this opportunity to reinforce its leading regional position. However, the vacuum created by the exit of the Majors has allowed new players to enter and expand in the region. Traders have seen an opportunity in the region's fast growing needs for imports while local independents have benefited from the liberalization of the sector substantially growing their market presence. The region's growing oil product import requirements along with a radical transition in the competitive environment highlight the significant opportunities in the region as well as an urgent need for incumbents to revisit their strategies and business models.
The exit of the Anglo Saxon Majors is almost complete
With few exceptions, Anglo Saxon Majors were present in all African countries as recently as 2004. Since then, BP, Chevron, ExxonMobil and Shell have divested most of their African affiliates as they pivoted away from downstream and considered African markets too immaterial and too risky.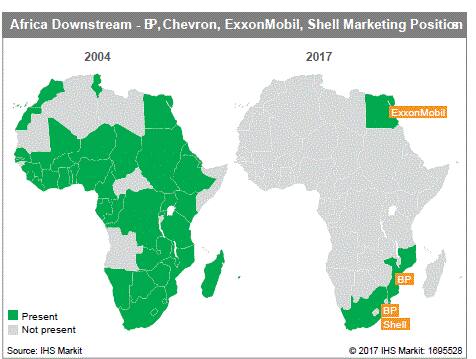 As of June 2017, only BP, ExxonMobil and Shell are still present in Africa. BP retains positions in South Africa and Mozambique, ExxonMobil has a marketing positionin Egypt and Shell is still present in South Africa. South Africa has not been a divestment priority for BP and Shell due to the materiality of the market, its oligopolistic structure and high profitability. However, in March 2017, in the context of regulatory uncertainty linked to clean fuels policies, Chevron announced the sale of its 75% owned refining and marketing affiliate (which included some minor operations in Botswana) to Chinese National Oil Company (NOC) Sinopec for US$ 900m. This opens the door for BP and Shell to sell their South African affiliates, which is expected in the short to medium term. IHS Markit thus anticipates the full exit of Anglo Saxon Majors from the Sub-Saharan African downstream by the end of the decade.
The void left by the retreat of the Majors has created huge opportunity
The reshuffle of the competitive landscape in Africa started in 2005 and has undergone three main phases. Phase I was characterized by a consolidation of the Majors' stakes in the industry with Total acquisiring 14 of ExxonMobil's affiliates. Total has since then continued to have an opportunistic growth strategy, acquiring other Majors' affiliates but also expanding via other acquisitions such as the recent purchase of Gapco in Eastern Africa for example.
Phase II which was between 2006 and 2010, was characterized by the acquisition of most of the affiliates sold by Anglo Saxon Majors were by regional oil companies (ROCs) Corlay, Engen, KenolKobil, OiLibya and Sasol who then sought to expand beyond their original limited geographical footprint.
Phase III began in 2011 with the over-extension of the ROCs and the slowing of their M&A activity. As the ROCs expanded they faced a number of obstacles linked to governance issues (Corlay), shareholder commitment (Engen, OiLibya and Sasol) or financial difficulties (KenolKobil). Their expansion thus stalled, with some even reducing regional exposure via the sale of affiliates. The future sales of Corlay, KenolKobil and Engen (owned by Petronas) cannot be ruled out.
As ROC expansion slowed, the remaining Anglo Saxon Majors' affiliates were sold to quasi traders, ie companies partly or fully owned by traders such as Oryx Energies, Puma Energy (49% Trafigura) and Vivo Energy (60% Vitol). The rationale for these traders to invest downstream in the region is notably linked to the fact that net imports of white oil products in sub- Saharan Africa have increased six fold in the past fifteen years, reaching 1,25 million barrels per day in 2016. Growing regional import requirements therefore offer substantial integration opportunities for traders.
Moving forward, this third phase is accelerating,with growing imports requirement attracting more traders such as Glencore, Oman Trading International or SOCAR who all made investments recently in the region. It is also noticeable that bidders for Chevron's assets in South Africa and Botswana reportedly included traders Gunvor, Puma Energy and Vitol, the latter losing at the final round against Sinopec. And it is no secret that other international traders are looking at investment opportunities in the region.
The limitations of traditional business models are exposed by the fact that although Total and the ROCs expanded their site count significantly since 2004, their market share has remained flat. Whilst, these companies continue to dominate, with Total by far the largest downstream company in the region - with a market share almost twice as large as the second company's Engen - in reality, it is traders and independent African companies that have grown their market share most successfully over the last decade.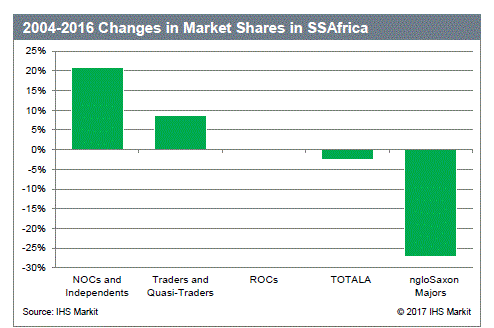 Market liberalization combined with the desire of governments to increase competition, drive down pump prices and create "local champions" has seen the number of -sometimes politically connected independent companies boom with some expanding regionally. While many independents have taken advantage of poor regulatory enforcement to play by different rules to the more established players, it must be noted that a number of them are very well managed and have successfully built their brands to the extent that they represent serious long term threats for international players. The success of the traders is built on their ability to rapidly adapt to the shifting operating environment, something more traditional players have struggled to do.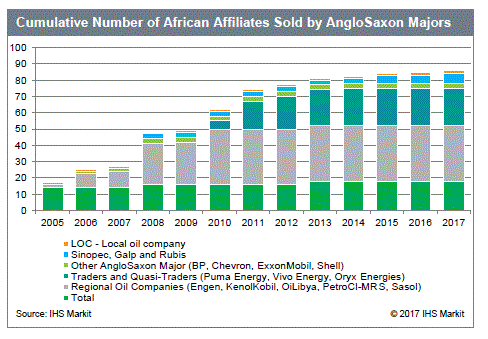 Conclusion: The African market remains very dynamic and more M&A is expected in the coming years
Anglo Saxon Majors are close to finalizing their retreat from African downstream. Their remaining assets represent a unique opportunity for investors with relatively deep pockets to leapfrog into leading positions in Egypt and South Africa; two of Africa's largest fuel markets. Other opportunities include potential acquisitions of pan-regional players, such as Corlay, KenolKobil, Oryx Energies or Engen. However, the growing strength of independents and quasi-traders in the region represents a real risk for companies still pursuing strategies and using business models created in the era of the Anglo Saxon Majors.
Stanislas Drochon is the Director, Africa Oil & Gas at IHS Markit
Posted 9 October 2017
RELATED INDUSTRIES & TOPICS