Customer Logins
Obtain the data you need to make the most informed decisions by accessing our extensive portfolio of information, analytics, and expertise. Sign in to the product or service center of your choice.
Customer Logins
African Development Bank governance reforms

18 June 2020
Theo Acheampong, PhD
The board of the African Development Bank (AfDB), Africa's biggest multilateral lender, announced on 26 May an independent investigation into whistleblowers' allegations regarding the governance of the bank's president, Akinwumi Adesina, who is running for another five-year term in August. Adesina, a former Nigerian cabinet minister, was earlier cleared by the bank's internal ethics committee of allegations of abuse of office and corruption, declaring that he was "totally exonerated of all allegations made against him". Adesina denies these allegations.
The timing of the investigation is highly likely to be driven by the approaching AfDB annual general meeting, postponed from late May to late August due to the coronavirus disease 2019 (COVID-19) pandemic, at which Adesina plans to secure re-election. After the African Union's annual Heads of State Summit in late February, its executive council announced its unanimous support for Adesina's candidacy for a second term. However, on 8 April, a group of whistleblowers ("concerned staff members of the AfDB") wrote to bank's board of governors, making 16 allegations that the AfDB boss had breached the bank's ethics code. There were earlier such allegations made in January 2020 to US and Japanese executive directors of the bank. The allegations include embezzlement and favouritism, involving claims of Adesina not respecting the AfDB's internal recruitment rules; that is, favouring Nigerians, friends, and associates with appointments and contracts, which he denies. Following an internal investigation, on 5 May, the AfDB board of governors, led by the chair, Ivorian Planning and Development Minister Kaba Nialé, exonerated Adesina of abuse of office and corruption. However, the United States, the second-largest shareholder (6.5%) in the AfDB after Nigeria (9.1%), rejected the board's exoneration of Adesina, instead calling for an independent probe into the allegations. US Treasury Secretary Steven Mnuchin said that the US Treasury disagreed with the findings of the AfDB's ethics committee. Other non-African shareholders of the bank, including Denmark, Sweden, Norway, and Finland, backed Mnuchin's demands for an external investigation. Although the outcome of the probe is highly likely to lead to broader governance reforms at the bank, including changes to its complaints procedures, the US is unlikely to withdraw from the bank as it remains one of its channels for exerting foreign police influence in the region. Most of the international organisations that US President Donald Trump's administration has resigned from or from which it has threatened to resign its membership, such as the World Health Organization (WHO), work in the social, health, or educational issues sectors, rather than development finance.
The call for a further investigation by the US indicates a growing rivalry between multilateral and bilateral lenders seeking to play an increasingly influential development financing role in Africa. Under Adesina, the AfDB has become more assertive, seeking to diversify its revenue and resource base, and supporting African governments tapping into multiple sources of funding, including seeking Chinese loans. The AfDB has increased its capital by 123% to USD208 billion from USD93 billion as of October 2019, the largest amount in the bank's 50-year-plus history. Recently, the AfDB has been mobilising resources to fight the coronavirus disease 2019 (COVID-19) pandemic. The bank, using its triple-A investment rating by international credit rating agencies Fitch Ratings, Moody's Investors Service, and S&P Global Ratings, raised USD3 billion from a three-year social bond in March and also created a USD10-billion response facility to mitigate the impact of the COVID-19 pandemic on the continent. However, former US government official and current World Bank president David Malpass on 10 February criticised the AfDB and other multilateral development banks, saying that they have "a tendency to lend too quickly", adding to the continent's growing debt burden. These criticisms followed a 5 February report that Malpass plans to split the World Bank's African department into two as of 1 July 2020, reflecting an increasing focus on the region by the World Bank. Sub-Saharan Africa currently represents a third of the World Bank's loan portfolio, with lending likely to grow after the World Bank's recent capital increases. On 13 February, the AfDB called Malpass's statements "inaccurate and not fact-based", and said that "there is no systemic risk of debt distress", adding that the statements impugn the integrity of the bank. Likewise, the newly formed US International Development Finance Corporation (DFC) is also seeking to play an increased development finance role on the continent, signing a memorandum of understanding with the AfDB in November 2019 to mobilise private capital to support Africa's development. The increased lending role and leverage that Western-based development finance institutions (DFIs) are seeking conflicts with the supposed pro-China stance of Adesina - although we assess that this most likely represents a non-regional, agnostic stance. Adesina has welcomed Chinese investment and partnerships with banks such as the Export-Import Bank of China, China Development Bank, and Agricultural Bank of China, alongside other initiatives such as Chinese-financed special agro-industrial processing zones across Africa. Nonetheless, we assess that the outcome of the investigation is unlikely to lead to a credit rating downgrade or curtail the current portfolio of projects being financed due to the AfDB's strong underlying fundamentals. The investigation is unlikely to significantly threaten the AfDB's access to funding due to its diversified funding pool, as well as its strong shareholder support, notably from the US and Western states, which collectively own a 46% share in the AfDB.
The AfDB's president is likely to win a re-election bid for a second five-year tenure following a second investigation, conditional on his being fully exonerated. Adesina has repeatedly denied the allegations; he remains the sole candidate at the bank's annual general meeting in August 2020. Adesina enjoys considerable support from key regional bodies such as the African Union and the Economic Community of West African States (ECOWAS). Both Nigerian President Muhammadu Buhari, South African President Cyril Ramaphosa, and influential former Nigerian president Olusegun Obasanjo have commended Adesina's efforts in securing COVID-19 funds for the continent and support his second-term bid. Likewise, the AU's executive council's support for Adesina's candidacy for a second term as AfDB president lends further credence to his bid. Potential candidates for the AfDB presidency if Adesina is found guilty of some of the allegations and ousted include Ngozi Okonjo-Iweala, former Nigerian finance minister and World Bank vice-president; Trevor Manuel, former South African finance minister; and Tidjane Thiam, former Credit Suisse CEO. Nigeria is highly likely to lobby for a like-for-like replacement, making Okonjo-Iweala the leading consensus candidate.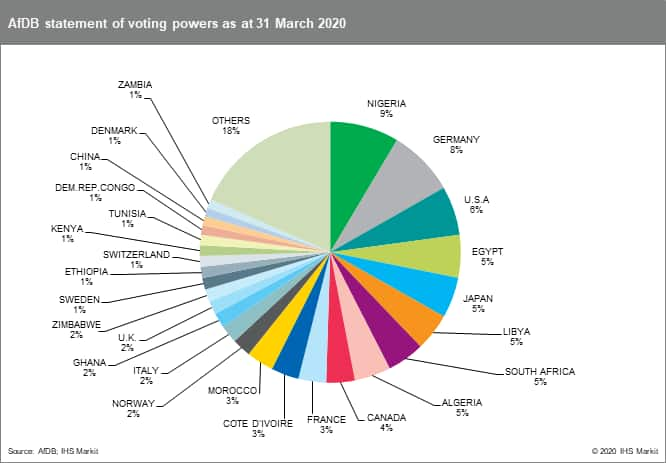 Indicators of changing risk environment
Increasing risk
Lack of agreement at the AU's July Heads of State Summit on a consensus candidate, with different parties split between backing Adesina or a replacement such as Ngozi Okonjo-Iweala, Trevor Manuel, or Tidjane Thiam.
New investigations find Adesina guilty of some of the allegations, forcing him to resign and increasing the AfDB's reputational risk.
The outcome of investigations into the bank's lending practices increases the risk of a credit rating review or downgrade by finding bad assets.
Decreasing risk
Successful lobbying by Nigeria and other African sovereign shareholders for Adesina to be retained, indicating Adesina is likely to win a second five-year term.
Other solidarity support, especially from Francophone African countries which typically prefer French candidates, increases Adesina's chances of being re-elected.
An announcement by the external investigative body exonerating Adesina of all allegations, further bolstering his image and the bank's reputation, indicating the strength of the internal compliance processes.
RELATED INDUSTRIES & TOPICS