Customer Logins
Obtain the data you need to make the most informed decisions by accessing our extensive portfolio of information, analytics, and expertise. Sign in to the product or service center of your choice.
Customer Logins
Africa Conflict Series: Ethiopia

This is the first in a series of three reports examining key conflicts in Africa in 2021. Subsequent reports will focus on Mozambique and the Sahel
Ethiopian Prime Minister Abiy Ahmed deployed Ethiopian National Defence Force (ENDF) and allied regional (particularly Amhara) troops to Tigray region on 4 November, after forces aligned with the region's governing party, the Tigray People's Liberation Front (TPLF), attacked the ENDF's Northern Command base at Mekelle and the military base in Dansha (near the Tigray-Amhara regional border) on 3 November. The TPLF claims its attack was a pre-emptive strike carried out in self-defence against massing ENDF-aligned forces preparing for an attack against Tigray. The national government and TPLF mutually severed contact in early October, with the TPLF claiming the federal government's constitutional mandate had expired.
Following the attack, the Ethiopian federal Council of Ministers declared a six-month state of emergency in Tigray regional state. During 16-28 November, ENDF-aligned forces established at least nominal control of Tigray's main cities and large towns, including regional capital Mekelle and the nearby Northern Command military base. On 7 December Ahmed claimed that TPLF-aligned forces were not capable of mounting an insurgency, however fighting with TPLF forces has continued in several areas of Tigray, particularly west of Mekelle, and near the cities of Aksum and Shire.
TPLF withdrawal
The capture of Mekelle and Tigray's other major settlements by ENDF-aligned forces will likely lead to a reduction in heavy weapons by both sides of the conflict. TPLF-aligned forces largely withdrew from Mekelle rather than attempt to hold it against the final ENDF offensive, a move that likely significantly limited the scope of property destruction and civilian casualties in the city.
TTPLF likely withdrew with its weaponry and leadership largely intact, indicating that sporadic use of heavy weaponry (particularly artillery and long-range rockets) by its forces will continue during December, before gradual loss of remaining territory and supplies makes this less viable. Airports in Tigray and northern Amhara, and to a lesser extent northern Afar, that are being used for ENDF troop movements or airstrikes into Tigray are particularly likely to be targeted by TPLF rocket attacks, as are ENDF-controlled military bases. Federal control will likely continue in major towns and key inter-city highways, such as the A2 and B30, during daylight hours.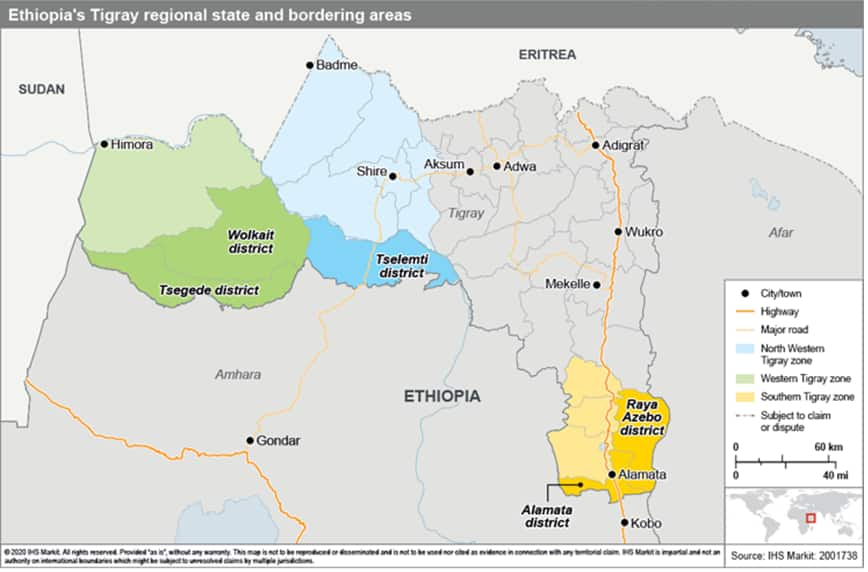 Insurgency strategy
The TPLF is likely to retreat to strongholds in mountainous northern Tigray and deploy insurgency tactics, especially around Aksum-Adigrat and, to a lesser extent, around Raya in southern Tigray. Smaller towns and major highways, particularly in rural areas, will likely be subject to small-arms and improvised explosive device (IED) attacks targeting federal forces and non-Tigrayan road travellers.
TPLF-aligned fighters will also likely launch night-time attacks in Shire, Wukro, Axum, Adigrat, and Mekelle to undermine government control. Other tactics by TPLF elements will probably include road ambushes and IED attacks targeting Tigray transitional government officials and Tigrayans and militias loyal to the central government. There will be a high risk of collateral damage and targeted attacks against commercial assets such as mines guarded by ENDF-aligned forces and perceived to be contributing to the federal government's revenues, particularly if ownership of them was taken over by perceived pro-government entities or individuals. Efforts by Amhara militias to forcibly incorporate disputed areas (particularly Tsgegede Wolkait, Tselemti, Alamata, and Raya Azebo districts) of Tigray into Amhara region will likely further drive Tigrayan support for an anti-government insurgency. Insurgents are also likely to base themselves in Tigrayan refugee camps in eastern Sudan, raiding into western Tigray and northwestern Amhara region, including along the Metema-Gondar road.
RELATED INDUSTRIES & TOPICS