Customer Logins
Obtain the data you need to make the most informed decisions by accessing our extensive portfolio of information, analytics, and expertise. Sign in to the product or service center of your choice.
Customer Logins
A difficult year ahead for Pakistan

For the third time in nine months, the State Bank of Pakistan (SBP) eased its currency support in late March, allowing the rupee to depreciate by 4.6% in a single day to cross PKR 115.5 against the US dollar, after gross official foreign-exchange reserves slipped under USD12 billion by mid-March, providing only slightly above two months of import cover.
Despite the adjustment, the Pakistani rupee remains overvalued by some 20% and will face further downward pressure in the coming months.
With a general election due by August 2018, the State Bank of Pakistan is unlikely to allow greater currency flexibility on a more permanent basis, meaning one could expect more one-off adjustments and further depletion of foreign reserves despite efforts to secure additional foreign financing.
CPEC - Pakistan's "double-edged sword"
The Pakistani rupee weakened by 4.6% in a single day in March to cross PKR115.5 per US dollar after the State Bank of Pakistan (SBP) eased its currency support for the third time in nine months. Pakistan's exchange-rate regime is de jure classified as a "managed float", but the central bank has actively intervened in the currency market to maintain a largely stable nominal exchange rate against mounting external pressures, which led to a sharp decline of foreign-exchange reserves. According to SBP's data, Pakistan's gross official reserves declined from over USD18.5 billion in September 2016 to USD11.9 billion by 16th March, bringing the ratio of import cover to slightly above two months.
The main source of reserves depletion is a recent surge in imports, mostly for the capital-intensive development of the China Pakistan Economic Corridor (CPEC) projects, accompanied by only modest improvement in exports and foreign direct investment and poor policies to keep the overall domestic demand contained. While construction of several CPEC projects boosted Pakistan's GDP growth to eleven-year high of 5.7% in the year ending June 2017 (on market price basis), it raised merchandise imports by 23.2% in calendar year 2017, bringing the current-account deficit to an estimated 4.1% of GDP, almost twice the amount in 2016. We expect the current account deficit to widen further to 4.5% of GDP by end-2018.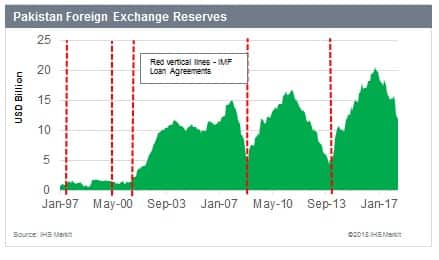 External debt keeps piling up, may require IMF intervention
To plug the deficit Pakistan has embarked on a large borrowing spree, with total external debt and liabilities up by USD 9 billion in fiscal year 2017 (through June 2017) to USD83 billion, or an estimated 27.4% of GDP. In the first half of the current financial year (July-December 2017), Pakistan added a further USD5.8 billion to its total foreign debt pile (includes both debt and liabilities), including the USD2.5 billion in Sukuk and Eurobond proceeds in November, as well as USD1 billion in commercial loans from the Industrial and Commercial Bank of China.
Despite recent marginal improvements in exports, balance-of-payments pressures will persist, while Pakistan will continue to seek foreign sources to finance its deficits. The recent decision by the Financial Action Task Force (FATF) to place Pakistan on its "grey list" of countries that fail to fulfil obligations to prevent financing of terrorism and generally tighter global financial conditions imply that obtaining external financing (both official and commercial) will become increasingly difficult and costly, likely pushing Pakistan further towards borrowing from China. In early March, the government considered to float another USD1-billion Eurobond but scrapped its decision amid rising yields, focusing instead on negotiating another USD1.5 billion in commercial loans with China. If it fails to secure sufficient financing by June, another IMF stabilization program soon after completing USD6.6 billion loan program in September 2016 is a growing possibility, although it is unlikely to happen before the elections.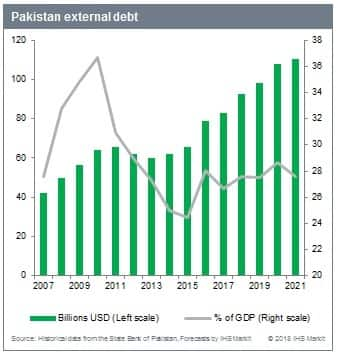 Expect more sporadic currency adjustments and credit rating downgrades
The latest currency adjustment will do little to correct the overvalued rupee exchange rate (by as much as 20%, according to IMF estimates), and downside pressures on the currency will persist. Given that much of the external debt is US-dollar-denominated, it is highly unlikely that the SBP will allow greater exchange-rate flexibility on a more permanent basis ahead of the upcoming general election due by August. Thus, foreign reserves will remain low, while the authorities will likely continue to pursue limited measures to prevent this, including more one-off currency adjustments, higher regulatory duties on imports (already raised on many imported intermediate, consumer, and luxury goods), and more interest rate increases in the coming months.
In addition, further balance of payments deterioration and growing debt service obligations will probably trigger Pakistan's sovereign risk downgrades from major credit rating agencies, as well as our own Sovereign Risk Service, which currently rates Pakistan's one-year risk at 35 points on a 100-point numerical scale and a three-year risk at 60 points (B- on the generic scale).
RELATED INDUSTRIES & TOPICS