Customer Logins
Obtain the data you need to make the most informed decisions by accessing our extensive portfolio of information, analytics, and expertise. Sign in to the product or service center of your choice.
Customer Logins
The All-Star Team: Tracking the Top 100 Wells per Month

While US Onshore crude oil production economics have improved markedly across all major basins over the past several years, there is significant variability in the performance trends across and within basins. This blog post also demonstrates that rising service sector costs and more expensive well designs do not offset the resulting increase in EUR, yielding stronger economics for the most productive wells.
Best wells dramatically outperform remainder
The best US wells exist in a league of their own. The Top-100 wells by productivity each month, which we designate as Tier 1 using data from the IHS Markit Performance Evaluator tool, posted breakevens in 2Q 2017 of $32/bbl. Not only was this dramatically below even the next tier of wells, but it also improved the most by far over the period beginning in 1Q 2014, pulling away from the other US wells over time, with well economics.
Between the first quarter of 2014 and the second quarter of 2017, breakeven prices for Tier 1 wells declined by almost 43%, compared with a decrease in breakeven prices of around 36% for Tiers 2, 3 and 4, and 29% or less for the remaining wells.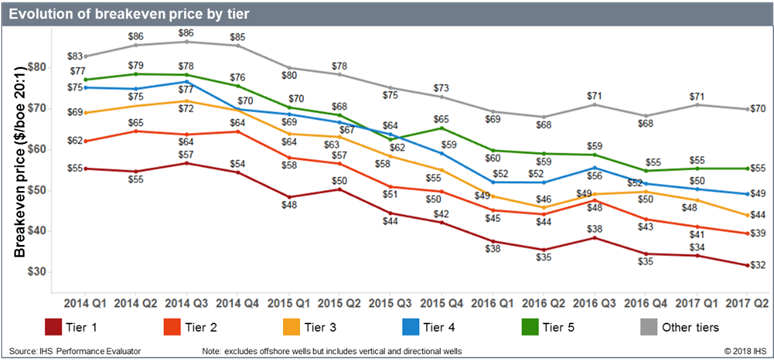 Figure 1: Evolution of breakeven price by tier
Although the pace of improvement decelerated in 2017, this dramatic decline in breakeven prices for the best wells suggests that operators have made material improvements to Tier 1 wells versus the rest of the wells brought online during the same month.
Does well design explain better results?
To better understand this evolution, we parsed our data according to well orientation, well location, drilling and completion techniques, and capital expenditure. While we found significant divergence between the top 5 tiers of wells (the best 500 new wells brought online in each month) versus all other US wells in the first two categories, among top tiers the story was consistent: overwhelmingly horizontal wells located overwhelmingly in shale plays.
Our assessment reveals that the robust and improving peak production is associated with changes in well design, notably a substantial growth in proppant intensity, which has accelerated since 3Q 2016. For Tier 1, proppant intensity has increased by roughly 81% between 1Q 2014 and 2Q 2017, while lateral length increased by 15%. We believe this trend still has room to run for many operators and some key geographies.
Despite service cost pressure, well design increasing per well reserves more than capital outlays
Furthermore, the productivity improvement holds over time, translating directly into much higher EURs. Tier 1 wells' EUR increased by 117% between 1Q 2014 and 2Q 2017. The increase weighed heavily on the well economic calculation and offset the degradation from cost inflation. Moving forward to 2018, IHS Markit expects service cost reflation to continue, though at a slower pace than the past 12 months as new supply in selected niches reduces pressure on the balances. Similarly, we also expect gains in discounted EUR's to slow as low-grading takes place and as design evolution matures. On a net basis, we believe Tier 1 and 2 wells will be able to largely hold the gains in profitability of the past several years but that the trend will flatten.
The IHS Markit Well Database is the largest, most comprehensive US well database, accounting for virtually every well drilled and produced back to 1859.
Emilie Gubian is Principal Economist, Performance Evaluator at IHS Markit.
---
Follow IHS Markit Energy
RELATED INDUSTRIES & TOPICS