Customer Logins
Obtain the data you need to make the most informed decisions by accessing our extensive portfolio of information, analytics, and expertise. Sign in to the product or service center of your choice.
Customer Logins
Powering up: Air force modernization in Southeast Asia

24 January 2018
Jane's Editorial Staff
This is an extract from an article available in Jane's Defence Equipment and Technology Intelligence Centre
As countries in Southeast Asia respond to rising threats, investment in developing air force capability has become a region-wide priority. Jon Grevatt reports
The nature of perceived threats in Southeast Asia is predominately territorial, with China's military rise and its growing ability to press its claims to most of the South China Sea causing concern about the region's future stability. As a result Southeast Asian countries have started to invest more in modernising their air capabilities.
Countries in the region that have territorial disputes with Beijing do not go as far as identifying China as a threat, which would risk jeopardising critical trade ties. However, the fact is that developing air capability is now a priority in Southeast Asia as part of unstated efforts to develop a deterrent and protect exclusive economic zones (EEZ) in the face of rising Chinese assertiveness.
Even regional countries that are not claimants to territory in the South China Sea, such as Myanmar, Singapore, and Thailand, have identified a requirement to modernise air forces to prepare for scenarios in which potential conflict – resulting from regional instability – could feasibly 'spill over' into neighbouring territories.
Although this threat is prompting investment in capabilities such as multirole combat aircraft, fixed- and rotary-wing transport aircraft, and surveillance and detection assets, the continuing requirement in pockets of Southeast Asia to address insurgency has led to some regional air forces also placing emphasis on light attack and transport assets that can support mainly land forces in counter-insurgency (COIN) operations. Another important role is disaster relief, which has also meant a continuing high demand for logistics and transport assets.
The Southeast Asian emphasis on air force modernisation is also indicated by defence spending trends. According to Jane's Defence Budgets (JDB), Southeast Asian countries (comprising Brunei, Cambodia, Indonesia, Malaysia, Myanmar, the Philippines, Singapore, Thailand, and Vietnam) will spend more on air force modernisation during 2012–21 than they will spend on naval and land forces.
Total defence procurement and research and development (R&D) spending during that timeframe across the region will be about USD69 billion, with USD23 billion – or 33% – spent on air forces. Navies will receive 29% of the procurement and R&D funding, while armies will be allocated about 27%, with the remainder allocated to defence-wide activities.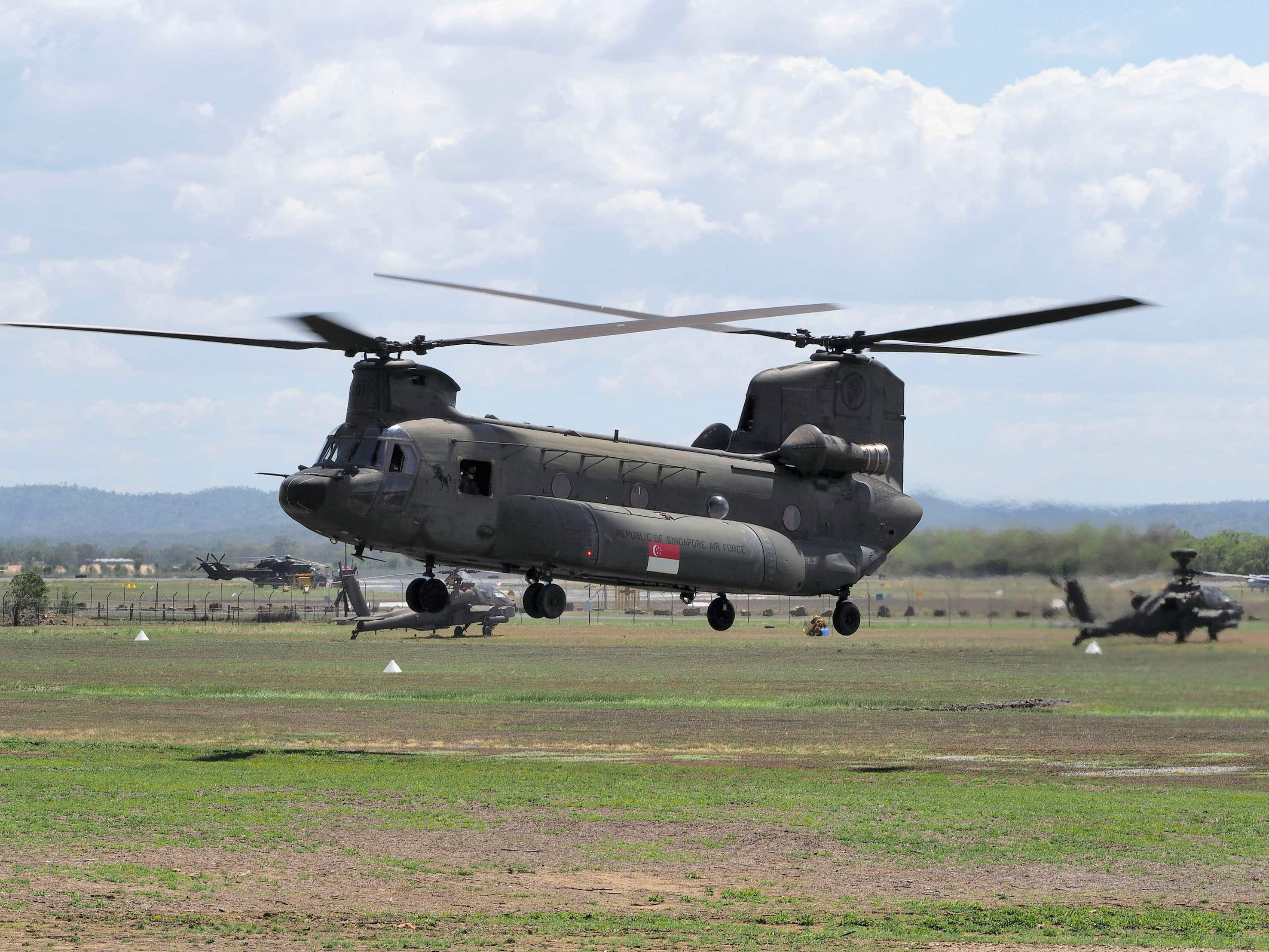 A Republic of Singapore Air Force Boeing CH-47SD Chinook lifts off for a training mission during Exercise 'Wallaby 2015'. Singapore announced in November 2016 that it would procure additional numbers of the type.
The JDB statistics also show, perhaps unsurprisingly, that Singapore will be the region's biggest spender on air force development. According to JDB the government of Singapore will allocate to the Republic of Singapore Air Force (RSAF) modernisation funds of about USD6.6 billion during 2012–21, or 30% of total regional spending during this timeframe. Singapore's modernisation expenditure is nearly double that of Vietnam, which is expected to spend USD3.4 billion on its air force during this period (15% of regional air force spending). Following this are the Philippines (spending USD2.8 billion, or 13% of regional air force expenditure), Thailand (USD2.6 billion, or 12%), Indonesia (USD2.5 billion, or 11%), and Malaysia (USD1.9 billion, or 9%). Myanmar accounts for about 8% of spending, while Brunei and Cambodia account for 1% each.
This is an extract from an article available in Jane's Defence Equipment and Technology Intelligence Centre
Jane's Editorial staff
Posted 23 January 2018
RELATED INDUSTRIES & TOPICS